A Pioneer Banquet
by Lesley Struc
Monday August 21, 2017 8:58 pm
How do three different kinds of cake (chocolate, white, and spiced) served along "Pine Apple Sorbet" sound to you? Yummy!
Well, it probably tasted great to the 150 members of the Fort Collins Pioneer Association who attended the 3rd annual banquet of the association on February 4, 1909.
We have the program from that event here at the Local History Archive, pictured below: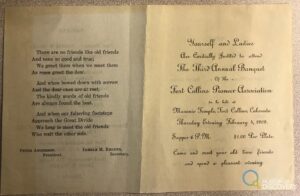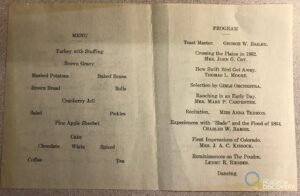 The menu sounds as intriguing as the lecture  program, which featured tales by Mrs. John Coy, Charles Ramer, and other early residents of Fort Collins. The event was summed up a few days later in the February 10, 1909 edition of the Fort Collins Weekly Courier:
"…they had laughed with each other till the tears came over the jokes and witticisms of the speakers and had absorbed with breathless interest the graphically told stories of early day adventures, dangers and privations met with and endured when the Cache la Poudre valley was a howling wilderness."
Read the entire article here!
The post A Pioneer Banquet appeared first on Fort Collins Museum of Discovery.
---
Bowling in Fort Collins
by Jenny Hannifin
Tuesday August 08, 2017 4:18 pm
According to Evadene Swanson, "Lindenmeier's 'Board of Trade' on College near the Opera House had a bowling alley in 1880" (Fort Collins Yesterdays, page 136).  Does that surprise you? It surprised me! By the late 1800s, prosperous cities in the USA were installing regulation-size bowling lanes, often subsidized by churches, YMCAs, firehouses, and fraternal organizations. I dug up a few Fort Collins bowling photos to share with you – none are from the 1880s, but I hope you enjoy them nonetheless.
Though undated, this shot is clearly from an era when bowlers had serious sartorial standards: Behold the Bowling League Champs – BPOE Elks Fraternal Organization, Fort Collins.
This shot from circa 1928 shows the 100 block of North College Avenue (looking south).  In addition to the Collins Cafe, Sugar Bowl, and Marshall Cafeteria, the Bowling sign is clearly visible in the photo.
This 1950s-ish image of the Hutchison Pharmacy ladies bowling team (Fort Collins) highlights the pharmacy's advertising as well as the women's splendid hairstyles.
The Colorado State Bowling Tournament in 1960 was held in Fort Collins, Colorado.  Identified here are, left to right: Ray Carpenter, D. Weigand, Doc Carroll, Floyd Headlee, and taller-than-average-fella "unknown."
And last but not least, here are two cool cats from 1969.
Here's the caption from the May 12, 1969 Coloradoan:  "State Doubles Champs: Jack Hall, 16, of 1030 Akin Street and Margee Deering, 14, of 120 Tedmon Drive teamed together to knock down 1,278 pins and win the 1969 Colorado Junior Mixed Doubles championship. The two were among more than 100 Fort Collins junior bowlers honored Sunday night during the annual Youth Bowling Association awards banquet."
The post Bowling in Fort Collins appeared first on Fort Collins Museum of Discovery.
---
First Spirituous Drink in 20th Century Fort Collins
by Jenny Hannifin
Wednesday August 02, 2017 5:42 pm
Did you know that it wasn't legal to sell hard liquor in Fort Collins for two-thirds of the 20th century? The town now known for its brewing industry was dry of spirituous drink until 1969 (legally, that is).
Drawing inspiration from eastern anti-saloon leagues and temperance societies, many of the leading citizens in Fort Collins began to target saloons and liquor as primary causes of the budding town's problems. Citizens eventually achieved complete prohibition of alcohol in Fort Collins in 1896, creating an ordinance that would surprisingly stay in the books for 73 years, long outlasting national prohibition.
Fort Collins remained a 'dry town' until the then highly-amended liquor ordinance was repealed in 1969 by popular outcry. Up to that time, prohibition in Fort Collins had survived the rise and fall of national prohibition, though beer joints peddling malt beverages with only 3.2% liquor content were permitted to a limited extent in Fort Collins by 1935.
And just about the same time, liquor vendors began to pop up just outside the city limits. In 1961, Lloyd Ladd became the first post-prohibition proprietor to be granted a county license to serve alcohol by the drink. His restaurant, Ladd's Covered Wagon had been letting patrons bring in their own booze, and Ladd would sell them a setup of ice and soda.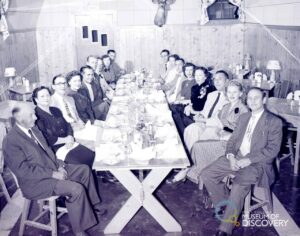 In 1969, hard liquor became legal in Fort Collins when Red Ferrell, Larimer County's liquor inspector, allowed the opening of Campus West Liquors. According to the Coloradoan, "The first legal drink of spirituous liquor sold in Ft. Collins since 1896 was served about 5:00 p.m. August 8."  (8-10-1969).
The first liquor license went to Les Ware of The Top Restaurant, located in the Rocky Mountain Bank Building.
Here are two images captured at that occasion: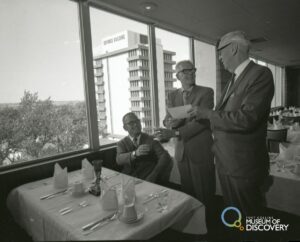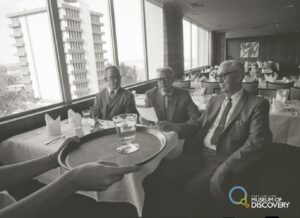 The post First Spirituous Drink in 20th Century Fort Collins appeared first on Fort Collins Museum of Discovery.
---