Jessie Kissock Clark's Memories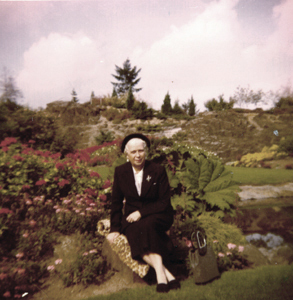 Jessie Kissock was born in Fort Collins, March 19, 1883. She attended the Remington and Franklin schools as a child and was a graduate of Colorado State University. In 1907 she married James N. Clark. Jessie was a writer and her society column appeared for many years in the local newspapers. She was also historian and vice-president of the Colorado State Historical Society and listed in "Who's Who of American Women" in 1962. She died in 1971.
The following is a transcription of hand written notes from a small purple Fort Collins Leader notebook. This notebook is in our Jessie Kissock Clark Collection, and these notes were probably used to write one of her many columns on Fort Collins people and events. Comments in brackets were added by the transcriber, Rheba Massey.
Early Reminiscences of Fort Collins
First time I went downtown alone nearly dark--never as afraid afterwards.
Mary Street and I made nests in snow banks against our fence in front of 416 Remington for birds.
One of first bath tubs in city.
Remington School teachers' Sat. nights.
Elizabeth Emigh friend of children, cookie jars--her mother's lace cap and black silk dress. Same for Grandma Allen at Abner Loomis home.
Aunt Ellen Gill's wedding to Dom Gill--Eva Fox bridesmaid. Jessie McKibbin there, Father Robinettte, $ [pinned to the dress; German custom to pin dollars to a bride's dress] to Ruby-Ellen's dress, gray silk and wool mixture-trimmed in pink. Church on E. Riverside. Dom hiding us behind couch when he courted Aunt Ellen. Flowers, shower bouquets we made.
Excitement when Effie Loomis and Charles Dwyre were married.
Shirley's wedding at college. Mrs. Wm. Drake made my dress.
Mrs. Whitton's millinery shop corner Linden and Walnut.
E. R. Barkley hardware store to get weighed.
C.R. Evans store where F.N. Bank [First National] now stands.
Merry Go Rounds on corner where Avery block stands.
The Jacob Armstrongs and Hottels, Arthurs, William Stovers, Crafts.
The pink satin corset Mrs. Rhodes gave me after her daughter died - new one.
The taffy pulls and the maple sugar snow candy at Gillette home, brick home across street from us on College Ave.
Mother's drive for new Christian Church.
Mrs. Corbin, mother of Frank--sunbonnets.
Lillie and Rose Miller--how they happened is named blond one Lillie and brunette one Rose.
Nellie Scribner's wagon? down by river (she and husband in north west).
Marie Nelson, Emma and I rode bicycles to Grandma Duncan's--large loaves of bread and pans of milk--colored corn on cobs.
Clovis on Farm now Remington School.
Kindergarten-Dennis O'Laughlin slid down banister when Mary Gill was going to give him a licking. J.V. Kinnison teacher. Mayme Scott and Mayme Harris writing stories geographies.
Organizing of Pioneer Society at Dr. and Sarah McHughs'. I assisted at number of her parties.
Meeting of the Butterflies.
Post Office in Linden Hotel building--Billy Roberts postmaster. Will Ralph worked there.
The Everest girls--one served, other music teacher, and other housekeeper 500 block Remington.
The Roucolles on East Mountain--lovely needlepoint French chairs. Adrienne taught dramatics.
Way they pulled teeth. I ran out on Dr. Downey--slid down banister Rohling block.
Damm's Bakery and Kluver and Howards' Grocery, Dads and Mr. Threckeld's grocery all on Linden St. Chedister's and Scott's drug stores. 1st coke at Owl drug store, Hurley and Livernash (Hutchinson's). Scott Drug store in dad's block burned night Ruby had the crisis in pneumonia.
Skating roller and ice. Tallyho rides to Sheldon's Lake (now City Park Lake). Nellie Beach Arendt falling in lake.
Walked or rode bicycles everywhere.
Went to work on Courier [Fort Collins Courier newspaper] under Ansel Watrous on Jefferson Street.
Walked to school and college and everywhere.
Dances at Loomis hall now American Furniture and the old opera house--Uncle Tom's Cabin, Simon Lagree.
Aunt Lizzie Sweeney's pins on track.
[Abner] Loomis [house] across one way [from her house at 416 Remington]-F.N.B Scotts the other. Jacob Welch home then L.W. Welch next, now mortuaries.
Old [Agricultural] hotel which stood where Northern [Hotel] does. Buck's hotel East Mountain. Old Methodist church on East Mountain.
Mother telling how when she lived at 412 Remington, now Dakes, she could look out of front window and see Mrs. Sheldon's, I believe Olive's grandmother, light her lamp and put it on table--no trees or houses between. There was a dairy in 500 block on Matthews then. Schroeder family and how diphtheria took so many of their family. When the Jay Boughtons built home now owned by Hartshorn. The lovely Ramer family at Livermore, later here. The Avery house and some kind of cabinet in their living room as we had, only theirs was cherry and ours maple--both still in families. Clara Brose Brolliar and fun at college, her father professor there. These are a few of the many vivid remembrances I have of Fort Collins which I loved then and still do. The surreys--candy parties, high five--skating parties and the summers spent in mountains, Zimmermans, Halligans, Sargissons and Camptons all different from those spent by children and youth now. We had no need of recreation centers. They were of our own making and in our homes and we were very happy and contented. Kissing games didn't appeal to me. Halloween did--trick treaters. Dancing once at Laporte to fiddles and hay rides. Now it is all changed with radios, autos, picture shows and the midget auto races.