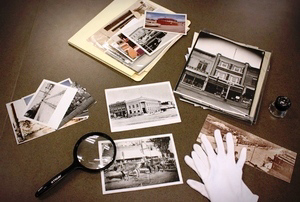 Archive Front Desk
Location and Hours
Order Photographs
FAQ
Volunteer
Donations
Archive Assistants
Jenny Hannifin
jhannifin@fcmod.org
Sarah Frahm
sfrahm@fcmod.org
Barbara Cline
bcline@fcmod.org
Archive Curator
Lesley Struc
(970) 416-2710
lstruc@fcmod.org
Curator of Collections
Linda Moore
(970) 416-2784
Genealogy Assistance
The Larimer County Genealogical Society offers one-on-one genealogy assistance at the Old Town Library. Please visit the Library calendar for the genealogy help schedule or call (970) 221-6740.

We are delighted to talk to you about your research goals and suggest collections and resources that may help answer questions. All requests will be processed on a time-available basis; replies may have a varying response time due to the unique nature of questions received.
Use the form below to send us a question. You may also call or email us directly, or make an appointment to visit the Archive at Fort Collins Museum and speak to a staff member.
Request Research Assistance