Larimer County Farms and Ranches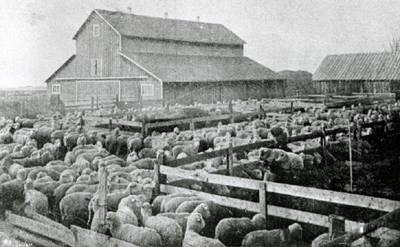 Legal Descriptions Maps Directories Photographs
The following resources at the Archive at Fort Collins Museum of Discovery and beyond can help you explore farms, ranches, and other rural properties in Larimer County.
Understanding Legal Descriptions
(Adapted from the guide by Boris Vasilev, Paradise Valley Community College, Phoenix, Arizona)
Colorado uses the Township, Range, and Section method of land measurement and description. The Township and Range system, sometimes called the "Public Lands Survey System," was developed to parcel out western lands as the country expanded. The system takes many western states and divides them using a base line and a principal meridian.
As you go to the east or west of the principal meridian, the range increases in that direction. If you go north or south of the base line, the township increases. This system divides the land up into townships and ranges that are 36 square miles each.
Each township and range is then subdivided into 36 smaller squares called sections. Each section is one mile square. Individual sections are then subdivided into half sections and quarter sections and so on.
Sections are numbered within a township from the upper right to the lower right in an alternating manner (1 to 6 are numbered from right to left, 7 to 12 from left to right, and so on). The squares are quartered, and then the quarters are quartered again, as shown below.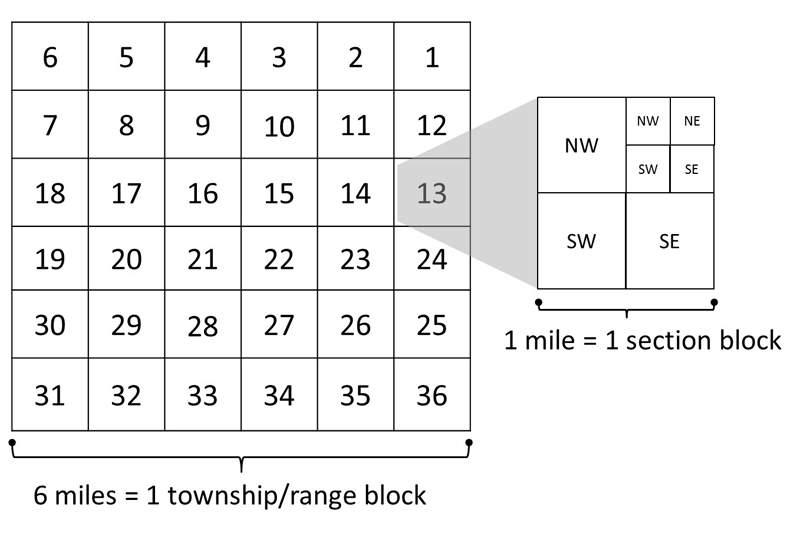 The ranges of Larimer County start at the eastern border of the county with Range 68 West and proceed west until they end with Range 78 West at the county's western border. The principal meridian used to measure our ranges is the 3rd Principal Meridian which is in the eastern part of Kansas and Nebraska. Therefore we are west of that principal meridian.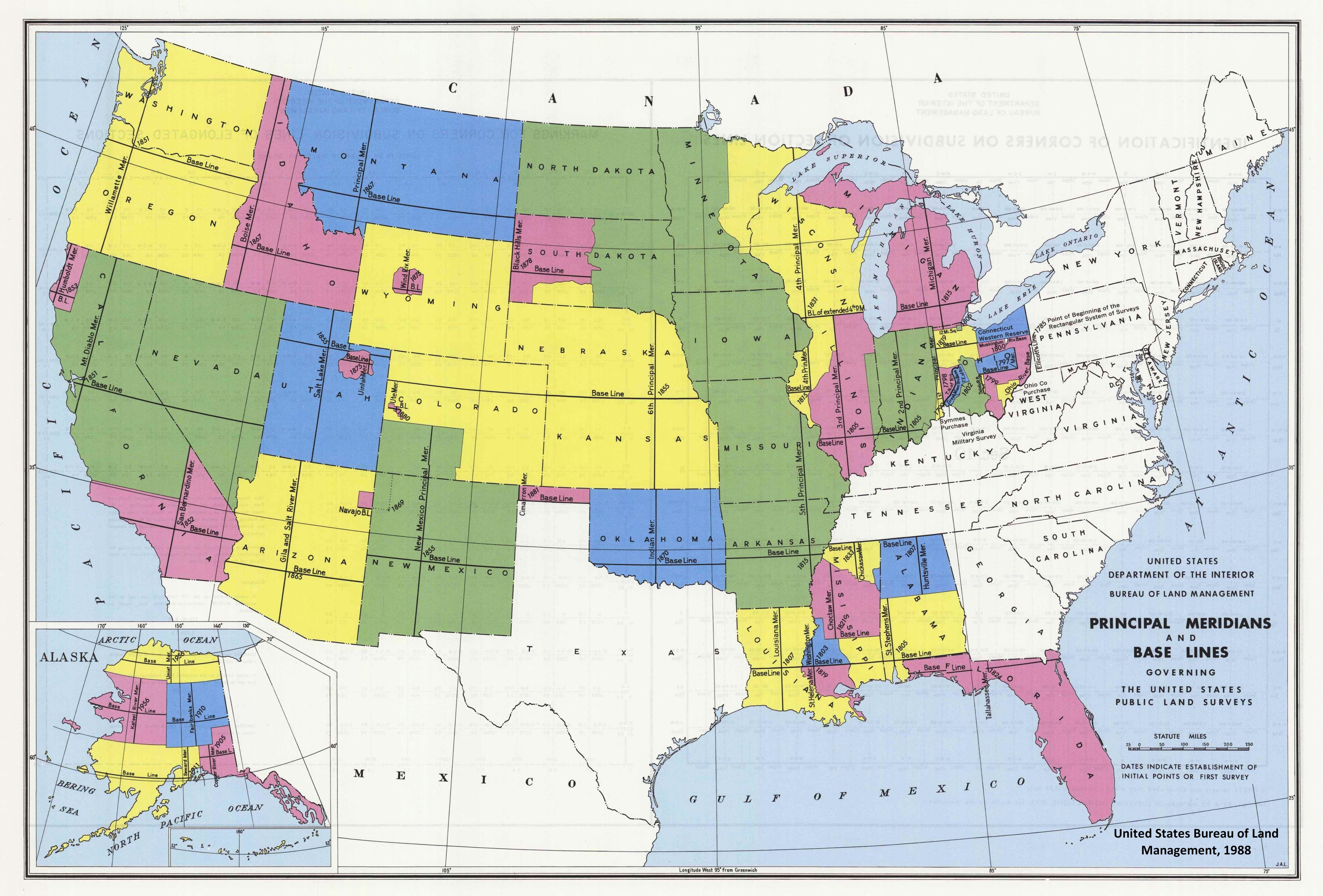 U.S. Bureau of Land Management

Fort Collins encompasses the area that consists of Townships 6, 7, and 8 N and Ranges 68 and 69 West. The legal description for Old Town Fort Collins is "Township 7 North, Range 69 West, Section 12".
The Tax Assessor parcel numbers are ten digits and reflect legal descriptions. For example, the breakdown for parcel number "34012-21-108" would be: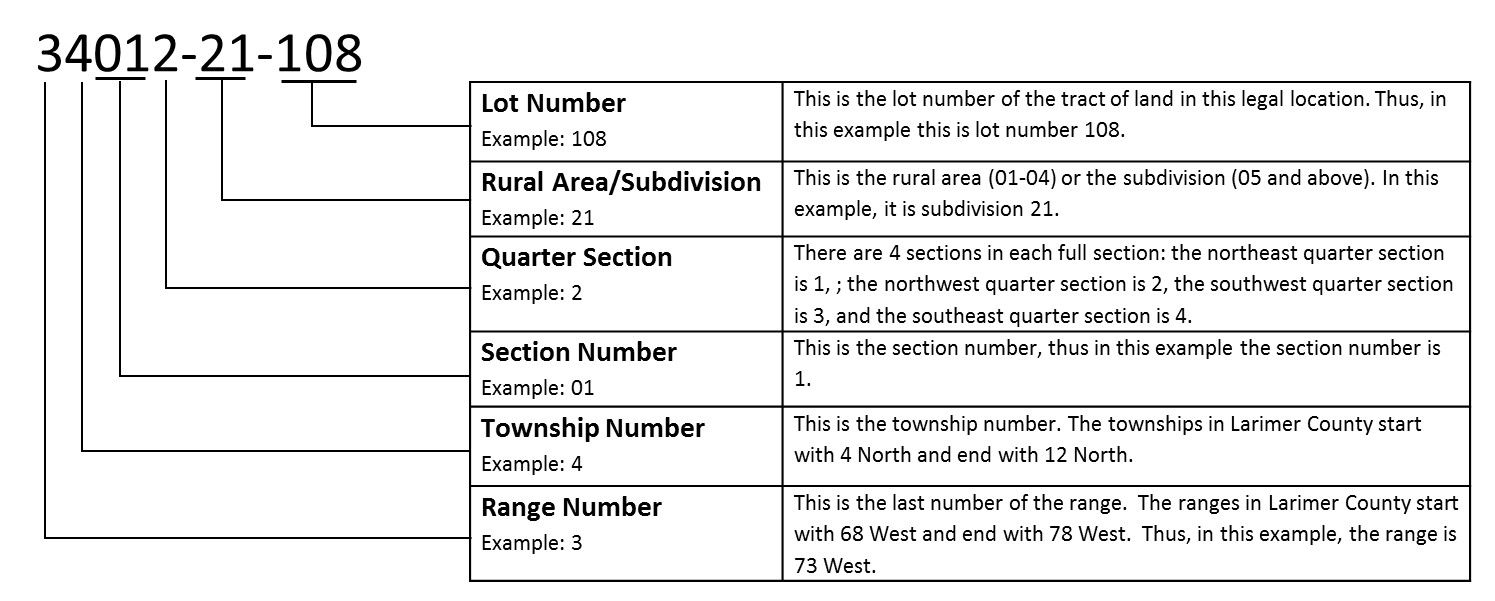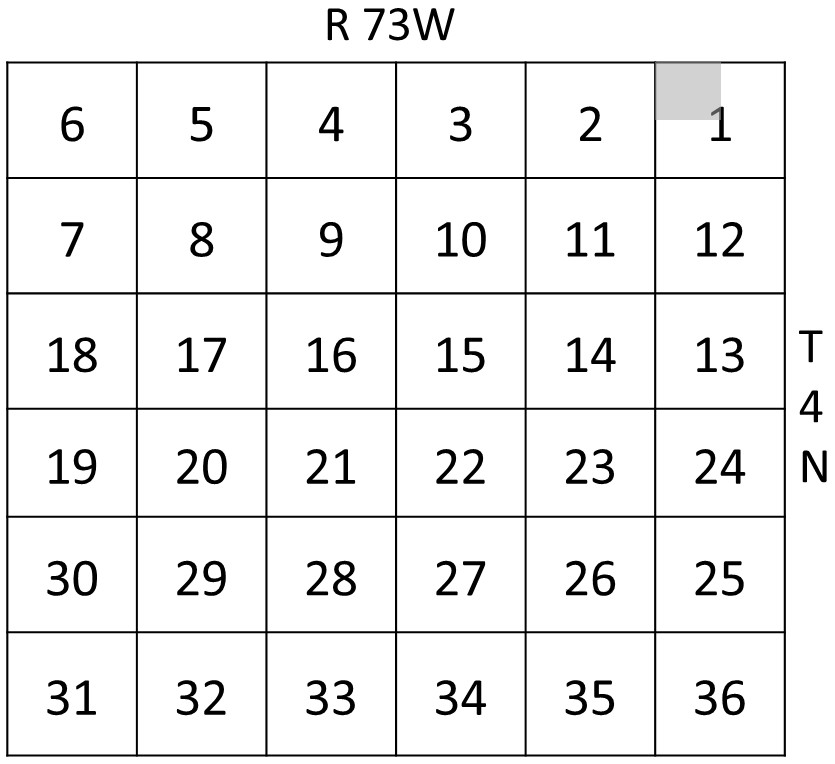 As mapped out above, the legal description for parcel number 34012-21-108 is: Township 4 North, Range 73 West, Section 1.
Maps
Listed below are maps showing sections, townships, and ranges in Larimer County:
Property Ownership Maps
The Archive at Fort Collins Museum of Discovery has several property ownership maps and atlases, including:
1940 Atlas for Larimer County, Colorado
1956 Atlas for Larimer County, Colorado
1959 Atlas for Larimer County, Colorado
1968 Atlas for Larimer County, Colorado
1974 Atlas for Larimer County, Colorado
Rural Directories
The following Larimer County rural directories at the Archive at Fort Collins Museum of Discovery include legal descriptions of properties. These directories are not online and must be viewed by visiting the Archive:
1939 Rural Directory
1947 Rural Directory
Farm and Ranch Photographs
The online photographs in this collection were scanned from original Tax Assessor Records that were transferred to the Archive at Fort Collins Museum of Discovery after they were microfilmed for the Assessor's office. These cards date from 1948 to circa 1990; this online collection includes photographs taken circa 1948, 1968, 1977, and 1987.
The photographs are organized into groupings according to the legal descriptions of the properties.
Legal Description
Range 68 West, Township 10 North, Section 30 Range 68 West, Township 6 North, Section 08 Range 68 West, Township 6 North, Section 1 Range 68 West, Township 6 North, Section 11 Range 68 West, Township 6 North, Section 12 Range 68 West, Township 6 North, Section 13 Range 68 West, Township 6 North, Section 14 Range 68 West, Township 6 North, Section 15 Range 68 West, Township 6 North, Section 18 Range 68 West, Township 6 North, Section 19 Range 68 West, Township 6 North, Section 21 Range 68 West, Township 6 North, Section 22 Range 68 West, Township 6 North, Section 3 Range 68 West, Township 6 North, Section 4 Range 68 West, Township 6 North, Section 5 Range 68 West, Township 6 North, Section 6 Range 68 West, Township 6 North, Section 7 Range 68 West, Township 6 North, Section 8 Range 68 West, Township 7 North, Section 1 Range 68 West, Township 7 North, Section 10 Range 68 West, Township 7 North, Section 11 Range 68 West, Township 7 North, Section 12 Range 68 West, Township 7 North, Section 13 Range 68 West, Township 7 North, Section 14 Range 68 West, Township 7 North, Section 15 Range 68 West, Township 7 North, Section 16 Range 68 West, Township 7 North, Section 17 Range 68 West, Township 7 North, Section 18 Range 68 West, Township 7 North, Section 19 Range 68 West, Township 7 North, Section 2 Range 68 West, Township 7 North, Section 20 Range 68 West, Township 7 North, Section 22 Range 68 West, Township 7 North, Section 23 Range 68 West, Township 7 North, Section 24 Range 68 West, Township 7 North, Section 25 Range 68 West, Township 7 North, Section 26 Range 68 West, Township 7 North, Section 27 Range 68 West, Township 7 North, Section 28 Range 68 West, Township 7 North, Section 29 Range 68 West, Township 7 North, Section 3 Range 68 West, Township 7 North, Section 30 Range 68 West, Township 7 North, Section 31 Range 68 West, Township 7 North, Section 32 Range 68 West, Township 7 North, Section 33 Range 68 West, Township 7 North, Section 34 Range 68 West, Township 7 North, Section 35 Range 68 West, Township 7 North, Section 36 Range 68 West, Township 7 North, Section 4 Range 68 West, Township 7 North, Section 5 Range 68 West, Township 7 North, Section 6 Range 68 West, Township 7 North, Section 7 Range 68 West, Township 7 North, Section 8 Range 68 West, Township 7 North, Section 9 Range 68 West, Township 8 North, Section 01 Range 68 West, Township 8 North, Section 02 Range 68 West, Township 8 North, Section 04 Range 68 West, Township 8 North, Section 10 Range 68 West, Township 8 North, Section 12 Range 68 West, Township 8 North, Section 13 Range 68 West, Township 8 North, Section 14 Range 68 West, Township 8 North, Section 15 Range 68 West, Township 8 North, Section 16 Range 68 West, Township 8 North, Section 17 Range 68 West, Township 8 North, Section 18 Range 68 West, Township 8 North, Section 19 Range 68 West, Township 8 North, Section 20 Range 68 West, Township 8 North, Section 21 Range 68 West, Township 8 North, Section 22 Range 68 West, Township 8 North, Section 24 Range 68 West, Township 8 North, Section 25 Range 68 West, Township 8 North, Section 26 Range 68 West, Township 8 North, Section 27 Range 68 West, Township 8 North, Section 28 Range 68 West, Township 8 North, Section 29 Range 68 West, Township 8 North, Section 3 Range 68 West, Township 8 North, Section 30 Range 68 West, Township 8 North, Section 31 Range 68 West, Township 8 North, Section 32 Range 68 West, Township 8 North, Section 33 Range 68 West, Township 8 North, Section 34 Range 68 West, Township 8 North, Section 35 Range 68 West, Township 8 North, Section 36 Range 68 West, Township 9 North, Section 06 Range 68 West, Township 9 North, Section 20 Range 68 West, Township 9 North, Section 21 Range 68 West, Township 9 North, Section 30 Range 68 West, Township 9 North, Section 32 Range 68 West, Township 9 North, Section 33 Range 68 West, Township 9 North, Section 34 Range 68West, Township 7 North, Section 26 Range 69 West, Township 4 North, Section 13 Range 69 West, Township 4 North, Section 15 Range 69 West, Township 5 North, Section 29 Range 69 West, Township 6 North, Section 01 Range 69 West, Township 6 North, Section 02 Range 69 West, Township 6 North, Section 03 Range 69 West, Township 6 North, Section 06 Range 69 West, Township 6 North, Section 08 Range 69 West, Township 6 North, Section 10 Range 69 West, Township 6 North, Section 11 Range 69 West, Township 6 North, Section 12 Range 69 West, Township 6 North, Section 13 Range 69 West, Township 6 North, Section 14 Range 69 West, Township 6 North, Section 18 Range 69 West, Township 6 North, Section 2 Range 69 West, Township 6 North, Section 20 Range 69 West, Township 6 North, Section 23 Range 69 West, Township 6 North, Section 24 Range 69 West, Township 6 North, Section 34 Range 69 West, Township 6 North, Section 35 Range 69 West, Township 7 North, Section 02 Range 69 West, Township 7 North, Section 03 Range 69 West, Township 7 North, Section 04 Range 69 West, Township 7 North, Section 05 Range 69 West, Township 7 North, Section 09 Range 69 West, Township 7 North, Section 10 Range 69 West, Township 7 North, Section 11 Range 69 West, Township 7 North, Section 12 Range 69 West, Township 7 North, Section 13 Range 69 West, Township 7 North, Section 17 Range 69 West, Township 7 North, Section 21 Range 69 West, Township 7 North, Section 23 Range 69 West, Township 7 North, Section 24 Range 69 West, Township 7 North, Section 25 Range 69 West, Township 7 North, Section 26 Range 69 West, Township 7 North, Section 27 Range 69 West, Township 7 North, Section 29 Range 69 West, Township 7 North, Section 31 Range 69 West, Township 7 North, Section 33 Range 69 West, Township 7 North, Section 34 Range 69 West, Township 7 North, Section 35 Range 69 West, Township 7 North, Section 36 Range 69 West, Township 8 North, Section 01 Range 69 West, Township 8 North, Section 03 Range 69 West, Township 8 North, Section 04 Range 69 West, Township 8 North, Section 11 Range 69 West, Township 8 North, Section 12 Range 69 West, Township 8 North, Section 13 Range 69 West, Township 8 North, Section 15 Range 69 West, Township 8 North, Section 18 Range 69 West, Township 8 North, Section 19 Range 69 West, Township 8 North, Section 20 Range 69 West, Township 8 North, Section 21 Range 69 West, Township 8 North, Section 22 Range 69 West, Township 8 North, Section 24 Range 69 West, Township 8 North, Section 25 Range 69 West, Township 8 North, Section 29 Range 69 West, Township 8 North, Section 30 Range 69 West, Township 8 North, Section 31 Range 69 West, Township 8 North, Section 32 Range 69 West, Township 8 North, Section 33 Range 69 West, Township 8 North, Section 34 Range 69 West, Township 8 North, Section 35 Range 69 West, Township 8 North, Section 36 Range 69 West, Township 9 North, Section 01 Range 69 West, Township 9 North, Section 02 Range 69 West, Township 9 North, Section 09 Range 69 West, Township 9 North, Section 23 Range 69 West, Township 9 North, Section 26 Range 69 West, Township 9 North, Section 27 Range 70 West, Township 5 North, Section 3