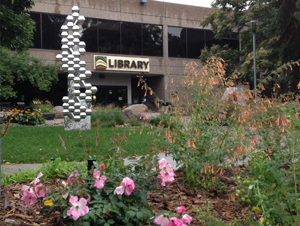 Old Town Library
Poudre River Public Library District
201 Peterson Street
Fort Collins, Colorado 80524
(970) 221-6740
Hours
Monday - Thursday: 9:00 am - 9:00 pm
Friday: 9:00 am - 6:00 pm
Saturday: 9:00 am - 5:00 pm
Sunday: Noon - 5:00 pm

Other Library Locations
Website

Genealogy and History Resources
Newspapers
Both recent and historic Fort Collins newspapers from March to November of 1874, and from June 1878 to the present are available on microfilm in the Reference Area of the Old Town Library.
Oral History Interviews
Transcripts of approximately 400 oral history interviews can be checked out at the library for a three-week period, with one renewal. Access the on-line catalog to find the interviews.
Databases
The Library provides free access to several online research databases related to Genealogy and Local Histoy. Most databases are accessible from home with a Poudre River Public Library card. These databases contain research information not widely available on the Internet.
Maps
The Sanborn Fire Insurance maps of Fort Collins, printed every few years from 1886 to 1940 are on microfilm in the Old Town Library Reference Area. The digital Sanborn maps database from 1867-1970 is available online.
Cemetery Records and Obituary Files
Books of Larimer County Cemetery Records are available in the Genealogy Reference Section of the Old Town Library and are organized by surnames. Obituary notices appearing in the Coloradoan newspaper from 1977 to the present have been duplicated and are filed alphabetically by surname in the Library as well as in the Local History Archive. There are also obituaries from 1999-present on the Coloradoan newspaper database.
Books and Periodicals
The Genealogy Reference section includes genealogy books and magazines. These books are not available for check-out. In addition, the library subscribes to an assortment of newspapers and periodicals devoted to Colorado and the West. Recent issues are located on the periodical shelves in the Adult Services Area, and are kept for various lengths of time.
The Genealogy Librarian maintains recommended reading lists on the Library's Family History - Genealogy page.