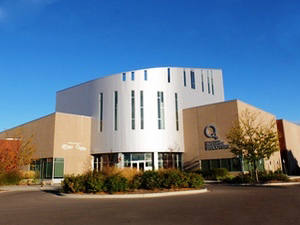 The Archive @
Fort Collins Museum of Discovery
408 Mason Court
Fort Collins, Colorado 80524
(970) 221-6688
Walk-In Visitor Hours
Tuesday - Saturday: 10:00 am - 1:00 pm

Appointment Hours
Tuesday - Friday: 2:00 - 4:00 pm
Book an Appointment
There is a lot of history to explore online through the Fort Collins History Connection website, but there's even more to discover by visiting us at the Archive at Fort Collins Museum of Discovery!
Visiting the Archive in person also allows you to interact with the staff, who can lend their knowledge of local history and available resources to assist in your research requests. It's our job and we love doing it!
What can I see by visiting the Archive in person?
Quite a bit! Most of the Archive's resources are not online and may only be viewed in person. Although we have scanned many items, online digital collections represent a fraction of our collections. We continue to work on making more and more materials available online.
Collections that are only partially online include:
Do I need an appointment to visit the Archive?
Appointments are appreciated so we can best prepare for your visit, but are not necessary during our walk-in hours.
We recommend contacting us in advance for specific research requests or materials. We do need at least 2 days of lead time to retrieve collections that are stored off-site.
What else can I expect when I visit?
The Archive is part of the "free zone" at the Fort Collins Museum of Discovery. The Archive Research Room located just to the right of the main lobby when you enter the Museum.
Parking is free at the Fort Collins Museum of Discovery.
All researchers must sign the visit the Reference Desk and sign the Visitor's Register each day they visit the Archive.
Food and drink are prohibited in the Archive.
Personal property not essential to research, including backpacks and coats, must be placed on the floor or in provided lockers in the Research Room.
Two computers are available to researchers in the archive. Laptops/tablets are allowed as long as they do not disturb other patrons.
Books and all materials are non-circulating and may not be removed from the Archive.
The Archive is a pen-free zone, meaning that you may only use pencils for note-taking.
We may ask you to wear cotton gloves, which we will provide, to handle certain materials.
View our entire Research Policy.
Have more questions about visiting the Archive? View our Frequently Asked Questions page, or Contact Us!