I Taught All My Life
Mildred Goldsborough McAnelly
August 28, 1972
Interviewer: Wayne Sundberg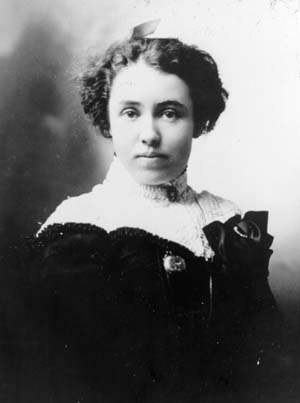 She chose teaching because that was the "only thing that girls used to do." Teaching did not require special training beyond a high school diploma and taking a county examination. Teaching certificates were awarded in three "grades" or rankings, and the county certification test had to be retaken every six months, until the teacher earned the top or "first grade" certificate. Mildred got the top certificate the second time she took the test. She continued her education, first at county institutes and eventually with university classes. For the first institute, she had to walk 10 miles to town. She started teaching at Waverly, north of town, right after graduating at 16 from high school in Fort Collins. (Class of 1894) Before she married, she also taught at Fossil Creek, Franklin (the old high school), and Remington.
Maintaining discipline was a challenge for such a young woman, especially as she "felt like a child" herself and weighed just 108 pounds. Once, at the Fossil Creek school, where she was in charge of 40 pupils, a train went by during morning recess; some of the bigger boys pretended they didn't hear the bell to come in. Instead they climbed up on a shed and "whooped and hollered and made themselves very disagreeable." When noon came, they sent a younger boy in to fetch their dinner pails, but Mildred had locked them in a cupboard and wouldn't give them up. The boys slunk in later, but she kept them for an hour and a half after school.
She was a strict disciplinarian. "My notion of teaching is very simple and I suppose very 'old fashioned.' I think schools are places where you go to learn. But now so many teachers say, 'they must be kept happy.' Well, it doesn't make a child happy to always have his own way. . . .You have to learn discipline. If you don't learn it growing up, life is going to discipline you."
Mildred taught for 10 years before she married and, not having children, taught off and on during her marriage. Her husband, Emmet Cleburn McAnelly, died when she was 49, and she returned to her career, adding another 20 years to her first 30 years of teaching at Barton, Laporte Avenue School, and Laurel. She officially "retired" when she was 69, but substituted until she was in her 80s. At the time of the interview, she was 96 and conceded she would not like to teach today's students. "They are so impudent!" She had demanded respect and she earned it. She marveled at the number of students who remembered her and wrote to her from faraway places.
Mrs. McAnelly died March 25, 1982, at 104. She lived for some seventy years in the brick home her husband built for her in 1904 at 610 West Mountain. When she finally had to move to a nursing home, the grandson of a dear friend purchased the home. He, like so many of her students and friends still fondly remember the little woman who probably taught more students for more years than any other teacher in Fort Collins!