Making Bricks at the Fort Collins Brick Factory
Dwight Ghent
July 10, 1997
Interviewer: Interviewer: Betsy Ewing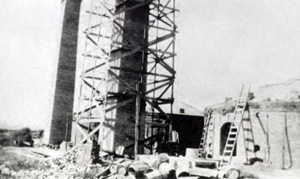 Dwight was born in Craig, Colorado, but his parents moved to Ft. Collins shortly after his birth. He's lived in Ft. Collins most of his life. Between his junior and senior years in high school, he had a summer job as a laborer at the brick factory. Ruins of the brick kiln and a wooden structure may still be seen near the railroad tracks today on South Shields between Ft. Collins and Loveland.
A railroad siding was built near an embankment of clay. Holes were drilled in the clay and dynamite was used to remove the clay. Then Dwight and his work partner would load the clay onto a small dump truck with shovels. From there it went into the wooden structure where the clay was formed into bricks. Then the task was to load the bricks into the railroad cars by hand. The men wore gloves to protect their hands and also would cut pieces of inner tubes to fit around the gloves up above the elbows to offer more protection.
Dwight recalls that it was a closed union shop, and Dwight didn't join the union because he was making so little money and was often cut short on employment. It was a small operation with just he and another man loading the clay and the bricks, the man who handled the dynamite, the owner and some office personnel -- not over ten people. He recalls the owner's name was Findley. A small office was on the site.
There was no graffiti on the side of the kiln then. Spray paint had not been invented and no one could afford to waste regular paint.
When asked about his connection to Ghent Motor Company, Dwight replied, "I was Ghent Motor company for 40 years." His dad started the business in 1941 and he came into it in 1946 after returning from the service, his brother joining the firm a few years later when he also returned from the service.
The present Ford dealership building was built in 1966. Dwight retired in 1987 and sold the dealership to his brother and nephew and about a year later it was sold to Spradley Barr.
At one time several members of the Ghent family were involved in the business. For more details, read The Colorado Car Book by Bud Wells.