How Tom Ernest Made One Hand Wash the Other
A funny story written by Ansel Watrous
recounted by his grand-niece, Doris Jane Greenacre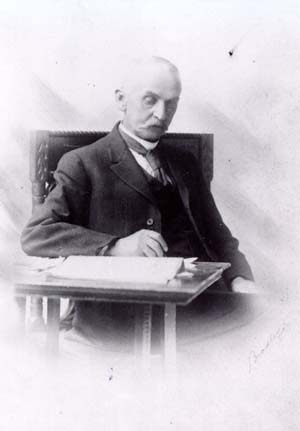 "Dr. T.M. Smith was an assistant surgeon stationed at the military post here in 1867. He was called to attend Mrs. Tom Ernest - she was to give birth to her first child. He successfully delivered a daughter and submitted a bill for a hundred and fifty dollars. Tom was surprised at the bill, but he kept his peace and waited.
Meanwhile Dr. Smith's prize colt got sick. He called Ernest, who was sort of a horse doctor, to come and take care of his colt. In less than half an hour Ernest treated the colt, gathered up his instruments and went home. The colt recovered and became one of the finest horses in the county. Some time passed and Dr. Smith decided Ernest should pay his bill for wife and baby. He drove to Ernest's home in Timnath, presented him with the bill and demanded payment. Tom agreed. He said he was ready to settle with him, but first pulled his bill for the colt out of his pocket and handed it to the doctor.
'You damn rascal, what do you mean charging a hundred and fifty dollars for treating my colt? You didn't take any longer than half an hour.' 'Yes, I know, Doctor. And you were not over a half-hour attending my wife. I matched time against time, skill against skill. I think we are about even. If you will receipt my bill, I will receipt yours and we'll call it quits.'
Dr. Smith saw the point, agreed, signed the receipt and shook hands. He said later, he'd like to meet a man who ever got the best of Tom Ernest in a deal.