Boot Leggers, Cattle Rustlers, College Students, and Ordinary Drunks
Thirty Three Years in Law Enforcement
An Oral History by Orville Pollock Kelley
July 19, 1974
Interviewer: Jonathan Anderson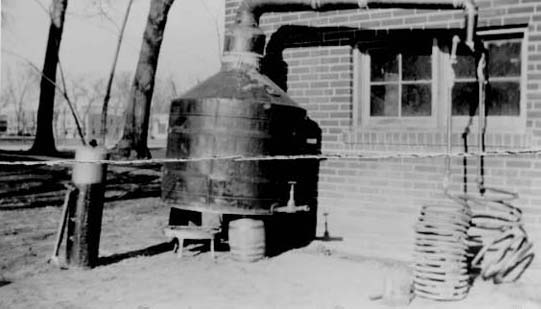 Orville Pollock Kelley was born in Cambridge, Ohio, on October 25, 1888. He came to Loveland, Colorado, for a short visit in 1908 and started working in grocery stores, eventually going into a partnership with Clarence Shulte in a grocery and meat market. Then in the fall of 1924, as he put it, "I kind 'a got mixed up in politics."
He was elected Under-sheriff and eventually Sheriff of Larimer County. He left the sheriff's office in 1933, but in 1936 was asked by the Mayor and City Counsel of Fort Collins to take over as Chief of Police of Fort Collins, a position he held for 25 years, until 1961.
Reflecting on his thirty-three years in law enforcement, he recalled when it was not narcotics but bootleg liquor that caused the problems. "We had liquor, a lot of it." During his eight years in the sheriff's office, the county had stills scattered all over it up in the mountains. "And that was our main problem - getting rid of the stills."
They "just worked on it" to solve the problem, usually starting with a tip from someone. "Then you just got to lay out on it and catch it when it's right, which we did. I had some good men working with me, and we got along with it in good shape without anybody getting hurt."
"I remember one that was way up Buckhorn Canyon like. We laid on that for two days before we got it and we got the fellow when he was comin' early morning - and we didn't get the owner. We just got the operator; the owners, most of them were in Denver." The operators didn't want to give up on their business . . . "but we never had anything too exciting over it." Never in the eight years did anyone shoot at the law and never was anyone shot, according to Kelley. In fact, there was one officer that "got trigger happy and I had to let him go."
Cattle rustling was another problem . . . "One of the hardest things we had to work out." Most rustling was done at night so they wouldn't get a report on it until a day or two later. Then, as in bootlegging cases, it was a matter of "laying out" and getting information until there was enough evidence for an arrest.
Still, Kelley recalled, in his thirty-tree years in law enforcement, even though there were murders and suicides, he never had real serious problems. He and his deputies sometimes had to transport mental patients to the state hospital in Pueblo, which was done with cars. Prisoners going to the penitentiary in Canon City were escorted on the train. Sometimes Kellley had to go to other states to pick up prisoners. None escaped while being transported, but two who had robbed a grocery store in La Porte broke out of the jail in the old courthouse. Kelley suspected they would try to make it back to their home territory of Indiana and sent out circulars with their photos. And a sheriff there and his deputy spotted them hitchhiking and arrested them. Extradition was made difficult by slow moving paperwork and January weather. While the deputies were in Indiana waiting, the prisoners cut up all their clothing. "Just orneryness." By the time the deputies bought them new underwear and striped pants, the newspapers had made a "big thing" about it. A crowd watched as the prisoners were tied together and bundled into the car for the trip back to Fort Collins which was further complicated by a blizzard.
In Kelley's day there was respect for law enforcement. Often juvenile troublemakers needed only a talk to straighten them out. Kelley would remind them of how getting a police record would prevent them from getting civil service jobs or military careers and talk to their parents, and matters were resolved without a record being filed. It wasn't that he let things "slide," especially not with college students, numbering 1200 in his days. He found talking to class leaders and fraternity officers kept the students' "wild times" from becoming unmanageable. He recalls "College Days" as being the wildest times with students coming in from other schools causing the most trouble. There was always good cooperation between the law enforcement agencies, the college and the mayors of town like Cheyenne and Laramie. Kelley recommended Wayne Teegarden to help organize and head the CSU police department.
Drunks were a little more trying to handle, especially the repeat offenders who often landed in the jail to sleep it off. One of these "regulars" was known as Rattlesnake Jack who got drunk every time he came to town. He always had friends who would put up his bond to get him out of jail and he'd just forfeit the bond and never go to court. Kelley had some affection for Jack and Jack even braided Kelley a billy club handle, tho Kelley never carried it as it was "wicked." "Jack was a good hearted son-of-a-gun" who just had trouble with liquor.
He acknowledged that law enforcement has become more difficult since his active days, when things could often be worked out with a personal touch. "If I've got an enemy around Fort Collins or Larimer County in all the thirty-three years of my law enforcement, I don't know who they are."