Two of the early Banks that continue to operate in Fort Collins today are:
These two historic Brochure reproductions provide historic photographs and information about these two major banks.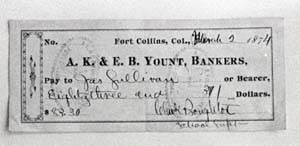 Picture of bank draft, A.K. & E.B. Yount Bankers, pay to Jas Sullivan by School Supt., filed F.C. Banks, March 2, 1874.