He was also interested in the original streetscape in front of the Colorado & Southern Depot with its grassy median in the center of the street, and the round grassy median or roundabout that was previously in the intersection of Laporte and College Avenues. He commented that there is a similar streetscape at the entry to Disneyland's Main Street USA with its railroad station.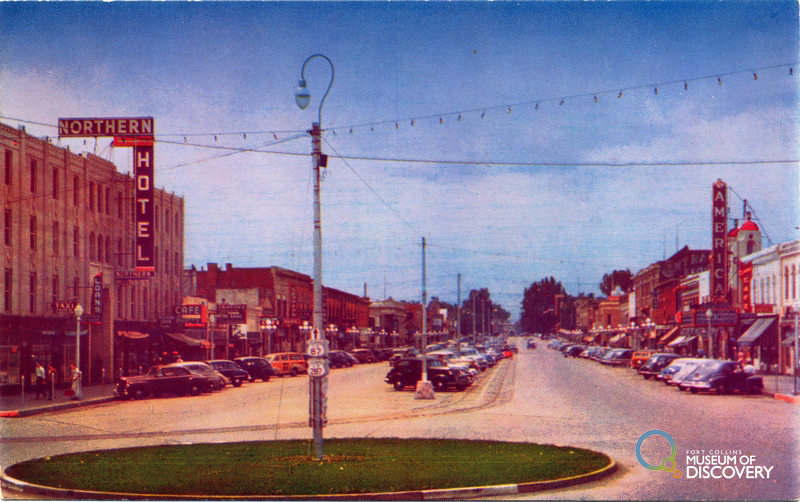 As a result of this information, Ms. Massey informed Joy Poole, then director of the Fort Collins Museum, and Coloradoan newspaper reporter David Persons that Fort Collins had some little-known notoriety. Ms. Poole and David Persons set up an appointment to interview Mr. Goff's wife in Palm Springs, California. This interview is published in the November 5, 1995, edition of the Coloradoan page A1. Additionally, the New York Times published an article on Mr. Francaviglia's book that included photographs of Fort Collins and the comparison to Main Street USA in its October 15, 1998 edition on page F1. These articles are all available to view in the Archive's biographical file of Harper Goff, and Francaviglia's book Main Street Revisited is available for research at the Archive at Fort Collins Museum of Discovery and for check-out at the Poudre River Public Library District.
Dave Smith, Chief Archivist Emeritus for the Walt Disney Archives, also confirmed the Fort Collins and Disneyland connection in his 2012 book Disney Trivia from the Vault: Secrets Revealed and Questions Answered:
"There are two towns that can claim a relationship with Main Street, U.S.A. at Disneyland - Marceline, Missouri, where Walt Disney spent several years of his childhood, and Fort Collins, Colorado, where Main Street designer Harper Goff grew up."
The Fort Collins Museum of Discovery has two works of art by Harper Goff in its collection: