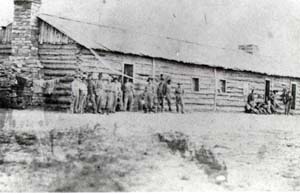 Soldiers in front of building, professional enlisted barracks, old military Fort Collins, c. 1865
Legend: Tuesday, June 11, 1872, a Conley Lines stage left the Clark, Gruber & Co. mine in Denver with no passengers and a strong box containing $62,000 in gold coins. The stage was bound for Fort Laramie in Wyoming Territory. The money was to pay for the fort's troopers. The eight mule stage was escorted by a twelve man patrol of the Seventh Dragoons. They went as far as Fort Collins, where Colonel Critchell was to replace the Dragoons with his troops. However, his troops were chasing the Ute Indians and thus not available to escort the stage. The Dragoons could not continue for they would be out of their military territory. Therefore Critchell gave the stage permission to proceed without an escort. Seventeen miles north of Fort Collins the eight mule stage was bushwhacked at Coyote Pass by the Borrell gang. In the meantime Colonel Critchell had qualms about his decision, and ordered eight men from his own garrison forces to catch up with the stage and escort it to Fort Laramie. They arrived just as the gang was leaving with each of the robbers carrying a poke filled with gold from the strongbox. The soldiers pursued the robbers, but they escaped. Two of the soldiers returned to Fort Collins; and by this time Critchell's other troopers had returned from their pursuit of the Utes. Critchell ordered forty of these troopers to proceed to the robbery site and "scour the mountain until the gold was recovered." They found the gang and shot each member but none of them revealed the location of the gold before they died. Many civilians and troopers searched for the gold over the years.
Eleven years after the robbery, Stacy Wehrer, a lower Poudre Valley beef rancher, was riding down from the same mountain when he was confronted by Fred Anderson and a group of ruffians from Loveland. They asked him where the gold was and he said he did not know; however, as he took off they shot him and found on Fred eleven uncirculated gold coins of Clark, Gruber & Company mintage. They knew this was from that Company's stage robbery, and tried to unsuccessfully get more information from Wehrer before he died. Anderson and the ruffians were later caught and tried. This prompted new searches for the gold, but it has never been found.
Truth: The location of Coyote Pass [There is no Coyote Pass in Colorado.] and the gold is still being searched for today. This legend was written by Dean Ballenger, a Loveland, Colorado author, in the January 1979 issue of Treasure magazine. Mr. Ballenger was interviewed by Joanne Guinn in November 1984 for an article in the Business and Community Focus newsletter published by the Loveland First National Bank. Ballenger said he wrote in four distinct styles: westerns, World War II stories and novels, domestic crime, and off-shore adventure. Guinn asked if he had ever deviated from these styles. He said:
"A couple of times. Once, I was writing "treasure" stories. They must have been convincing, because I had to stop doing them when readers began calling me and coming to my home--asking for information on how to find the fictitious treasure."