News Flashbacks
Mrs. Bair Recalls Early PO Times of 2-Cent Letters, No Parcel Post
Fort Collins Coloradoan, February 13, 1963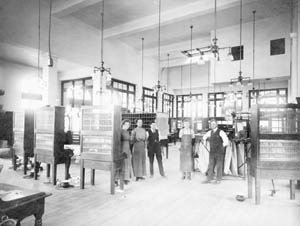 Letter postage was only two cents, but there was no parcel post service in the days when Mrs. J. A. Bair of 1216 West Olive Street worked at the Fort Collins post office. She is the former Miss Edith Pegg and was born here. Mrs. Bair, who was a member of the post office staff from 1907 through 1921, started work at $ 50 a month under the civil service. The starting figure was the same for men and women postal clerks. By the time she ended her post office career, she said, she was earning a good salary for that period. During her years in the post office it occupied three different sites. When she started it occupied the first floor of the Linden Hotel building at Walnut and Linden Street, except for a hotel office on Walnut Street and headquarters of the Poudre Valley National Bank on the corner. The upper floors were used by the hotel, which was started as one of the town's main hostelries. The Tedmon House was a popular early-day hotel, until it was torn down to make way for the old Pacific Union Railroad passenger station, now occupied by the Everitt Lumber Co. The present Northern Hotel was known as the Commercial Hotel in early times.
From the Linden and Walnut location the post office was moved to the McCormick Building at West Mountain Avenue and Mason Street. In 1912 the present post office building was completed. Six trains a day brought mail to Fort Collins when she was at the post office, Mrs. Bair said. Two trains a day made round trip from Denver to Greeley by way of Fort Collins. Postage rates were two cents for letters, one cent for post cards. Parcel post service was started after she began work. Before then there was a four-pound limit on packages and the charge for them was one cent an ounce. The packages were also limited to shoebox size.
The city's first mail carriers had started their rounds in January, 1901. By 1907 there were five city and four rural carriers. The city carriers made deliveries twice a day, and to make sure that residents found their mail at once, the carriers blew whistles when they delivered it. Mrs. Bair said the only man now living who started as a mail carrier back in January, 1901, is Marcus H. Huffman, whose present home is in New Mexico.
Mrs. Bair, who taught school at Berthoud, much preferred post office work to teaching. Her responsibilities included stamps, money orders and registered mail. Asked about her working hours, Mrs. Bair replied, "We just kept on till we finished our work. There was no law then limiting the number of working hours for women. All sections of the post office were open from 8 a.m. to 5 p.m., six days a week. A stamp window remained open till 6 p.m." Sale of postal savings stamps was started during Mrs. Bair's period with 10-cent, 25-cent or $ 1 stamps available.
Few pieces of mail had to be consigned to the dead letter file in the early 1900s, Mrs. Bair said, because it wasn't hard then for all the post office staff to know all the city's streets and a good share of its population. Because the town was small, the postal clerks had time to trace incorrect addresses. "I knew everyone at the college then," Mrs. Bair added; "now I don't even know everyone in my own church."
Because there were few telephones in the city, Mrs. Bair said, there was a booming special delivery business when persons in other communities wanted to reach someone here as speedily as possible. During Mrs. Bair's years at the post office there was another woman on the staff; Miss Fanny Tenny first, then Miss Ethel Moore, and later Miss Leva Brunton. Mrs. Bair and Miss Brunton left the same year to be married. Postmasters of her period were Thomas H. Davey, Lawrence Nightingale, Emmett McAnelly and Marshall Moore. The late Mr. Nightingale was Mrs. Bair's brother in-law. Asked about "Christmas rushes" while she was working, Mrs. Bair replied, "They were just terrible. I think the mail doesn't pile up as badly now during the holiday season because they have better equipment and stress early mailing more." The most valuable parcels arriving in those days were consignments of paper money for local banks, sent by registered mail. Customers often paid for stamps or money orders with $ 2, $ 50, $ 5 or $ 10 gold coins, Mrs. Bair recalls. Paper bills, she said, were larger then those used now. The only local post office holdup of which Mrs. Bair knows occurred after she left, but involved a man with whom she had worked. Mr. Van Sickle was the victim. Before the present post office could be built, Mrs. Bair said, a hill had to be leveled. When land behind the new building was excavated for a driveway, workmen found what had been an early-day cemetery. Mrs. Bair watched as they uncovered one of the graves.