News Flashbacks
Recollections: Early Days at Chambers Lake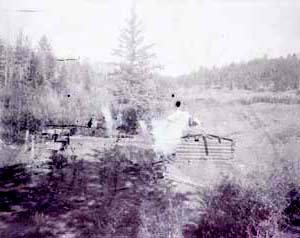 From a newspaper article in a scrapbook with no author or date. It is assumed the article was in the 1950s for another article pasted on the same page is dated July 1, 1954.
Though Chambers Lake seems pleasant enough today, time was when that lonely spot saw happenings as horrible as any in the mist of civilization. The first people to stay any length of time at the lake were probably Robert Chambers and his son Bob. In the late '50s they came to Colorado from Iowa and built a cabin at the mouth of the Big Thompson. They lived there some time hunting and fishing for a living. In 1858 they established a camp on the shore of what is now Chambers Lake.
They realized the danger of staying very long so far up in the mountains because of hostile Indians. However the trapping was very good and they decided to take the chance. Things went almost so well that they forgot about the Indians. When ammunition began to run low, Bob set out for Laporte to get more. He had a good trip and returned with his pack full of supplies and his mind full of news for his father. When he reached the crest of the lake he was stunned by what he saw on shore.
Their cabin was a heap of ashes and charred logs. Bob found his father in the ruins scalped and horribly mutilated. The blame could be laid on no one but the Indians. Apparently Mr. Chambers had held out as long as his ammunition lasted. He had even cut up the ramrod of his gun for slugs. Young Chambers buried his father and left the lake swearing to shoot on sight every Indian he met. This he carried out.
In 1867 Chambers was in Cheyenne where he fell into conversation with a lumberman. He told the lumberman of the fine timber in the region of the lake where his father died. The tie contractor sent a camp and tie outfit to the lake and cut and floated down the Poudre more than a billion ties. It was then that the lake was named Chambers Lake in memory of Robert Chambers who had died there in 1858.