News Flashbacks
[Lee Martinez] Farm's Past Studied
Fence Post, June 3, 1985, page 7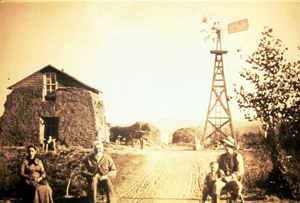 According to information compiled for the Fort Collins Department of Parks and Recreation, the Lee Martinez Farm land was at one time owned by Joseph Mason, Fort Collins' first postmaster.
In 1874, James L. Allen bought the land, but sold it almost immediately to Benjamin Whedbee.
George H. Wilcox bought the farm in 1912 and had a dairy business there. Trustees for his estate deeded the land to Fred Quiller in 1919.
During the 1920s the land was owned by J.A. Nelson, who built the house and barn undergoing renovation today; Nelson operated Nelson's Dairy there during the '20s.
In 1945 Oliver and Janet Nichols operated the dairy. The Nichols now live on South Shields Street in Fort Collins.
Clarence L. and Helen M. Penrod bought the dairy in 1948 and in 1953 it was owned by Jake and Leda V. Smith, who are living on North Yount Street in Fort Collins today.
Poudre Valley Industrial Complex purchased the land from the Smiths in 1973, and later sold it to the city of Fort Collins for a park.
The Lee Martinez Farm has sometimes been called "Centennial Farm."