News Flashbacks
Our Manufacturing Interests
Mills Which Saw Lumber And Stone From The Adjacent Hills
The Machinery Being Put Into the Cheese Factory, Which Will Soon Start Up
by Author Unknown
Fort Collins Express February 15, 1890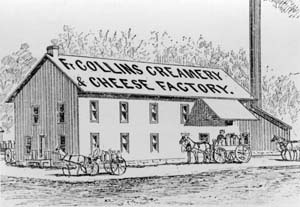 It seems to begin to dawn upon a few of the citizens of Fort Collins that something can be accomplished in the way of manufacturing that will result in a fair profit to themselves and at the same time benefit the community. The Express has been untiring in it's efforts to encourage new industries and we are vain enough to think that our missionary work has not been an utter failure.
The firm of Ingram & Son, the planing mill men, recently added to their other machinery a saw mill for working up saw logs. At first the mill had little to do, and people living in the foothills and mountains were slow in bringing in the logs. But the firm persevered and as a result they were recently compelled to procure additional help and to run their mill daily in order to work up lumber as it came in. People living fifteen and twenty miles up in the mountain are bringing in logs and a number of Fort Collins parties are engaged also, in the same vocation. This lumber, which is sawed into dimension stuff and is purchased as fast as turned out by Mr. Jacob Welch, who is just starting up a new lumber yard.
The firm of Buck & Day has just been formed. Those gentlemen are building an establishment for the purpose of sawing stone, just west of the electric light-works on Mountain Avenue. Two gang saws are being rigged up which will be run by steam power. Gray and red sand stone from the quarries west of town will be saved into blocks of all dimensions for building and ornamental purposes. Parties living near Steamboat Rock who have a valuable deposit of marble on their land will open up a quarry and commence hauling blocks to the new mill to be sawed into slabs. Larimer county contains vast ledges of marble of every color and a very fine texture. We look for this industry to develop in vast proportions. Success to Buck & Day.
The Fort Collins cheese factory will be in running shape. Mr. Corbin, who recently bought the property has purchased a plant of machinery and yesterday it was being transferred from the depot to the factory. Every effort is being made to have the factory start up under the most auspicious circumstances and by April 1 we may confidently expect Larimer county to be turning out "world beaters" in the way of cheese.
Thus the good work goes bravely on.