News Flashbacks
Stout: the town site under Horsetooth Reservoir
Rocky Mountain News, Sunday, October 1, 1961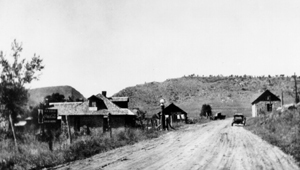 Dear Editor:
Recently I came across a letter written by my father from a town called Stout. Do you know anything about it? Mrs. L.K.B., Denver
Dear Mrs. L.K.B.:
Yes, there was a Colorado town by the name of Stout. It no longer exists and the site of it is under Horsetooth Reservoir near Fort Collins.
It derived its income from sandstone quarries during the 1880s and 1890s. Many of the sidewalks in Denver, Omaha and Lincoln were made of Stout sandstone. The Chicago World's Fair buildings (1893) also were built of sandstone from the Colorado town.
The Colorado and Southern Railroad ended its northern terminal at the town. The buildings of the town were built of the sandstone. Many of them dated back to 1880, some even earlier.
40 years ago the town became a ghost town and for 25 years lay in crumbling ruins. In 1946 the Bureau of Reclamation engineers moved in and sealed the fate of the town.
For more detailed information on Stout, see:
History of Larimer County Volume II by Arlene Ahlbrandt (edited by Andrew J. Morris), page 343
History of Larimer County, by Ansel Watrous, pages 152 and 393
"Founded on Rock: Colorado's Stone Industry", Edith Bucco, Colorado Magazine, volume 4, 1974, page 317