News Flashbacks
Street Names Recall Early History
by Dudley Cress
Fort Collins Coloradoan, February 19, 1963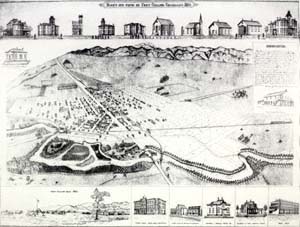 Many street names in Fort Collins, both new and old, reflect a rich part of the early history of the city as far back as 99 years ago. A map of the original township, filed Jan. 18, 1873, showed a 932-acre tract. The town was bounded by the Poudre River on the north and east to the present Highway 14, south along Colorado Street, then west along Elizabeth Street to College Avenue, north to Laurel Street, then west to Whitcomb Street and north to where Whitcomb met the Poudre River. Most of the east-west streets were named after trees or shrubs. However, the north-south streets were named after prominent residents of the time. These include Whitcomb, Sherwood, Meldrum, Howes, Mason, Remington, Matthews, Peterson, Whedbee, Smith, Stover, and Cowan. Mountain Avenue was so named for obvious reasons and College Avenue was so designated because the Colorado Agriculture College land fronted on it. Laporte Avenue was named in honor of the Collins Camp site of 1863-1864.
Colorado Street was named in honor of the state and Lincoln Avenue in honor of President Lincoln, who in 1864 signed the order establishing the Camp Collins military reservation which preceded the founding of the present Fort Collins. Angled and east-west streets were named for trees or shrubs including Pine, Linden, Chestnut, Willow, Walnut, Elm, Sycamore, Cherry, Maple, Oak, Olive, Magnolia, Myrtle, Laurel, Plum and Locust. The other streets in the original plot were obvious names such as Canyon Avenue, Riverside Drive, Jefferson Street, and Cache la Poudre Avenue, which no longer exists. The original township shows three streets which have since disappeared. They include Cache la Poudre Avenue which was a two block angle street which ran from the Elm-Sherwood intersection southeast to the Howes-Cherry intersection. Spruce Street was a two-block street in the area of the present city dump. Lincoln Place was one block long, running behind the present public library, separating that area from Lincoln Park. Today sub-dividers of land outside the city are responsible for the naming of streets. Many sub-dividers are using common names for streets which can be found in almost any city in the country.
However, several are again naming the streets after persons prominent in the city's past. Dr. C. E. Honstein in his Highlander Heights Subdivision along Lemay Avenue south of Poudre Valley Memorial Hospital has used such names as Patton, Welch, Emigh, McHugh, Alford, Yount and Luke. David Patton was the Fort Collins mayor in 1880, Jacob Welch was mayor in 1881, Abraham L. Emigh in 1883, P. J. McHugh in 1903 and 1904 and C. H. Alford in 1945 and 1955. S. D. Luke was a member of the Town Board of Trustees and President of the Board of Finance in 1875. A. K. Yount was President of the Board of Finance of the Town Board in 1869. The University Acres Sub-Division, just west of Highlander Heights had used the names of presidents of Colorado State University. These include Lory, Green, Robertson, Morgan and Newsom.
The South College Heights area developed by Mrs. L. H. Tiley uses the names of universities or colleges as its street names. These include Tulane, Cornell, Brown, Rutgers, Vassar, Dartmouth, Princeton, Baylor, Yale, Columbia, Loyola, Purdue, Stanford and Duke. Many sub-divisions, especially those in the western portion of the city, have not used any specific method of naming streets. Instead developers have used popular names with no special significance. These include Aspen, Westward Drive, Buckeye, Bluebell, Castle Rock Drive, Clearview, Cottonwood Drive, Prospect, Sunset, Springfield Drive, Meadowbrook Drive, Park Street, Skyline Drive, Hollywood, Circle Drive, City Park Avenue, and many others. Roosevelt Avenue, Washington and Grant Streets were named, of course, after U. S. presidents. Several other streets in the city were named after old-timers important in local history. These include Edwards, Loomis, Akin and Taft Hill Road.
Organization of the Agricultural Colony of Fort Collins began in 1872. On Dec. 9 a group of men met and organized with R. A. Cameron, then president of the Greeley Agricultural Colony, elected president and supervisor. John L. Matthews was chosen vice-president of the Fort Collins Colony. The list of trustees of this group reads like a dictionary of Fort Collins streets. The trustees included A. F. Howes, J. E. Remington, Norman H. Meldrum, E. W. Whitcomb, Jacob Welch, Benjamin T. Whedbee and Joseph Mason. Jared L. Brush, the Rev. E. Hollister and B. H. Eaton were also on the board, but were all residents of Weld County at the time. Mr. Howes helped get the first schoolhouse built built in Fort Collins in 1870, served as a probate judge for Larimer County and was later a state senator. Mr. Sherwood served as a county judge and as a state senator. He and his brother Frederick W. Sherwood were among the early settlers in 1860. F. W. Sherwood served on the first board of Larimer County Commissioners in 1861.
Mr. Matthews moved to the LaPorte area in 1866, and moved his mercantile business to Fort Collins several years later. He twice served as county clerk. Ansel Watrous, in his History of Larimer County, says that Mr. Matthews was one of the main supporters of the movement to have the state agriculture college (CSU) located in Fort Collins. He and Arthur H. Patterson, Joseph Mason, and H. C. Peterson donated land to the state to get the college established here. The Territorial designated this land for an agriculture college in 1871, although nothing was done toward building the college until 1878. Mr. Remington served as Fort Collins postmaster in 1873. Mr. Meldrum served two terms as a county probate judge and served a term as state senator.
"Uncle Ben" Whedbee served as the first president of the Town Board in 1873 and served on the board until 1880. He was Larimer County's first treasurer. Mr. Mason was among the earliest settlers in this area. It was mainly his recommendation that caused Camp Collins from the old Laporte Site after a river flood in 1864. He served as the first postmaster in 1868 and sheriff in 1871 and was on the first board of County Commissioners. H. C. Peterson, besides helping get the college located here, was a prominent builder in early Fort Collins. He built the city's first schoolhouse, hotel and mess hall, and the first grist mill in 1869. He was one of the first white settlers in the old Camp Collins (Laporte) area. William C. Stover, a prominent businessman in the community, operated the Fort Collins Mercantile Co. and started the Poudre Valley Bank in 1878. He ran for state senator and lieutenant governor, but was defeated both times. Dr. T. M. Smith was the pioneer doctor here and was the Camp Collins surgeon in 1864. He served as county treasurer in 1872. Andrew Cowan was a member of the first board of trustees of the First Presbyterian Church. The only original east-west street which bears the name of a pioneer is Elizabeth Street named after Mrs. Elizabeth "Aunty" Stone. She and her husband built the first permanent dwelling in Fort Collins in September 1864, and she operated the city's first hotel and mess hall, built by Mr. Peterson. She also was his partner in operation of the mill.