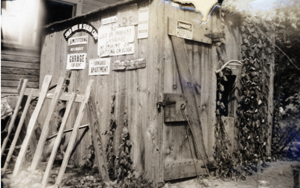 Don Brown's childhood clubhouse
Don Brown was born on March 8th, 1920 in York, Nebraska to T.N. "Dee" Brown and Gladys Creery Brown. The Browns lived in Nebraska until 1927, then Dee decided to move the family to Fort Collins, Colorado. Recalling the move to Fort Collins, Don said he remembered the year because it was the same year Lindbergh crossed the Atlantic.
His father Dee established his own barbershop in the Alpert building, downtown Fort Collins, and his wife Gladys had her own beauty shop next door. By 1935, Don's mother, a drifter by nature, divorced Dee, left Don with the Kueblers (Gladys' own former foster-parents) and wandered the country. The Kueblers were caretakers of the Scott Apartments, 904 S. College Ave. Occasionally, he would stay with his father or just hang out at the apartment back behind Dee's barbershop.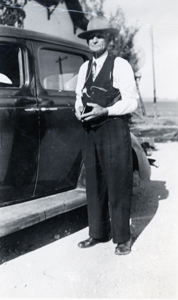 Mr. Kuebler,
Don's foster-grandparent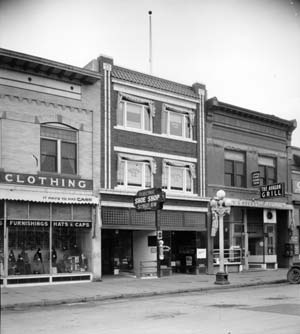 Alpert Building, 140 S. College
center building
Small town Fort Collins provided a friendly and challenging environment for Don and his upstanding, but sometimes wreckless group of friends. During High School they developed major interests in motorcycles and early automobiles that are photographically documented in Don's scrapbooks. Bob Hoyt (Don's life-long and teenage friend) describes the group in his oral history, "if they didn't have a motorcycle, they wasn't in." The group rode only Indian motorcycles, believing Harleys to be inferior! They built engines for their motorcycles strong enough to race with the best and to make the difficult Horsetooth Hill Climb (located just outside of Fort Collins, it was one of the steepest hill climbs at the time). Don was known to also stand and balance on his motorcycle seat while driving down College Ave. and trying the patience of the local police.
Don and his friends built race cars for the dirt race track that was then located near the old Fort Collins airport east of town. These race cars achieved speeds of 90 mph and beat other racing cars throughout the country. He continued his interest in the automotive for the rest of his life, later making the magazine series "Factorama" (informational tidbits with accompanying sketches) on the subject and joining antique auto clubs.