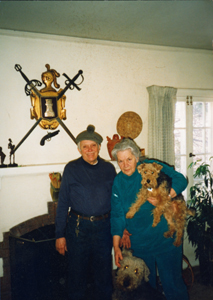 The Browns in their home
in Trinidad
After their return from the Peace Corps, the Browns were still unable to overcome the loss of their daughter. Their mourning once again turned into a wanderlust. They bought an RV and tried to live a nomadic life, and, for a while, they even set anchor in Brawley, California.
After they tired of ther wanderings, they moved back to Fort Collins and Don resumed freelance artwork. During this time, he worked on signs for Hertz, Snyder Concrete, Kunkler Produce, the Charco-Broiler and other companies. He also did a detailed painting for the Wright family (owners of a local company), portraying their move from Kansas to Colorado during the Great Depression.
By 1986 their patience had been sorely tried. Late night fraternity parties near their house on Lake St. and Fort Collins' growth prompted them to move to Trinidad, Colorado. Don volunteered at the local antique auto museum. And, although Trinidad is a fair distance from Fort Collins, Don's friends were able to make it down to see them.
Mid, Don's life anchor, died of cancer September 3, 1991; and he began to drift. In 1994, Don's friends, Steve Mack and Bob Hoyt went to Trinidad and took him to the Veterans Administration (VA) Hospital in Fort Lyon. In 1996, Don was moved to the VA hospital in Cheyenne, Wyoming, where Rheba Massey interviewed him in 2001. He died February 1, 2001. He left behind great memories for his friends, and an artistic mark on Fort Collins commercial landscape.