"Mr. Hottel is a native of Virginia, born, reared and educated in the famous Shenandoah valley. He came west in 1875, stopping first at Omaha where he engaged in the wholesale grocery business. Later he put a herd of cattle on the rich pasture lands of Wyoming, casting his lot with Fort Collins in October, 1877.
At this time he was less than thirty years of age but he had foresight, courage, energy and ability and seeing in the Cache la Poudre valley a future of great industrial promise, he determined to aid in its development. He had learned the miller's trade in his father's mill in the Old Dominion and did not hesitate to associate himself with Joseph Mason in operating the Lindell mills, then owned by Mr. Mason, and since then Fort Collins has been the home of himself and family.
In February, 1880, he bought a half interest in the mill, purchasing the other half of the Mason estate after Mr. Mason's death in 1881, becoming sole owner. In 1885 he sold the property to the Colorado Milling & Elevator company, but has since remained as manager of the mills for the company. Since becoming identified with the Lindell Mills, Mr. Hottel has paid to the farmers of the Cache la Poudre valley millions of dollar for wheat and other grains and is looked upon and recognized as one of the foremost men of Fort Collins.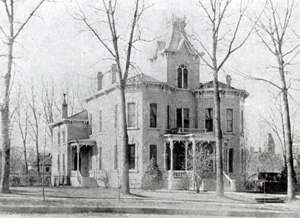 The Hottel residence, razed to make way for the J.C. Penney store, was one of Fort Collins' most prominent dwellings. Its' tower was said to be patterned after the Colorado Agricultural College's Old Main.
He is possessed of great strength of character, marked breadth of vision and is enterprising and public spirited. He was one of the leaders in the movement which resulted in getting one of the largest sugar factories in the state built in Fort Collins, himself subscribing for $25,000 worth of stock in the enterprise and was made first President of the company. He is always ready with voice and purse to help along and promote any enterprise or undertaking that promises to advance the material, social and moral welfare of the community.
Although he has never been an officer-seeker and has always been averse to accepting public office, he did consent to serve the city twice as an alderman from his ward, rendering splendid service each time. He is a large hearted, broad-minded man and one of the main stays of the business interests of Fort Collins. His benevolences amount to a large sum each year, yet he bestows them in a quiet, modest way, not "letting his left hand know what his right hand doeth" in such matters.
In January, 1910, Mr. Hottel was elected President of the Poudre Valley National bank with which institution he had long been connected as a stockholder and director. In 1875 he was married to Emma Mantz and three children, Charles M., Anna Josephine (now deceased), and Mary E. are the fruits of the union. In religion, Mr. Hottel is an Episcopalian and in politics, a democrat."

--Ansel Watrous, History of Larimer County, Colorado