Fort Collins Detailed Time Line 1870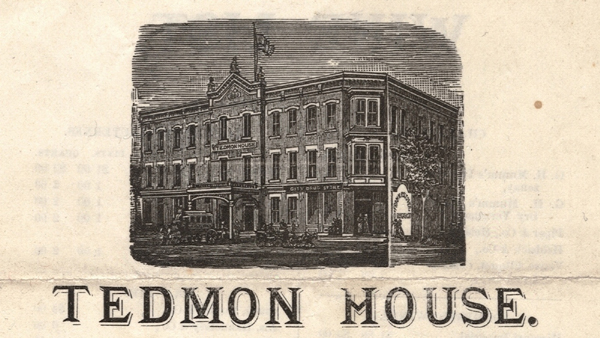 The following links are to a chronological index of Fort Collins information compiled by Fort Collins Archive volunteers and staff.
The information is from these reference sources and they are noted in the Time Line. There is also a Brief Time Line available.
[BUSINESS/INDUSTRY] [AGRICULTURE] [PEOPLE] [GOVERNMENT/CITY DEVELOPMENT] [COLLEGE/UNIVERSITY] [CIVIC] [NATURAL PHENOMENA] [MILITARY ACTIVITIES/WAR] [HEALTH/MEDICINE] [CIVIL RIGHTS] [TRANSPORTATION]
Following the decline of the fort there was little to indicate that the little frontier town of Fort Collins would grow into a prosperous city. The rustic settlement and the arid climate did not make attractive inducements for travelers used to a more cultured society and more temperate climates. The noted world traveler Isabella Bird, who passed through Fort Collins in 1873, wrote of the coarseness of the town and its people.
However, Fort Collins did attract settlers from all over the country and the world. The event which, perhaps, established Fort Collins as a town of promise was the location of an agricultural colony here in 1872. Robert Cameron directed the town development company which, encouraged by its success at Greeley, acquired the army's reservation land. The Larimer County Land Improvement Company was formed and the townsite was surveyed and platted. People of "a good moral character" were solicited to join the colony. Prospective colonists were sold certificates entitling them to tracts of land or lots in town. The first drawing for lots occurred in December, 1872. The colony immediately provided hundreds of new people, and many new buildings and businesses to the town.
In 1873 the Larimer County Board of Commissioners was petitioned by Fort Collins taxpayers to incorporate the town. This was done and the board appointed trustees who were later elected to form the town's first government. Twenty-three votes were cast in that first election. Officers included Benjamin T. Whedbee, Henry C. Peterson, G. G. Blake, and W. S. Vescelius.
In spite of the boost the colony gave Fort Collins, its founding did create problems for the developing town. Since the colony was platted along the compass points while the original town had been platted parallel to the river, a physical division between the two communities resulted. It soon became a political division. In the winter of 1872-73 Ben Whedbee moved his store from Jefferson and Linden, the center of "old town," to College and Mountain, the center of "new town." His move began a feud which affected town politics and hindered development for many years. The rivalry between old and new town disenchanted prospective settlers. Political parties and newspapers took sides. Measures which would have benefited the whole town were opposed simply because the other side supported them.
There were other factors which dimmed the outlooks of Fort Collins residents in 1873. The nation's financial panic of that year caused the town's first bank to fail. Consequently most of the money in the county was lost. In the same year the first of the decade's grasshopper plagues hit the county. Swarms of these insects devastated the county's crops, making times even harder for the financially stricken region. These plagues lasted through 1876 and made it difficult to even obtain barter to trade for goods and services, a practice which was necessary during the period of the panic.
But there were also signs of promise to balance the hard times. In 1870 the territorial legislature chose Fort Collins as the site of a future agricultural college. The town's pioneers had fought for this prize and, although the school got off to a slow start, their efforts would eventually pay off. The new college's first building, Old Main, was built in 1878. Although a "claim building" had been erected in 1874 to secure Fort Collins' claim to the college, Old Main was the first building used for classes. College operations began in 1879. The college would help fuel the area's agricultural growth. And it was upon agriculture that Fort Collins' economy would be based.
New businesses sprang up following the arrival of the colonists. Joseph McClelland moved to Fort Collins from Denver and founded the county's first newspaper in 1873. He called it the Larimer Express. Another long-running paper was founded in 1878, The Fort Collins Courier, by town historian Ansel Watrous, and Elmer M. Pelton.
The town's first successful bank was opened in 1873 on Jefferson and Linden by Ella (Elvira) B. Yount and A.K. Yount. Charles Sheldon, an employee of the Younts, and William Stover opened a bank on Jefferson Street in 1878.
Livery stables provided horses for the new settlers. Horses for every need, from farming to racing, were supplied. Joseph Mason built a livery stable on Jefferson Street in 1874. Liveries were considered prestigious operations.
Fort Collins' first bakery was opened in 1877 by Louis Dauth, an immigrant from the Rhineland and a veteran of the Franco-Prussian War.
The liquor business, which prospered in the late 1870s and early 1880s started slowly in Fort Collins. In 1873 an ordinance was passed which prohibited the granting of licenses for selling liquor. Sixty-eight citizens signed a petition in 1874 for the repeal of the ordinance. The trustees voted against the proposition. Finally, in 1875, the anti-liquor ordinance was repealed. T. J. Wilson was granted the first liquor license at a cost of $150.00.
By 1874 there were four hotels in Fort Collins: The Agricultural, on Mountain and Mason; and the Collins House, the National, and the Blake on Jefferson. In May of that year the Agricultural Hotel brought in maple sugar from Cortland, New York, for a festival.
Henry Peterson and "Auntie" Elizabeth Stone burned the town's first kiln of brick in 1870. That same year Peterson and his family moved into the town's first brick house. It was located on Lincoln Avenue.
One of the most notable homes built in the 1870s was the Avery House. Franklin Avery came to Fort Collins with the colony from Greeley. He surveyed the town's streets and became county surveyor. His home, built on Mountain Avenue in 1879, is now one of Fort Collins' most recognizable landmarks.
School buildings first appeared in Fort Collins in the 1870s. Following the formation of School District Number 5 in 1870, Judge Alfred F. Howes began a movement to build a schoolhouse. A small frame house was used until 1879, when Remington School was built on Remington and Oak.
The other educational institution built in the 1870s was, of course, the college's Old Main, built in 1878. Although a "claim building" had been erected in 1874 to secure Fort Collins' claim to the college, Old Main was the first building used for classes. College operations began in 1879.
While the creation of an agricultural college in what had been known as "The Great American Desert" was cause for humor among many, agriculture was the foundation upon which Fort Collins would grow. The college would eventually help fuel this growth. But in Larimer County in the 1870s, knowledge of farming was gained basically from trial and error. No one was sure what was best to raise or grow.
The uncertainty of farming in northern Colorado did not stop the land from being quickly settled as soon as irrigation was made available. Some enterprising men did reap rewards from their land. James McClelland planted the area's first commercial fruit orchard in 1876. He was not only successful with the business but his farm became a testing ground for fruit growing in northern Colorado. Generally, good crops were reported for land with enough irrigation. Also, some ranchers found stock raising quite profitable.
Farmers and stockmen welcomed the arrival, in 1877, of the Colorado Central Railroad to Fort Collins. The railroad provided them with new markets, plus merchants were able to obtain better goods faster and at a cheaper rate. The town was also brought into better communication with the rest of the world by railroad.
Thus, while the decade of the 1870s was marked by uncertainty, a new college, a new railroad, and growing businesses promised prosperity for the years ahead.
TOP
---
BUSINESS/INDUSTRY
EARLY DRUGSTORES-FIRST TELEPHONES
FORT COLLINS YESTERDAYS-Swanson
1879-80
"The pioneer drugstore relied on patent medicine and whiskey with a few additional frills to attract customers. Uncle Ben Whedbee had the post office in his drugstore in the 1870. Frank Stover's store on the Tedmon House corner prominently displayed the mortar and pestle symbol of the druggist on a corner post. Stover sold St. Jacob's oil, a German remedy. He had 'iced compress and Seltzer Mineral Water on draught' and presumably the appropriate additives. In September, 1880, he had a telephone exchange in his house on Linden and Willow with two connections, one with the drugstore and one with Mac's Tinnery. It was expected that soon our city will be traversed by a bewildering maze of these wires! W. S. Taylor had anticipated him in 1879 by getting a right for telephones in Laporte where the new invention was advertised as a convenience for camp meetings and other large assemblies, though 'there should be one in every house for it works like a charm.'"
FORT COLLINS YESTERDAYS-Swanson
1870s
Louis Dauth from the Rhineland was a veteran of the Franco-Prussian War. He came to Colorado in the 1870s and opened the first bakery in Fort Collins in 1877.
WHEDBEE'S STORE AND POST OFFICE
FORT COLLINS YESTERDAYS-Swanson
1870s
Whedbee took over part of Mason's mercantile business, ran the livery stable and served as sheriff.
"Whedbee moved his building from Jefferson Street, the old Denver road in times of the fort, to the southeast corner of the intersection of Mountain and College Avenues. Bouton and the newcomers were using lots on the northwest corner. Whedbee's cooperation with the development of New Town helped swing sentiment and land values in that direction though loyalties were strongly divided between the two contiguous sections for the next forty years."
As was typical of frontier towns, Whedbee's store and Post Office served as a place where new ideas were introduced.
"No better place to be introduced to new concepts existed on the frontier than the general store and post office. The public reading room was still one decade in the future and the public library three."
BANKS
FORT COLLINS YESTERDAYS-Swanson
1870s
The first successful bank opened by husband and wife A.K. and E.B. Yount in 1873 on the southeast corner of Linden and Jefferson, across the street from Old Grout. Yount, a member of the constitutional convention in Denver, employed Charles Sheldon to manage the bank in his absence. Yount was accidentally killed in 1876. His wife Ella B. ran the bank after his death.
In 1878 Sheldon joined with William Stover to form the Stover and Sheldon Bank on the Wilson block on Jefferson. It had one or two common chairs, a pine table, a borrowed safe. The bank moved in 1879 to a one-story brick building shared by Dr. Lee's and Dr. Elstor's Parlor Drugstore at Linden.
NEWSPAPERS
HISTORY OF LARIMER COUNTY-Watrous
1870s
The Fort Collins Courier was founded in 1878 by Ansel Watrous and Elmer M. Pelton as publishers and proprietors. It began as a Democratic paper but changed to Republican after change of ownership in 1899. It was located in the second floor rooms of the McConathy block, where the Antlers Hotel now stands.

Clark Bouton founded The Fort Collins Standard in 1874, the second paper, after the Courier, in Fort Collins. It folded in 1876.

The Fort Collins Express was founded by Joseph L. McClelland in April, 1873. It was the first newspaper printed and published in Larimer County. It started as a Republican paper, changed to Colorado Silver Republican party - 1896-1900 - then back to Republican party.

COLORADOAN, No Date

Joseph McClelland started Larimer County Express. The first issue was four pages long and included local business announcements, a couple of poems, and a "questionably humorous" column called "Expressive."

"The publisher promised to print 'a newspaper ever on the side of Right, Truth and Justice, a foe to all monopoly.' "

McClelland set up shop in the 100 block of West Mountain Avenue on a free piece of land with $500 worth of equipment. He charged a whopping $2.50 for a year's subscription."

"Ansel Watrous, a former local store clerk, founded the Fort Collins Courier, the first competition for the Express. Forty years later, the papers would merge and become the Fort Collins Express-Courier, the forerunner of the Coloradoan.

"The Courier would never achieve the financial stability that the Express would, according to (James R.) Miller's account. The Express had the edge, he said because it was first in town and because Watrous lacked business acumen."

However, Watrous was a noted writer (wrote HISTORY OF LARIMER COUNTY) and editor.

Other papers would emerge throughout Fort Collins' history, but they folded in competition against the Express, Courier, and the Coloradoan.

FORT COLLINS EXPRESS-COURIER (4/26/1933)

Joseph H. McClelland came to Denver in 1872 following Horace Greeley's failure to obtain the presidency. He worked for Rocky Mountain News. He bought a press in Cheyenne and moved it to Fort Collins and began the paper on April 26, 1873. It was called Larimer Express. McClelland secretly printed a copy of the first paper so that he would get the first issue.
1873 PANIC
FORT COLLINS EXPRESS SPECIAL EDITION, 1894
"Concurrent with the panic went most of the money of the county. Barter became a necessity, and except where money was absolutely essential, as in the payment of taxes, the greater portion of business was done in trade. Even taxes were paid in trade when anyone had a county order to turn in."
FIRST BANK FAILURE
HISTORY OF LARIMER COUNTY-Watrous
1873
First bank established in 1873 by Harry Tutton. Panic sent Tutton to Denver where he had deposited surplus funds. He never returned. "His bank remained closed and its' affairs were afterward wound up. This failure absorbed most of the money in the county, and wiped out the accumulations of a number of depositors of money they needed to tide them over until a crop could be raised. Combined with the grasshopper plagues, it made for hard times.
STOCK RAISING HISTORY OF LARIMER COUNTY-Watrous
1870s
Stock growing was an important early industry in the county in the late 1860s and 1870s.
CATTLE ROUNDUPS
FORT COLLINS EXPRESS SPECIAL EDITION, 1894
1872
"In 1872 the County Commissioners take charge and specify eight roundup sites in the county. According to territorial law the County Commissioners took formal charge of all the roundups. Before that time they had been unofficially conducted by the men owning the cattle on the various ranges."
Unbranded calves had been a source of much dispute. "...it was in an effort to throw the sanction of the law and authorities over the acts of those in charge that led to the passage of the law."
Past attempts had been made to use strays to obtain revenue for the state.
"The Commissioners appointed eight places for roundup. They will take charge of unclaimed brands and unbranded stock."
TOP
---
AGRICULTURE
LAND PRICES
MILLER COLLECTION - FORT COLLINS STANDARD
1874
"In the domain of agriculture (in the Cache la Poudre Valley), there is room for many more. Land can be procured at prices varying from 5 to 25 dollars an acre, within three miles of the post office. It is known, of course, that it is valueless for cultivation without water, but with judicious irrigation, yields bountiful crops. Town lots can be purchased at prices varying from $40 to $200." (Depression made prices low.)
EARLY AGRICULTURE FORT COLLINS YESTERDAYS-Swanson
1870s
"The whole future of agriculture in the new region and with new technology was a gamble. What was best to raise and grow? Fruit, bees, wheat, sheep, cattle, horses, combinations."
"Fremont's notes in 1843 had reported observations of abandoned oxen feeding with buffalo and looking amazingly healthy after a long, hard Wyoming winter. Many suspected that grazing might be the best possible use of western grassland but everything was yet to be tested in the area around Fort Collins in the 1870s. For many people the rest of the century was simply a period of trial and error. Most of the land was open country unfenced, and the system of branding and roundups made stock raising necessarily a communal enterprise."
FIRST ORCHARDS IN THE COUNTY
AGRICULTURE IN COLORADO-Steinel
1876
"Fruit growing in northern Colorado owes its beginning and development to two outstanding pioneers, James S. McClelland and Charles Pennock..."
"McClelland planted the first commercial orchard near Fort Collins in 1876. He gradually increased his planting to over 100 acres. The McClelland orchard has been of exceptional value to northern Colorado and to the Agricultural College. Mr. McClelland attempted the growing of every variety of fruit, as well as nut trees and shade trees offered by nurseries. His farm was a real testing ground for the northern portion of the state."
TENNEY SOWS ALFALFA
AGRICULTURE IN COLORADO-Steinel
1872
Tenney sowed alfalfa at Fort Collins. It was a fundamental crop for livestock feed.
COLORADO STATE GRANGE
AGRICULTURE IN COLORADO-Steinel
1873
State Grange resolution 1875:
"Whereas, the water of our rivers and streams should be kept within the control of the State for the benefit of the people, therefore,
Resolved, that a clause be inserted in our State Constitution which shall prohibit our legislators from ever giving away, selling, bonding or granting charters to corporations by which they can use or control the use of said water, except to organized companies of actual settlers upon whose lands such water is intended to be used." sp;
WATER RIGHTS
DEMOCRACY'S COLLEGE-Hansen
1874
Fort Collins-Greeley dispute on Poudre River rights, 1874.
Irrigation convention, 1878.
Constitution on river diversion rights, 1876.
Public Control Acts, 1879-81.
Court decision that canals can charge only as public carrier, 1888.
Traditional riparian water rights used in eastern U. S., which received plenty of rainfall to support agriculture, were not suited to semi-arid Colorado. In the east, waterways were used primarily for hydraulic power and navigation and thus landowners along them were given only limited use to the water. New arrangement needed in Colorado.
"Adopting a practice that had been followed in western mining camps, Coloradans came to sanction the diversion of water for productive purposes by granting priority of right to the individual who had made the earliest diversion or appropriation."
The principle was backed in 1876 State Constitution and endorsed by Colorado Supreme Court in "Coffin, et al, v. Left Hand Ditch Company," 1882.
"Colorado thus took an historic first step which other semi-arid states of the Rocky Mountain region soon followed; the doctrine of prior appropriation became known as the 'Colorado system.' "
Unprecedented administrative system also developed in response to water dispute between Fort Collins and Greeley in 1874.
IRRIGATION DITCHES IN FORT COLLINS-(MILLRACE - WATER RIGHTS)
FORT COLLINS YESTERDAYS-Swanson
1870s
"The town ditch on Fort Collins Irrigation Canal was another source of water in the 1870s in addition to the millrace - laid out in the 1860s. It came out of the river somewhat west of the millrace headgate and looped its way south near the western boundary of the early town. It crossed Whitcomb several times, and entered the area later and for the campus near Meldrum and Howes."
"The town ditch was not really owned by the town but by a corporation formed by some individuals who planned the colony in 1873." Later it became known as "Arthur Ditch."
TOWN DITCH (ARTHUR DITCH)
HISTORY OF LARIMER COUNTY-Watrous
1870s
It was built in 1873 by A. R. Chaffee. There were problems of standing water which were solved by a sewer in 1886.
MERCER DITCH
FORT COLLINS EXPRESS SPECIAL EDITION, 1894
1870s
It was begun by the members of the Mercer Colony.
LARIMER AND WELD CANAL
HISTORY OF LARIMER COUNTY-Watrous
1870s
In 1879 the Larimer and Weld Canal construction began by Benjamin H. Eaton and Associates. It tapped the river about two miles northwest of Fort Collins. It was one of the largest irrigating canals in northern Colorado. It caused all lands in Boxelder Valley that could be irrigated from it to be quickly occupied.
TOP
---
PEOPLE
JUDGE JAY H. BOUTON
MUSEUM (GLENDURA) SCRAPBOOK
1870s
"Presided over the District No. 5 school board for 18 years during the 1870s, 1880s, and 1890s. He was the town attorney when the town was incorporated in 1873.
He held the elected County Judgeship for three two-year terms. Then in 1902, the people voted him to the bench of the Eighth Judicial District Court of Colorado. He served several years as a city trustee. Involved with the construction of the waterworks in 1882-1883. He had several buildings built. His law office was at 100 block of North College in 1872. He was one of the originators of the Opera House project. He owned the Bouton-Craine Hardware store on Mountain Avenue and had an elegant home built in 1895 at 113 North Sherwood."
WARSHINUN, ALSO KNOWN AS CHIEF FRIDAY
FORT COLLINS YESTERDAYS-Swanson
1870s
Arapahos were attacked near Lander, Wyoming, "in response to alleged depredative attacks on whites." A. H. Patterson involved--(quote describing battle.)
Warshinun, also known as Friday Fitzpatrick, scouted for General Crook during a campaign in 1876. Temporarily permitted space at Wind River in 1879. He died there in 1881 at age 60. He was interpreter there and received $300 a year.
ARTHUR "BILLY" PATTERSON
FORT COLLINS YESTERDAYS-Swanson
1870s
"Arthur H. Patterson, called Billy by friends, was a was a freighter who turned into a town builder and solid citizen of Fort Collins. In the 1870s his influence was felt in building the town ditch, encouraging the Agricultural College by giving land for the campus, and planting trees along College Avenue to that site from the tiny town."
CHARLES BOETTCHER
TRIANGLE REVIEW (5/6/1978)
1870s
Charles Boettcher's..."life is usually associated with great wealth, banking, the Great Western Sugar Company, and the Ideal Cement Company. His name lives on in Boettcher and Company, the Boettcher Concrete Hall and the Boettcher Foundation."
"Immensely rich in his latter years, Charles Boettcher's early life is a humble story filled with thrift and hard work." He came to Cheyenne in 1869 from Germany and ended up staying while visiting his brother.
He opened a hardware store on Jefferson Street in Fort Collins in 1873 (Empire Magazine 12/7/75). He married in 1874 and left in same year; apparently he had been waiting on railroad property. The railroad didn't reach Fort Collins until 1877. Lack of railroad and grasshopper problems made his business future uncertain. He sold door to door to help "make ends meet."
He decided to expand his cement business in 1925 to Fort Collins area and plant was constructed north of Laporte.
He had a store in March 1874 but moved to Boulder in September. (Fort Collins Yesterdays-Swanson)
R. O. ROBERTS
HISTORY OF LARIMER COUNTY-Watrous
1870s
He built Forks Hotel in 1875. He was a Livermore rancher.
JOHN C. ABBOTT
HISTORY OF LARIMER COUNTY-Watrous
1870s
With Benjamin H. Eaton, et al, built Lake Canal, Larimer County Canal #2 and was contractor for the Pleasant Valley and Lake Canal in 1879-1880.
A. K. YOUNT
HISTORY OF LARIMER COUNTY-Watrous
1870s
He opened a bank with E. B. Yount in 1874. "Money at that time commanded two per cent interest per month and the bank did a good business."
In 1875 Yount was a member of the State Constitution Convention.
JACOB FLOWERS and BELLVUE
HISTORY OF LARIMER COUNTY-Watrous
1870s
He started a colony from Kansas in Bellvue. He platted Bellvue in Pleasant Valley.
FRANKLIN C. AVERY
HISTORY OF LARIMER COUNTY-Watrous
"He has been a leader and has aided by his means, his example and his influence those projects, public and private, which were designed to promote the growth of town and county and to add to the welfare of the people and advance their prosperity. Progressive plans have been promoted by his willing cooperation, and local interests have always received his fostering care."
He was founder of Larimer County Bank (First National) in 1880; founder of Water Supply & Storage Company; and surveyed the first city plat map.
BENJAMIN H. EATON
HISTORY OF LARIMER COUNTY-Watrous
1870s
"In addition to his ranching and stock raising pursuits, Mr. Eaton early became contractor and constructor of irrigating canals and reservoirs, through the building of which he greatly promoted and advanced the agricultural interests of the counties of Larimer and Weld."
In 1878 he began the Larimer & Weld Canal (Eaton Ditch). Later, the Windsor Reservoir and Sand Creek Ditch.
JACK DOW
MILLER COLLECTION--COLORADOAN
1870s
He was the surveyor for Old Town and various irrigation canals i.e., Arthur, Pleasant Valley and Lakeland, and Larimer County Canal Number 2.
MR. AND MRS. BOLIVAR S. TEDMON
FORT COLLINS YESTERDAYS-Swanson
1870s
"Bolivar S. Tedmon and his wife came to Fort Collins in 1878 and the next year he took over the management of the Metropolitan House from Auntie Stone who retired at seventy-eight from the hotel business. Mrs. Tedmon had a millinery shop on Linden where she trimmed hats and bonnets to order at short notice in the latest styles and at reasonable rates. She also took orders for goods, patterns, and magazines from any of the eastern cities.
From this small beginning grew the ambitious plan for the construction of the Tedmon House in 1880, an elegant hotel which dominated Fort Collins' business area for the next thirty years."
AUNTIE STONE
FORT COLLINS YESTERDAYS-Swanson
1870s
During the 1870s she had the mill with Peterson--sold it in early 1870s: Her cabin was moved in 1873; she continued her career as cook; ran the Blake/Metropolitan House until 1879; retired from hotel business in 1879 at age 78.
ANTOINE JANIS
FORT COLLINS YESTERDAYS-Swanson
1878
Men in Laporte with Native wives had to part with them or go with them to the reservation. Antoine Janis went to Pine Ridge Agency in Dakota Territory with Mary (also known as First Elk Woman), but kept his property in Laporte for a while.
TOP
---
GOVERNMENT/CITY DEVELOPMENT
IMMIGRANTS
FORT COLLINS YESTERDAYS-Swanson (from "Town Description")
1870s
"In spite of the drawbacks, representatives of counties all over the world came to seek their fortunes, establish temporary or permanent homes and participate in town building. They provide an international flavor which has endured as a characteristic of the community."
Immigrants mentioned: Louis Dauth, Germany; Hugh Barton, Australia; Joseph Murray, Ireland; Father Francis Byrne, a British subject and Episcopal minister.
TOWN LOT AUCTION
FORT COLLINS EXPRESS SPECIAL EDITION, 1894
1872
"In the Fall of 1872 the members of the Union Colony, located at Greeley, encouraged by the success attending that enterprise, formed the Larimer County Land Improvement Company to locate the Agricultural Colony at Fort Collins."
FORT COLLINS COLONY
COLORADO STORY-Hafen & Hafen
1872
"Promoters and town development companies took up the colony name and launched a number of settlements. The most successful of these companies was the one organized by General Robert A. Cameron. It acquired the reservation land when the military post of Fort Collins was abandoned in 1872. Persons of good character were invited to join the "colony" by purchasing membership certificates which entitled the holders to city lots and farming land. Homeseekers came in 1873. They dug a town ditch and erected houses and business buildings. A newspaper, a bank, and a town government were started the first year. Surrounded by rich agricultural land the settlement prospered."
AGRICULTURAL COLONY
HISTORY OF LARIMER COUNTY-Watrous
1872
"Perhaps the most notable event in the early day history of Fort Collins was location here in the Fall of 1872 of what was known as the 'Agricultural Colony.'"
Project originated with General R.A. Cameron. (Officers and trustees listed in article.)
Anyone of a "good moral character" could join the colony by purchasing variously priced certificates entitling the member to town lots and/or outlying tracts of land. (List of what town had and what it needed in article.)
"The immediate effect of this Colony movement was the infusion of new blood by the addition of several hundred people to the population of the town, the erection of many buildings, an increase in business enterprises and an improvement in the tone of society in general."
INCORPORATION OF TOWN
HISTORY OF LARIMER COUNTY-Watrous
1873
A petition was presented by the taxpayers of Fort Collins asking that the town be incorporated. Since two-thirds of the taxpayers apparently signed, the Board of Commissioners ordered Fort Collins to be incorporated. (Trustees and county officers are listed below.)
FIRST TOWN GOVERNMENT
HISTORY OF LARIMER COUNTY-Watrous
1873
Board of Commissioners granted the citizen's petition for town government.
Trustees appointed by the board: B. T. Whedbee, G. G. Blake, H. C. Peterson, W. C. Stover, and W. S. Vescelius. The trustees elected Whedbee president; Joseph E. Shipler, Town Clerk; Daniel O. Davis, Constable. "The first important piece of business transacted by the board was to authorize the making of a road from the north end of College Avenue to the river, provided the County Commissioners built a bridge over the river at the intersection. Later the Commissioners appropriated $1,200 for the bridge and the road was built.
The same trustees were later elected in the town election and J. E. Shipler, Town Clerk; Albert Yale, Street Supervisor; E. L. Peterson, Constable; and L. R. Rhodes was appointed by the Trustees to be Town Attorney.
AGRICULTURAL COLONY
FORT COLLINS YESTERDAYS-Swanson
1870s
Organized by Greeley leaders.
Streets of early Fort Collins settlement paralleled the course of the river (SE).
Survey of new town was governed by compass points.
First drawing for lots was December 1872. Lawyer Jay H. Bouton had first business structure on new main street--College Avenue.
"The next few years after the new streets were laid out were times of real testing and decision-making for many individuals in the Poudre Valley. Would the town grow and prosper and make a pleasant setting for a home or were chances better in one of the communities popping up elsewhere in the Rocky Mountains?"
The 1875 population was estimated at 500 people.
The pluses for the town were: a drugstore, newspaper, livery stable, bank, three hotels, three sawmills nearby, one church building and three or four congregations, and a flour mill. The minuses were: the first bank failed in the national panic and grasshopper plagues.
TOWN DESCRIPTION (Isabella Bird)
FORT COLLINS YESTERDAYS-Swanson
1870s
"The shops, frame buildings with gables toward the street like Whedbee's, or with false fronts like Bouton's law office, opened on broad sidewalks dotted with hitching posts along the dusty roads. That intrepid world traveler, Isabella Bird, stressed the drab qualities of the whole crop of new western towns in 1873. Cheyenne was 'an ill-arranged set of frame houses and shanties." The odor of the offal from recently butchered antelope and deer contaminated the air. Her hotel room in Greeley came complete with bedbugs and flies. The one in Fort Collins had fewer bugs and more flies. The tone of Fort Collins was characterized by coarse speech, coarse food, coarse everything, nothing wherewith to satisfy the higher cravings if they exist.' The lack of trees and the sandy ground dotted with prairie dog holes repelled those accustomed to more luxuriant natural growth in areas of greater rainfall."
FORT COLLINS EXPRESS-COURIER (9/30/34)
1873
"By the time we reached Fort Collins I was sick and dizzy with the heat of the sun, and not disposed to be pleased with a most unpleasing place. It was a military post, but at present consists of a few frame houses put down recently on a bare and burning plain. The settlers have 'great expectations' but of what? The mountains look hardly nearer than from Greeley; one only realizes their vicinity by the force of their higher peaks. This house is freer from bugs than the one at Greeley, but full of flies. These new settlements are altogether revolting, entirely utilitarian, given up to talk of dollars as well as to making them, with coarse speech, coarse food, coarse everything, nothing whatever to satisfy the higher cravings if they exist, nothing on which the eye can rest with pleasure. The lower floor of this inn swarms with locusts in addition to thousands of black flies.'"
"The Bird record is a series of letters the young woman wrote to her sister in England--letters that were later printed as a book of travels. Miss Bird previously had visited India and other eastern lands, and her letters were most entertainingly filled with incidents and relations of her experiences."
FORT COLLINS PLATTED/OLD-NEW TOWN FEUD
FORT COLLINS EXPRESS-COURIER (4/30/1939)
1860s - 1870s
"Old town was laid out in 1867 when Jack Dow, assisted by Captain N. H. Meldrum and others, surveyed and platted it parallel with the course of the river. "
"The new town platted in the agricultural colony was laid out 'square with the world;' its streets ran east and west and north and south. When the two towns were hitched together, a good many sharp angles appeared on the plat, and the trouble making triangle was formed."
"Jefferson and Linden Streets were the center of Old Town; College and Mountain Avenues the center of New Town. When 'Uncle Ben' Whedbee moved his store building and public hall from Jefferson and Linden Streets to College and Mountain Avenues, his desertion of old town started the rivalry, which continued for many years."
"In the struggle the whole town took sides, and the HISTORY OF LARIMER COUNTY says that colonization was retarded for some time because of the altercation, prospective colonists not wishing to become involved by deciding which town to move into.
"Competitors joined sides, as did political parties and newspapers. The history says, 'The feeling was so strong that measures intended for the public good inaugurated and supported by the old town were opposed by the new town, and vice versa, through jealousy.' "
HISTORY OF LARIMER COUNTY-Watrous
1870s
Ben Whedbee's business move to "new town" ignited sectional feud between old and new town. Affected town issues for 25 years. Retarded growth of the town.
LIVERMORE POST OFFICE
FORT COLLINS EXPRESS SPECIAL EDITION, 1894
1872
In 1872 Livermore had only a dugout for a residence and Post Office.
FORT COLLINS POST OFFICE
FORT COLLINS YESTERDAYS-Swanson
1865
The Post Office was first in Joseph Mason's sutler store. Billy Patterson took the job over from Mason. Moved across Linden to Whedbee and McClanahan's Drugstore when McClanahan took the job over. Moved in 1873 with drugstore to Mountain and College.
"For many years the job of postmaster was a part-time one combined with other work and done wherever the man had his office. When Joseph McClelland was postmaster in 1879 he used the office of his newspaper, the Express."
FORKS HOTEL BUILT
HISTORY OF LARIMER COUNTY-Watrous
1870s
Built by R.O. Roberts and predecessors.
FIRST BRICK HOUSE
HISTORY OF LARIMER COUNTY-Watrous
1870
First brick house built 1870 and occupied by Peterson family until 1882.
AUNTIE STONE'S CABIN
FORT COLLINS YESTERDAYS
1873
Cabin moved from location on south side of Jefferson and east of Linden.
EARLY HOTELS
FORT COLLINS YESTERDAYS-Swanson
1873
"When Isabella Bird stopped over in Fort Collins in 1873 on her way to climb Long's Peak, she found her hotel revolting and she omitted any mention of its name. The first floor was swarming with locusts. She may have been describing the Agricultural Hotel, for Marcus Coon built that in 1873 at the corner of Mountain and Mason. He moved the Auntie Stone cabin over from Jefferson to give additional work space.
"In 1874 there were three other hotels besides the Agricultural; the Collins House on Jefferson; the National across from it; and the Blake House nearby. Accommodations were much improved and 'the boys no longer slept three deep.' Every coach arrived with new customers. The Agricultural Hotel arranged a maple sugar festival in May with that delicacy imported from Cortland, New York. "
"D. M. Harris bought the Agricultural in 1877, moved it to the southeast corner of College and Walnut, and changed the name to Commercial."
FRANKLIN AVERY AND AVERY HOUSE
FORT COLLINS YESTERDAYS-Swanson
1870
Came west from New York in 1870. Surveyed Greeley's streets, joined New Colony at Fort Collins and surveyed its streets. Became the County Surveyor. House built in 1879 and added onto it in 1893.
STATE CONSTITUTIONAL CONVENTION
HISTORY OF LARIMER COUNTY-Watrous
1875-76
Larimer County represented at Convention 12/1875 to 3/1876 by William C. Stover and A. K. Yount of Fort Collins, who represented both Larimer and Weld Counties.
STAGE ROBBERIES
FORT COLLINS EXPRESS SPECIAL EDITION, 1894
1870s
In 1870 "At the January meeting the following resolutions were passed; 'It was further ordered by the board that a reward of $250 be given by Larimer County to any person or persons who will apprehend and deliver over to the authorities of Larimer County the late robbers of the mail coach running between Cheyenne and Denver.' This offer is ordered posted in three places in the county, so the 'late robbers' might be apprehended, and to be published in the weekly Rocky Mountain News."
CHUBBUCK MURDER
HISTORY OF LARIMER COUNTY-Watrous
1875
The murder occurred as a result of a cattle dispute. Before dying, Chubbuck took the blame for the incident. Fort Collins lawmen frustrated Big Thompson (where incident occurred) people's attempt to take gunman, who was later found not guilty at Larimer County's first murder trial.
1870 CENSUS
HISTORY OF LARIMER COUNTY-Watrous
1870
The first federal census taken in the county reported the population at 838 people.
SALOONS AND LIQUOR LAWS
FORT COLLINS YESTERDAYS-Swanson
1870s
"Many of the prime movers in the colony were temperance men who approved of the ideals Greeley was trying to maintain. The clash of the ideal with the practical on this theme divided the town as it did the nation for almost a century. Sheldon Jackson, the Presbyterian missionary, wrote in 1874: 'The saloonist (sic) is in the advance of our civilization in the West. He has time to ruin scores of men before the advance guards of the Church arrive.'"
"...no saloons in Fort Collins only meant more prosperity for those in Laporte. The idea of a saloonless year in 1874 was supported by William Stover, Billy Patterson, and Henry Clay Peterson on a trial basis. This was opposed by the owner of the Agricultural Hotel, Marcus Coon. Finally in 1875, Fort Collins yielded to the practical and eventually tried to limit the number and character of such establishments by charging a high fee."
The treasury of the town gained by this policy. T.J. Wilson received the first license, made enough money to provide a good building for a saloon with an auditorium on the floor where the famous Hutchinson family, temperance supporters, performed in 1879.
HISTORY OF LARIMER COUNTY-Watrous
1873--An ordinance passed prohibiting granting of licenses for sale of liquor.
1874--A petition signed by 68 citizens was presented to repeal liquor law. It was voted down by the Trustees.
1875--The anti-liquor ordinance was repealed. A license was given to T.J. Wilson who had the first legalized saloon in Fort Collins. The license cost $150.
TOP
---
COLLEGE/UNIVERSITY
AGRICULTURAL COLLEGE
DEMOCRACY'S COLLEGE-Hansen
1870s
Harris Stratton, originally from Massachusetts, and a veteran politician from the Kansas free-soilers, opposed any plans to abandon the fort. Realizing the economic and political advantages of having a government agency in Fort Collins (after Fort abandoned) Stratton seriously considered "introducing a bill to establish a land-grant, agricultural college at Fort Collins during his term as a legislator in 1868-69." But he didn't go through with it because he thought federal legal technicalities would not allow it.
However, in 1870 Representative Matthew S. Taylor, Fort Collins attorney, pushed through an act establishing "an agricultural college to be called and named the 'Agricultural College of Colorado' to be located 'at or near Fort Collins.' " Bill was signed by Governor Edward McCook on February 11, 1870.
Larimer County politicians moved on this act despite not having support from the Morrill Act, possibly assuming they would receive such support when Colorado achieved statehood.
Also, other "political plans" such as the university in Boulder, the penitentiary in Canon City, and the capital were being claimed and delay might cause Fort Collins to miss out altogether.
"The presence of a college in a community was generally deemed to be desirable. Why? Because it was felt to promote '...enhanced prestige as a center of culture, an enlarged and refined population, and a variety of economic rewards.' A crude, frontier town that could evoke the image of supporting learning and refinement might have the advantage in attracting settlers who valued such qualities. Economically, the presence of students represented the expenditure of outside money in the community. The construction and maintenance of a campus would hopefully produce local employment opportunities."
Trustees were given sweeping powers but received no appropriations. Some land was donated by Robert Dalzell in 1871, and by the Larimer County Land Improvement Company in 1872, but college really not any closer to actuality. Also, Greeley was still trying to acquire Colorado's land grant school in spite of legislative enactment.
However, in 1874 the legislature allocated $1,000 to aid in erecting a building and making other improvements. The grant required the trustees to match it. Norman Meldrum credited with getting the appropriation. If this is true he must have acted as a lobbyist as he was not yet a member of the legislative assembly. The matching sum was obtained through donations by individuals, businesses, and organizations. Consequently, a building was erected in 1874, called the Claim Building. The structure was supposed to be "evidence of the good faith on the part of those interested in locating the college at Fort Collins..."
Initially this building was used to store farm tools and the first crop of wheat planted by the Grangers. It later housed the first president--Elijah Evan Edwards.
When Colorado became a state in 1876 Harris Stratton, elected Sergeant-at-Arms of the Senate, designed a bill based on the Michigan law regarding agricultural colleges, and gave it to N. H. Meldrum who introduced it--Meldrum then a member of the senate. The bill passed and the Michigan State Agricultural College's statement of purpose was used verbatim.
It stated the school's purpose was "to afford thorough instruction in agriculture, and the natural sciences connected therewith; to effect that object most completely, the institution shall combine physical with intellectual education, and shall be a high seminary of learning, in which the graduate of the common school can commence, pursue, and finish a course of study, terminating in thorough theoretic and practical instruction in those kindred industrial pursuits."
The law of 1877 also established the eight-member State Board of Agriculture, which also followed the Michigan example. The governor and college president were ex-officio members.
Land grant money under the Morrill Act was not available until 1879 as the General Assembly did not accept its provisions until that time.
1878--Old Main built
1879--College operations began.
Basic academic subjects were first courses offered; arithmetic, English, U. S. history, natural philosophy, farm economy, and horticulture. This was necessary to compensate for the lack of secondary education available in the state.
FORT COLLINS YESTERDAYS-Swanson
1870
"Territorial legislature selected Fort Collins as the site of the future agricultural college. This was a boost to morale during shaky years following the decline of the fort."
"The town's prosperity depended upon agriculture-related industries. Education was one of them. the Agricultural College showed signs of being some help in the 1880's though it got off to a slow start. the school was the pioneer's own prize, fought for in the territorial legislature and kept from Greeley competitors by the erection of a 'claim' building long before there was any provision for faculty or classes. A.K. Yount, founder of an early bank, drew the sketch for this little structure. A.H. Patterson, John Mathews, Henry Clay Peterson and Joseph Mason were among the settlers who donated land for the campus. Patterson planted trees to line the road that led from the tiny town past his land to the site then out in the country."
"In 1875, one year after the 'claim building' was erected, the newly-organized grange decided to plow up the land and raise a crop to start a local fund for college support. Alexander Barry, John G. Coy, Andrew Ames, Harris Stratton, A.R. Chaffee, and Peter Green Terry were all in on the project. Chaffee had a span of broncos weighing under a thousand pounds each. They pulled a ten-inch breaking plow through the virgin soil. One observer recalled:
We knew the first furrow was the toughest to break so we said: Chaffee, head up to the foothills." Twenty others followed. Terry later harvested the crop with his McCormick reaper, the grain was threshed and put in the brick shack, and later sold to the mill.
Fort Collins leaders not only gave the land for the campus and plowed and planted for a crop, but they lobbied in Denver for appropriations and served on the Board of Agriculture created in 1877 to govern the college. N. C. Alford in the House in 1877 worked long into the night persuading a representative from Pueblo to support a college appropriation. The weary man finally agreed, but retorted: 'I feel as if it is throwing money away, for you never can make Colorado an agricultural state. It is only fit for a cow pasture and for mining.'"
The first real school building, "Old Main," was a solid two-story brick structure with a tower. The cornerstone was laid in 1878 and construction completed in 1879. It was a landmark on the south as was the Hottel mill on the north. People could easily walk from the country campus to the city near the river. On muddy days, many chose the path of the railroad which ran behind Old Main and brought much excitement and encouragement for business after its completion in 1877. "The grounds look beautiful, a mass of living green" ran the report in August, 1889. Apple trees given by a New York tree farm were planted in front of the building, and the boys were working hard keeping up the flowers, stock, balsam, pansies, and pinks.
The first president of the Agricultural College was E.E. Edwards, a preacher who also filled the pulpit of either Methodist or Presbyterian churches on occasional Sundays. Since he failed to grasp the purpose of the college, the practical town leaders got busy themselves. In 1880 they decided the college should offer a Farmers' Institute. C.C. Hawley and George E. Buss, both old soldiers from the days of the fort, with A.I. Emigh, W.F. Watrous, John G. Coy, and John Sheldon formed the committee for that project.
George Clover was only fifteen when he enrolled in November, 1879, and even though the class was small he suffered the usual panic of the freshman student. He thought Lelia Loomis and Elizabeth Coy, coeds he saw outside his window, looked so much more sophisticated, though he had come to college in his first ready-made suit of clothes, that he stayed in his room for two days. Then President Edwards came down searching for him and insisted he join the others. He graduated in 1884 in the first class. Just before Commencement, J.W. Lawrence, who married Elizabeth Coy, also one of the four graduates, came to Glover's room. Plans for advanced study for the promising young man were simple:
"I've heard you would like to take a course in veterinary at Ames, Iowa, but are unable to do so because of financial matters. I thought I'd take a chance on you and loan you the money. Would you care to go?" Glover took advantage of the offer, received the training, and returned in time to serve as inspector of Texas cattle being trailed north. He soon paid off the loan. In 1899 he joined the faculty and in 1907 he organized a division of veterinary science.
HISTORY OF LARIMER COUNTY-Watrous
1870s
Colorado Agricultural College located at Fort Collins by act of Territorial Legislature in 1871. Confirmed by State Constitution in 1876. First appropriations for buildings made in 1877. Until then the Board of Agriculture had no means to prepare for opening of school. It wasn't until 1878, when money became available, that the site could be significantly improved.
AGRICULTURAL COLLEGE "A JOKE"
AGRICULTURE IN COLORADO-Steinel
1877
"W.F. Watrous, the first president of the board /State Board of Agriculture/, several years later, in a letter addressed to Dr. Alston Ellis, made the following interesting comment; 'When an article was agreed upon, locating the State Agricultural College at Fort Collins, representatives from other localities did not consider their loss irreparable or Fort Collins' involvement beyond compare. The affair was looked upon as something in the nature of a burlesque. A school for the promotion of agricultural science and the mechanic arts, located in the Great American Desert, with nothing in sight more suggestive of enlightened civilization than dry prairies, dotted with cactus patches, bestrewn with bleaching bones of departed buffalo, and inhabited by prairie dogs, coyotes and buzzards, with only here and there a little oasis along the creek bottom was an enterprise that was considered both amusing and pathetic.' He states, however, that several years later, after its importance began to be appreciated, it required considerable 'alert watchfulness' to prevent it from being removed elsewhere."
MANUAL LABOR AT COLLEGE
DEMOCRACY'S COLLEGE-Hansen
1870s
"The manual labor requirement /two hours a day/ had been included in legislation establishing the agricultural college as a State institution. It was a common stipulation at most land-grant colleges and reflected the 'narrow gauge' view that practical training should be emphasized. Too often, however, this labor was not coordinated with course work and offered little, except, perhaps, the opportunity for students to earn five or ten cents an hour."
COLLEGE SITE PLOWED BY GRANGE
DEMOCRACY'S COLLEGE-Hansen
SPRING 1874
"Claim building" erected.
OLD MAIN
DEMOCRACY'S COLLEGE-Hansen
1878
Narrative capturing excitement of cornerstone laying. Photo of Old Main and town after cornerstone laying ceremony.
FARMERS' INSTITUTE
DEMOCRACY'S COLLEGE-Hansen
1879
"College involvement with the community...had some highly positive aspects. One was an effort by the school to extend useful knowledge beyond the confines of the campus to the entire state of Colorado..."
"The farmers' institute was the precursor to the Cooperative Extension Service and represented an effort of 'democracy's college' to serve the entire community. It reflected the tradition of such American self-improvement institutions as the lyceum and the Chautauqua and perhaps drew from the European 'university extension' movement as well. Its purpose was to serve the needs of society generally, but it also proved useful as a public relations device in winning the confidence of farmers who viewed the opinions of college professors with skepticism."
First session held November 26 & 28, 1879, had disappointing attendance but considered worthwhile.
TOP
---
CIVIC
CATHOLIC CHURCH
FORT COLLINS YESTERDAYS-Swanson
1870s
"Mass was celebrated in the Old Grout building in 1878. Then the Catholics, led by Frank Michaud, raised the sum of $500 to purchase the school, replaced by the new Remington School built in 1879. It was used twenty-two years until the dedication of St. Joseph's in August 190l.
EPISCOPALIAN CHURCH
FORT COLLINS YESTERDAYS-Swanson
1875
Father Francis Byrne was assigned to Fort Collins in 1875. He held services at various sites in the area.
PRESBYTERIAN CHURCH
FORT COLLINS YESTERDAYS-Swanson
1876
"The families of John Mandeville, George Bass, and Henry Clay Peterson, oldtimers along with Vescelius and Stover, newcomers of the 1870s, gave chicken suppers to pay for the organ, red upholstered high Gothic type pulpit chairs and brand new carpet."
"The elaborate gifts which were received at the three church Christmas trees in 1879 suggest that the church rather than the home was the center both for such decoration and exchange."
Building served Presbyterians until 1914, then used by several other denominations until 1974, when it was demolished.
METHODIST CHURCH
FORT COLLINS YESTERDAYS-Swanson
1873
"Joseph Mason and Alfred Howes selected the first site for a church building in 1873 on the southwest corner of Laporte and Mason facing Mason. A frame building, 30 x 40 feet, built by Henry Clay Peterson, was dedicated in 1876. When Colorado and Southern tracks came through in 1877 on Mason, A.L. Emigh gave the church two lots at 252-254 East Mountain and the building was moved there where it served the congregation's needs until 1898."
MOUNTAIN HOME CEMETERY
HISTORY OF LARIMER COUNTY-Watrous
1870s
Military cemetery at present Oak and College intersection abandoned in 1873; new cemetery, "Mountain Home", developed southeast of town. Bodies transferred from post burial ground to new site.
Acting Board of Trustees for new town government determined old grounds were a "nuisance." "Later when Oak Street was being leveled off to grade, the bones of several bodies interred in unmarked graves, were plowed up. These grim reminders of early day deaths were gathered up and properly buried in what is now the old cemetery, Mountain Home." Names and their history were unknown.
SCHOOL DISTRICT #5
HISTORY OF LARIMER COUNTY-Watrous
1870
The District was organized in 1870. Before that, Mrs. Elizabeth Keays taught school in the winter of 1866 and private school during the summer of 1865 in the Stone Cabin. In the Fall of 1866 Mrs. Keays was hired to teach school in the former officer's quarters at the Fort.
After the district was organized, the first school building was erected at Peterson & Riverside--now a residence. The frame building cost $1,100 and was built by Henry Clay Peterson. By 1870 the county school population was 203 students. After the arrival of the colonies and before Remington School was built, school accommodations were crowded.
Judge Howes started the movement for the first school building in 1879. It was a small frame building on Riverside near corner of Peterson. This school cost $1,100 and was used until 1879 when it was sold to the Catholic Church. Remington School opened in 1879.
EARLY SCHOOLS
TRIANGLE REVIEW (9/23/1981)
1870s
School age census went from 134 in October 1878 to 234 by May of the next year.
Professor J.W. Baines and his wife taught at Riverside--classes were very overcrowded. Baines resigned and was replaced by three teachers who began in Fall of 1879 in new Remington School.
REMINGTON SCHOOL
FORT COLLINS YESTERDAYS-Swanson
1879
"Completion of every building was a cause for celebration. The city hired J.W. Jordan of Cheyenne to build the two-story brick school building with its imposing tower on Remington and Oak. In January, 1879, the adults met there, fifty couples who were 'the elite of Fort Collins, to chase the fleeting hours with nimble feet to the inspiring strains of the Collins String Band till past twelve when all repaired to their homes and virtuous couches.' "
FORT COLLINS MASONS
MUSEUM (GLENDURA) SCRAPBOOK
1870s
"Mason's Play Traditional Role"
The Fort Collins or Collins 19 Masonic Lodge formed in 1870. They were the nucleus of several historic cornerstone laying ceremonies in the area. Traditionally, Masons were those men skilled in building, architecture and stone work.
They often placed a time capsule or casket in the cornerstone of buildings. The Masons are the only organization to perform this rite.
Their normal costume consists of a business suit and a white apron. The apron is the badge of the Masons and symbolizes purity of life and conduct.
FIRST WOMEN'S CLUB
FORT COLLINS EXPRESS-COURIER (9/19/1928)
1878
The first Fort Collins club for women was organized by Lucy McIntyre. It was called the Chautauqua Circle since Mrs. McIntyre's childhood home was near the "Mother" Chautauqua near Jamestown, New York. Lack of literary interest in the community led her to start a program of study.
I.O.O.F.
FORT COLLINS EXPRESS-COURIER (8/4/1937)
1874
The Independent Order of Odd Fellows was organized in November, 1874. Its purpose: "Mutual assistance, aid to the aged and distressed, bury the dead and education of orphans."
FIRST BASEBALL TEAM
FORT COLLINS EXPRESS (5/1923, Agricultural College section)
1870s
"Just about these days, 1877-1878, the first Baseball team was organized."
"Our regular stand-by players were Will and Jay Bennett, pitcher and catcher with Eph and Jim Love as relief. Charlie Sheldon and Frank Avery took turns at short stop. I held down the first base. To fill the nine at the time of the game we would pick up one or two from the crowd."
"Our circuit was Cheyenne, Greeley and Loveland. When we played out of town we usually went in a 'hay rack wagon'."
"When 'Bunnies' interfered with the game, 'business' was cut out and we played ball. There is no record that we lost a game."
Frank P. Stover writing for the Express
TOP
---
NATURAL PHENOMENA
GRASSHOPPER PLAGUE
FORT COLLINS EXPRESS SPECIAL EDITION, 1894
1873
"Right on the heels of the panic came the grasshoppers. The gloominess following the inability to get money was intensified by the possibility of having nothing to trade for money. As the swarms of hoppers spread over the farms, they devoured every living thing, they filled the air with the heat generated by so much animal matter, and the pain of loss to the pocket was aggravated by loss of sleep through hot nights. It is not necessary to write further to recall to memory of old times the scenes of that disastrous invasion, and no amount of description could convey to others the least idea of them. But the progress of the country suffered most fearfully though people continued to arrive and make their homes in the Cache la Poudre Valley."
GRASSHOPPER PLAGUE 1873
HISTORY OF LARIMER COUNTY-Watrous
1870s
Grasshopper plagues and financial panic of 1873 made outlook grim for county--retarded development of area. Plagues afflicted area for three years--no more since 1876.
TOP
---
MILITARY ACTIVITIES/WAR
LITTLE BIGHORN
FORT COLLINS EXPRESS SPECIAL EDITION, 1894
1876
Those who had Native wives in the valley knew of big events before they had reached news channels--Sand creek and Little Big Horn.
TOP
---
HEALTH/MEDICINE
DOCTORS
FORT COLLINS YESTERDAYS-Swanson
1870s
Dr. Timothy Smith was the town's first doctor. He was in Fort Collins from the 1860s and practiced through the 1870s. He moved east after his wife gave birth to twins in 1881--he was 65 years old. He was County Treasurer for a term beginning in 1872.
A Dr. Miller operated on Jacob Flowers' daughter for a tumor in May 1879. He had help with the anesthetics from pioneer Captain Post, and from the patient's sister."
TOP
---
TRANSPORTATION
LIVERY STABLES
FORT COLLINS YESTERDAYS-Swanson
1870s
"Then there was the problem of getting horses to supply the growing demand as settlers came in. The livery stable served as the local source. There were work horses, the cowboys' riding horses, spirited race horses for the tracks, and fancy matched teams for drawing carriages as some individuals prospered and sought this as evidence of their elevated status. Running a livery stable was really a prestige occupation. Joe Mason built his on Jefferson in 1874."
COLORADO CENTRAL RIGHT OF WAY
HISTORY OF LARIMER COUNTY-Watrous
1877
In June of 1877 the Board of Trustees passed an ordinance granting Colorado Central Railroad Company the right of way along Mason Street. While being built, the railroad employees caused problems.
The arrival of the construction train on depot grounds was cause for a big celebration.
The first freight merchandise was for W.C. Stover and coal for A.H. Patterson.
"The advent of the railroad marked the beginning of a new era in the history of Fort Collins and Larimer County. It opened communication by rail with the outside world and brought the town in touch with the rest of creation. It afforded the farmer and stockman a opportunity to ship out their surplus products and fat cattle to wider and better markets. The home merchants could also get in their stocks of goods in better time, in better condition and at a cheaper rate, consequently the producers and consumers were all benefitted." There was also an influx of settlers following completion of the railroad."
pre-1860 | 1860 | 1870 | 1880 | 1890 | 1900 | 1910 | 1920 | 1930 | 1940 | 1950 | 1960 | 1970 | 1980 | 2000
Time Line Home