Fort Collins Detailed Time Line 1880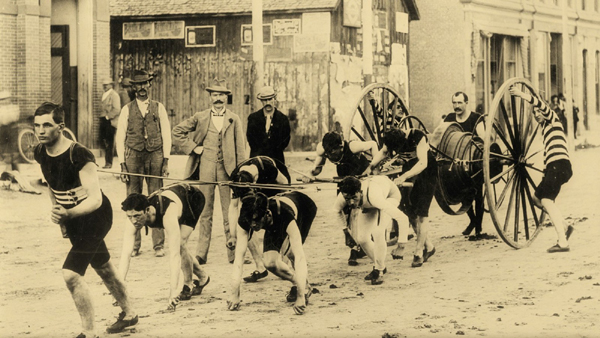 The following links are to a chronological index of Fort Collins information compiled by Fort Collins Archive volunteers and staff.
The information is from these reference sources and they are noted in the Time Line. There is also a Brief Time Line available.
[BUSINESS/INDUSTRY] [AGRICULTURE] [PEOPLE] [GOVERNMENT/CITY DEVELOPMENT] [COLLEGE/UNIVERSITY] [CIVIC] [NATURAL PHENOMENA] [MILITARY ACTIVITIES/WAR] [HEALTH/MEDICINE] [CIVIL RIGHTS] [TRANSPORTATION]
While many civilizing influences would begin to shape Fort Collins in the 1880s, the town was still very much a frontier town as the decade began. Saloons, brothers, and gambling houses attracted drifters and idle men and created a pool of "undesirables" in which trouble often brewed.
Fort Collins' first murder took place in a brothel on North Meldrum in 1881. On Christmas Eve "Tex" Lindeville shot Albert Sherwood, a black employee of the Tedmon House. Lindeville pleaded self-defense and was acquitted.
The most sensational crime of the decade was the Howe murder on April 4, 1888. James H. Howe fatally wounded his wife, Eva, with a knife, while he was intoxicated. Howe was arrested but did not survive to see a trial. He was lynched in the courthouse yard the night of the murder.
In December of the same year a man was lynched in Greeley. The Fort Collins paper supported both incidents, saying "Much as lynch law is to be deplored in the abstract, yet there are times, or at least, seem to be, when the checking of crime can be accomplished in no other way."
Another "house of ill-repute" was the scene of a possible crime in 1883. Chloe Foster's place on Laporte Avenue burned while many townspeople turned out to watch. One of Chloe's "boarders", a Nan Jones, blamed "fanatic moralists" for the blaze. Arson was often suspected for such blazes. Ansel Watrous, the town's early historian, would later observe that saloons often toasted the firefighters after a fire and provided free drinks to the patrons for that purpose, thus perhaps creating a motive for incendiarism.
Disgusted with drunks, prostitutes, and liquor-related crime and death, Fort Collins women founded a chapter of the Women's Christian Temperance Union in August, 1880. The ladies' first success did not come until April, 1884, when a council which supported prohibition was elected. It passed a prohibition ordinance. However, losses in liquor licensing fees to the city treasury led to its abandonment after only eleven months.
Citizens also organized following the Howe murder to check into reports of wife abuse and to investigate means of protecting battered women.
Another practice which Fort Collins law officers had to deal with in the 1880s was less serious. Complaints were made against men and boys who bathed in the river near private residences.
Crime was not the only threat to the welfare of Fort Collins residents in the 1880s. The medical sciences had not yet found ways to effectively treat diseases such as typhoid fever, diphtheria, measles, smallpox, and scarlet fever. Inadequate sanitation increased the health hazards. Garbage and dead animals were often dumped into irrigation ditches which served the town.
Improved sanitation was one reason the people of Fort Collins voted in favor of a municipal waterworks system for domestic use and fire protection in 1882. A water plant was built near La Porte. Before the development of the waterworks, Fort Collins citizens obtained water from the "water wagon," a water tank on wheels. Water was dipped from the Poudre River and wheeled into town where it was sold for $2.54 a barrel or $.54 per pail. Irrigation water was used for laundering.
Another development which reduced the risks of frontier life was the formation of a volunteer fire department. A citizens committee organized a volunteer "Hook and Ladder" company in May, 1880 after the disastrous Welch Block fire. Hydrants soon followed the development of the waterworks.
Another civic improvement of the 1880s was the establishment, in 1887, of a light, heat and power company. College Avenue was soon thereafter lit by electric lights. Electrical power was also available to residents.
Other signs of progress were the many buildings, public and private, erected in the 1880s. Fort Collins' first city hall was finished in June, 1882 on a lot sold to the city by Abner Loomis, a Larimer County pioneer and cattleman. It was located in the 200 block of Walnut Street. A courthouse was built in a square west of Howes and south of Mountain in 1887. It was constructed of brick, with two stories, a tower and attic dormers. The architect, William Quayle, arranged for the use of electricity in the courthouse as it became available while the building was under construction.
In 1880 Kindergarten was added to the established grades of first through eighth. It was the first such program west of the Mississippi River. The typical teacher was a single who, if experienced, was paid $70 to $75 a month.
In 1886 it was determined that new school facilities were needed. For years the school district had rented store rooms on Jefferson Street and Mountain Avenue to accommodate the overflow of children from the Remington Street school. A $19,500 bond issue was passed by the voters and a two story, eight room schoolhouse was built in 1887 on the southwest corner of Howes and Mountain. It was named Franklin School.
Edward G. Lyle proposed a high school program in 1889. The school board accepted it. Prior to this, students desiring a high school diploma had to go through a 'preparatory' program at the agricultural college.
Private businesses also sprang up rapidly in the 1880s. The race for development between "Old Town" and "New Town" continued in this decade. Both sections received new businesses or had old ones moved to them. By December, 1882, Lincoln Street was entirely built up from Mountain Avenue to Walnut Street and wood sidewalks were replaced with stone from the quarries west of town.
One of the most notable structures built during the 1880s was the Opera House. This symbol of culture was part of a contiguous block of commercial enterprises known as the Welch Block; the 100 block of North College Avenue. It contained four major businesses: L. Wilbur Welch had a dry goods store on the corner of Mountain and College; the Windsor Hotel was just north of this and next to Franklin C. Avery's Larimer County Bank. The Opera House was farthest north, built over street level shops. It had an entrance highlighted by stone pillars and arches. Frescoes and a drop curtain depicting a scene from Colorado's San Juan Mountains decorated the interior. In 1885 fire destroyed the Welch store and Windsor Hotel.
The Opera House itself had an entrance highlighted by stone pillars and arches. Frescoes done by 'Signore' E.O. Hurle of Denver, a former Milan native, and a drop curtain depicting a scene from Colorado's San Juan mountains decorated the interior. One third of the seats were inclined and there were four boxes on the east side. Performances in the 1880s included Shakespeare's "Richard III" and "Much Ado About Nothing;" "Uncle Tom's Cabin;" an exhibition on Greco-Roman wrestling; Georgia minstrels; and a sleight-of-hand show.
Another structure which brought a touch of elegance to the town was the Tedmon House. Built in 1880, this pace-setting hotel was the plan of Mr. and Mrs. Bolivar S. Tedmon, who came to Fort Collins in 1878. The sixty-five room brick structure signaled the improvement of Jefferson Street from wooden buildings, stables, and blacksmith shops. The hotel operated for nearly thirty years and, according to Ansel Watrous, was "admitted to be the finest hotel in Colorado north of Denver."
Frank Stover had a drugstore on the Tedmon House corner and probably had the town's first telephone there with an exchange to his house. A "bewildering maze" of telephone lines was expected to traverse the city soon thereafter. The city constructed an exhange between city hall and the water works pump house to call for greater water pressure in case of a fire.
Of course, the post-fort town of Fort Collins owed its development to agriculture. Its farming community continued to grow in the 1880s. Irrigation enabled this growth. Several major canals were constructed in Larimer County during this period, but the Larimer County canal is most noteworthy. It was almost 100 miles long and irrigated 30,000 to 40,000 acres. F.C. Avery, N.C. Alford and their associates organized the Larimer County Ditch Company in 1881 to build this canal.
Larimer County agriculture also received support from the Agricultural College. The Farm Institute, a forerunner of the college's Extension Service, was just beginning its' efforts to make both the agricultural and domestic aspects of farmers' lives easier and more productive. The college's experiment station, which would play a lage role in developing the sugar beet industry, was established in 1888.
As the town grew, its leaders worked to adapt its government. In 1883 Fort Collins had a sufficient population to be declared a city of the second class. The popular mayor-alderman type of government was adopted and the town was divided into four wards. A high license mayor and six high license aldermen (out of a total of eight) were elected, resulting in the establishment of a $1,000 per year fee (for a liquor license). Only six saloons survived this step and Fort Collins residents found their town a more peaceful place to live.
TOP
---
BUSINESS/INDUSTRY
STOCK GROWERS ASSOCIATION
HISTORY OF LARIMER COUNTY-Watrous
1884
It was organized in 1884 at Livermore.
"It grew out of the necessity for a different and more efficient kind of watch and guard over live stock than that observed on the Plains, the range being entirely in a mountainous country...For several years the association proved a very useful organization in facilitating the annual branding and beef round-ups of cattle and in hunting down and prosecuting horse and cattle thieves. As the county grew older and more thickly settled, followed by a thinning out of range stock, the necessity for keeping up the organization practically disappeared and it was allowed to die from lack of interest."
BANKS
FORT COLLINS YESTERDAYS-Swanson
1880s
Franklin Avery's bank opened in 1881. It was first called "Larimer County Bank," then "First National Bank of Fort Collins." It was located on the Welch Block on College Avenue.
"The exterior conformed to the rest of that building, but the interior permitted originality. The scene depicted by the fresco painter sounds almost incredibly frivolous, for a small town bank, but there is no evidence that Watrous was jesting when he printed a description. It contained a big ox, an african gorilla and smiling Fiji Islanders!"
Poudre Valley Bank opened in 1883 in the Loomis and Andrews building built by Stover, Sheldon, Abner Loomis and Charles Andrews. It was located on the northwest corner of Walnut and Linden.
SALOONS
FORT COLLINS YESTERDAYS-Swanson
1880s
"In the 1880s no one had to walk far in the business district to find a saloon. College Avenue, Jefferson, and Linden were well supplied. On the exterior, the saloons looked just like the grocery or hardware stores and they were usually located in business blocks with other shops. The owners worked hard to win customers and soften criticism...Lindenmeier's 'Board of Trade' on College near the Opera House had a bowling alley in 1880."
A few other establishments: John Owens and the "Brunswick;" Johns and Kennedy, R.W. Durkee and the "Bon Ton" saloon; Frank Miller.
DAMM BAKERY
FORT COLLINS YESTERDAYS-Swanson
1889
The Damm Bakery opened in 1889.
GOLD MINING - MANHATTAN
HISTORY OF LARIMER COUNTY-Watrous
1880s
1887-estimated 15 mines in Manhattan area.
Democratic Mining and Drilling Company--four miners. Perry Bosworth, Superintendent.
Little Joe Dandy and Black Prince owned by Trimble Brothers.
Gold Nugget Mine--James W. McGinley
"Tens of thousands of dollars in money and many years of time have been expended in prospecting the hills of Larimer County for the precious metals, but up to this time the returns in dollars and cents bear no comparison to the cost. They have been exceedingly meager. Gold, silver, copper, zinc and lead have been found in sufficient quantities to justify the keeping up of the search, but never in large enough quantities to justify systematic and scientific mining."
1886--prominent citizens of Fort Collins organized to find precious metals in county. In September, gold found between Seven Mile and Elkhorn creeks on the divide. Rush made. Town of Manhattan sprang up. Some good returns, but not consistent.
BURNING EARLY NEWSPAPERS
COLORADOAN (4/15/1986)
1880s
"Henry A. Crafts bought the Express from McClelland and found seven years' worth of paper stacked in the office. To clear the clutter, he set the stacks on fire and thereby destroyed evidence of the first seven years of journalism in Fort Collins."
HORSE TRADE--LIVERIES
FORT COLLINS YESTERDAYS-Swanson
1880s
Tom Earnest and Todd Branner brought the "Andalusian breed" horses in from Texas in 1882.
Other liveries owned by: William Campton, John Currie, J.A.C. Kissock, Will Torrens and Joseph Graham, and Jesse Harris.
FLOUR MILL
FORT COLLINS YESTERDAYS-Swanson
1880s
In 1880 the mill expanded to five stories from three.
"After Mason's death in 1881, Hottel ran the mill first as owner, and from 1885, as manager for Colorado Milling and Elevator Company."
"One of the terrible hazards of milling is fire; dust prevention to avoid explosions is a constant problem. The first big mill fire was in July, 1886. The structure was rebuilt and in operation by December."
TEXAS CATTLE DRIVE
FORT COLLINS EXPRESS (Feb. 1884)
1880s
"There are still coming up from Texas and the South cattlemen who are desirous of selling parts of the big herds that will soon start out from the Texas range for their long drive. The cattlemen all gather when one of these Texas salesmen arrive, on the lookout for bargains. The bargains are not great this year."
START OF LAMB FEEDING
HISTORICAL SKETCHES FORT COLLINS AND LARIMER COUNTY, Volume 2-James R. Miller (On page 249 is Coloradoan article 2/18/1964, page 10)

1889-1890
A blizzard caused Bennett Brothers (one was I.B.) to bring lambs bought in New Mexico to Fort Collins rather than to their lamb feeding operations in West Nebraska. (They lived and farmed there.) They expected losses, but "They were fed generously on the cheap hay, finished on corn and marketed at Chicago in 1890 at $5 to $6.40 per hundredweight, making a good profit for the feeders. From that beginning at Fort Collins, the feeding industry has grown until northern Colorado alone fattens nearly a million lambs a year." (From Steinel's History of Agriculture in Colorado, 1858-1926).
STONE QUARRIES, MINING
HISTORY OF LARIMER COUNTY-Watrous
1880s
"Larimer County contains an inexhaustible supply of the very best building, paving and curbing stone and flagging for sidewalks, including white, gray and red sandstone, granite and mottled marble. The quarries are located at Bellvue, Stout and Arkins. At one time between 1882 and 1890 more than one thousand men were employed in the quarries extracting building stone, paving blocks, curbing and flagging. Many of the finest buildings in Denver, Omaha and Kansas City were constructed of white, gray and red sandstone taken from these quarries." The railroad lines were built to these quarries.
STOUT, CO - QUARRIES
MUSEUM (GLENDURA) SCRAPBOOK
1880s
Railroad feuds - new quarries opened.
"For it was in 1882 the name "Stout" first stamped itself on the quarry scene. A month before the first stone train left the valley, the important Nebraska stone contractor, William H.B. Stout, leased the railroad quarries."
Charles Smith (Highland Quarry) erected a frame school house, furnished it, supplied books and petitioned for a school district.
On May 3, 1882, a school board was elected. In November District 27 was established. Two miles farther south, 25 carpenters worked to complete a depot, a section house and a water tank connected to a 2,000 barrel reservoir. The boarding house was also the first Stout Post Office. It opened in September, 1882. It had 21 rooms on two floors.
MUSEUM (HOBBIES) SCRAPBOOK
1880s
The big industry in the area was the stone quarries at Stout. The main operator at Stout was the Union Pacific Railroad, which kept a workforce of +200. Much stone was going to build bridges, stations and roundhouses on the Union Pacific's new line through Oregon called the Oregon Short Line.
DRUG STORES
FORT COLLINS YESTERDAYS-Swanson
1880s
See 1870s entry--Stover's at Tedmon House and Dr. Lee and Dr. Elston at 237 Linden Street.
VETERINARY SURGEON
DEMOCRACY'S COLLEGE-Hansen
1883-84
The first veterinary surgeon was appointed in 1883-84. He was needed because of the livestock and cattle business here.
TEDMON HOUSE
HISTORY OF LARIMER COUNTY-Watrous
1880s
"Among the notable events that occurred in 1880 was the completion and opening to the public on May 20th of the Tedmon House, admitted to be the finest hotel in Colorado north of Denver. This event was hailed with great pleasure not only by citizens of the town but by the traveling public as well. It had been erected on the corner of Jefferson and Linden Streets on the site formerly occupied by the Blake House, built in 1870, and contained sixty-five handsomely furnished rooms... For nearly thirty years the Tedmon House was one of the most popular public stopping places in Colorado and had a reputation second to none."
FORT COLLINS YESTERDAYS-Swanson
Constructed in 1880.
"...an elegant hotel which dominated Fort Collins' business area for the next thirty years. It was located on the northwest corner of Jefferson and Linden, three stories high of brick and stone. Its oval window, a bay cantilevered out from the wall over the drugstore doorway was an innovation. It set the pace for the improvement of Jefferson from humble wooden structures and flimsy livery stables and blacksmith shops left over from the days of the fort to good brick buildings.
"The new hotel had nineteen rooms on the third floor, seventeen on the second with parlor and ante rooms, and each floor had a bathroom and linen closet. The first floor had a baggage room, barber shop, sample room for traveling salesmen, a dining room with two chandeliers, china closet, dishing and serving room, and kitchen with cooking range, steam table, boiler, and pastry room. Brussels carpets covered the stairways and halls. A special carriage picked up clients at the railroad station and conveyed them in style to the hotel."
It pushed Old Grout out.
"Tedmon soon sold out, but the succeeding proprietors maintained the style with which it was begun."
TOP
---
AGRICULTURE
PENNOCK ORCHARDS--CHERRIES
AGRICULTURE IN COLORADO-Steinel
1880s
"Charles Pennock of Bellvue, another pioneer fruit grower in the Cache la Poudre Valley, has done much for horticulture in Colorado and adjacent states. Mr. Pennock planted his first orchard in 1889 and about the same time started a small nursery. He improved and introduced the Rocky Mountain cherry and was the first one to cross this plant with the native plum."
LARIMER COUNTY CANAL-NORTH POUDRE CANAL
HISTORY OF LARIMER COUNTY-Watrous
1880s
F.C. Avery, N.C. Alford and associates organized the Larimer County Ditch Company in 1881. Proposed to construct Larimer County Canal. It would be almost 100 miles long and would irrigate 30,000 to 40,000 acres.
IRRIGATION CANALS
AGRICULTURE IN COLORADO-Steinel
1880s
"Other Poudre Valley canals that came into use between 1870 and 1882 were the Lake Canal, projected in 1872, 15 miles long and costing $15,000. This watered 8,000 acres. Box Elder Canal, in the upper valley near LaPorte, dates back to 1863. In 1882 it was seven miles in length and was being extended. Cache la Poudre Canal, built in 1886, was eight miles long and covered 4,000 acres.
"The Mercer, a pioneer ditch, originally chartered in 1862, was rechartered in 1872 and extended to 13 miles, covering 10,000 acres, half of which was in crop in 1881. Canal No. 2, built by the Fort Collins agricultural Colony in 1872, cost $15,000, its length ten years later being 11 miles and its capacity 10,000 acres, most of which was in crop. Pleasant Valley Canal, chartered about 1879, was 16 miles in length and covered 8,000 acres, water being sold only to stockholders, with shares valued at $100 each."
Other canals in Larimer County were: Larimer & Weld; Highline Canal (to Cherry Creek); Big Thompson Ditch; Handy Canal; Louden Canal; and Highline Lake.
TOP
---
PEOPLE
JOHN E. KIRBY--LIFE AND WAGES
FARM WORKERS AND COWBOYS
HISTORICAL SKETCHES FORT COLLINS AND LARIMER COUNTY, Volume 3-James R. Miller (On page 547 is Coloradoan article 9/27/1964, page 11)

1880S
Kirby was a cowboy.
"Wages for laborers in this part of Colorado at that time, Mr. Kirby recalled, were $2 to $2.50 a day. A ranch hand would be paid $25 to $30 a month, plus his 'keep.' This included his meals and the privilege of sleeping 'anywhere on this 160 acres.' Wages for an ordinary cowman were $40 and keep, or if he had a 'rep job,' meaning that he was a top hand sent to ride with another outfit than his own to watch for his employer's stray cattle, he was paid $50 a month. This work sometimes took him as far as 200 or 300 miles from the home ranch."
Cowboys didn't "herd" cattle--they rounded them up, branded them, traveled to a railroad point for shipment to market.
"A wagon boss or foreman with perhaps 10 or 15 men under his direction, might be paid $100 to $115 a month."
REMITTANCE MEN
HISTORICAL SKETCHES FORT COLLINS AND LARIMER COUNTY, Volume 1-James R. Miller (On page 152 is Coloradoan article 12/3/1963, page 13)

1880s
English gentlemen who had come to the American West to learn ranching "either willingly or under parental pressure" were called remittance men.
"Chiefly the Englishmen settled in the lower foothills areas of Larimer County, more especially in the Livermore region. There some of them lived in cabins, but others built pretentious houses, few of which now remain but many of which were elaborately furnished and fully equipped for lavish entertaining."
They enjoyed hunting, often brought friends from home for hunting.
"Most of these settlers engaged more or less seriously in raising livestock on the grassy grazing lands of the mountains in the slopes and in the 'parks.' Those who had remittance checks arriving regularly from England had little need to exert themselves greatly. It was a good life.
Nevertheless, it must be said that among them were many who were entranced by Colorado ranch life and who developed their ranches and built up good livestock herds. Many founded substantial and respected families and spent the rest of their lives in this area. These English 'colonists' contributed much to the ranch, social and cultural life of early Larimer County."
Extent of range was 1,000 square miles.
It was dominated by Livermore ranchers. R.Q. Tenney and John G. Coy were charter members.
AUNTIE STONE
FORT COLLINS YESTERDAYS-Swanson
1880s
"Old age brought its ups and downs but Auntie faced its trials and enjoyed its honors. In 1885 the Courier reporter noted her involvement in a lawsuit and described her:
"'She walks erect, reads a great deal, and talks sensibly. She curls her hair, wears her watch and chain, and dresses up for afternoons as if she were yet a belle. In fact she is a belle.'
"The Masonic dance in 1885 with three generations of Auntie's family among the dancers was boycotted in Fort Collins annals. Auntie was over eighty-three. Her son Washington Irving Robbins, was almost fifty-nine. His daughter, Gertie, then a clerk at the Fort Collins Post Office, was almost twenty-two."
HARLAN THOMAS
FORT COLLINS YESTERDAYS-Swanson
1880s
Early beginnings of famous career as an artist and architect.
MONTEZUMA FULLER
FORT COLLINS YESTERDAYS-Swanson
1880s

He settled in Fort Collins in 1880.
"Like many new arrivals, he was untrained, but he came on the eve of the town's burst of substantial building and the changeover from rough frame to good stone and brick construction. Fuller watched the building of the Welch Block and Opera House, the Jefferson Block, and the City Hall. His technical skills grew along with the expanding town."
Some of his accomplishments were: He converted the college barn to a laboratory and classroom, circular swing, helped with Presbyterian Church on Remington and Olive, C.B. Andrews house at 202 Remington, etc., through the 1900s.
PIERRE DASTARAC
FORT COLLINS YESTERDAYS -Swanson

1880s
"While Pierre or Frank Dastarac, in a company with R.J. Selway, worked painting signs, hanging paper, calcimining, and painting a grain on woodwork, he sketched new buildings appearing in the city. He produced maps of Fort Collins in 1881 and 1884. He framed these with drawings of buildings. "

LADY MOON
FORT COLLINS YESTERDAYS-Swanson
1880s
Catherine Lawder was an Irish barmaid who divorced her miner husband to marry Cecil Moon, an Englishman. She gave Fort Collins' residents a sense of nearness to aristocracy after Cecil inherited his title in 1898.
HISTORY OF LARIMER COUNTY-Watrous
1883
"Grattan Lawder was born on an English ship on the border of France, May 17th, 1865. When about 12 years of age she came from Ireland to Clinton, Iowa, where she received her education. She came to Colorado in May, 1883, and located on the Elkhorn in Larimer County. On July 19th, 1888, she was united in marriage with Sir Cecil Moon, a British Baronet, and became Lady Catherine Moon. In 1899 she accompanied her husband to England where she remained until 1902, when she returned to her home on the Elkhorn where she has since lived. She is the owner of a fine 2100 acre stock ranch and is engaged in the cattle business and general ranching. Lady Moon is a good business woman and a lover of good horses."
MUSEUM (GLENDURA) SCRAPBOOK and FORT COLLINS YESTERDAYS-Swanson
1880s
She was first married to Frank Garman, a Manhattan prospector, until Cecil Moon, a titled English bachelor of means fell ill at Ashley's Grange. Catherine (Lady Moon) agreed to go down and take care of Lord Moon. She nursed him, then later, married him. Lord Moon later divorced her after two years. Her maiden name was Grattan Lawder.
She was generally seen wearing a plumed hat. She lived in the backcountry on a ranch.
EMPIRE MAGAZINE (6/21/1964)
1880s
"She was born of Irish parents on an English ship off the coast of France on May 17, 1864. At 12 an orphan, she came to the United States and worked in Clinton, Iowa, for a physician's family. When she was older she went to a settlement on the Elkhorn River, not far from Fort Collins, CO, where she began to take in washing.
"One of her customers was Cecil Moon, Oxford University graduate and younger son of an aristocratic British family. Moon also, alas, was a remittance man. Such a one was usually a wayward son, sent as far from home as possible, and maintained there by regular checks from home--remittances. He had failed in a try at the mining business, and when he met Katie he was a student at a ranching school. Katie and Moon fell in love and married. Shortly afterward Moon's grandfather, Sir Richard Moon, died. As there were no intervening heirs, because of deaths in the family, Cecil inherited the title and a fortune.
Katie, now Lady Moon, insisted on visiting her husband's relatives in England. Sir Cecil's mother, however, found Katie socially unacceptable, and they returned to Colorado. Katie began to buy land and cattle. Katie eventually obtained control of Sir Cecil's fortune, and in 1906 Sir Cecil sued Lady Moon for $5,000 to maintain himself in a manner befitting a gentleman. He complained that she made him cook coarse fare for her and her ranch hands. The court ordered her to pay him a lump sum of alimony, thus setting a precedent in Colorado courts. Before this, no woman ever had been made to pay alimony. After their divorce, Sir Cecil went to New Zealand to seek another fortune."
"As plain Mrs. Moon, Katie ran a 2,100 acre cattle ranch near Fort Collins. She had financial reverses and in 1926 died of cancer in Larimer County Hospital. She is buried in Mt. Olivet Cemetery west of Denver."
NATHANIEL C. ALFORD
HISTORY OF LARIMER COUNTY-Watrous
1881
In the Fall of 1871 he located a ranch on Rabbit Creek above Livermore. In 1881 he began building Larimer County Ditch, now the Water Supply and Storage Company. He became Director and President of Poudre Valley Bank.
GEORGE H. GLOVER
DEMOCRACY'S COLLEGE-Hansen
1886
He was appointed quarantine inspector in 1886. His job was to inspect cattle to prevent tick fever invasion of state.
TOP
---
GOVERNMENT/CITY DEVELOPMENT
THE FRONTIER NATURE OF THE TOWN
DEMOCRACY'S COLLEGE-Hansen
1880s
"...In many respects Fort Collins was a wide open frontier town. Its' population included a troublesome number of 'idle and vicious men.' Many were drifters from railroad and ditch gangs who sought diversion in drinking, gambling, and whoring. By 1883 the town contained thirteen saloons, three drug stores which sold liquor, five brothels, and an undetermined number of gambling houses. Incendiarism was a frighteningly frequent occurrence and, according to a local historian, related to the presence of these undesirable elements."
Watrous said some thought some of the fires were caused by men wanting free drinks as saloons "set up a drink to the fire fighters after they had gotten the flames under control."
HAWK HEAD BOUNTY
FORT COLLINS EXPRESS SPECIAL EDITION, 1894

1880s
The County paid 25 cents for each hawk head.
BAWDY HOUSE FIRE
HISTORICAL SKETCHES FORT COLLINS AND LARIMER COUNTY, Volume 1-James R. Miller (On page 120 is Coloradoan article 11/7/1963, page 12)

1883 November

Chloe Foster's place (a brothel or house of prostitution) on Laporte Avenue burned. Many townspeople turned out to watch. Firefighters worked to stop the blaze while other men worked to save the furniture, including a valuable piano. One of Chloe Foster's "boarders," Nan Jones, blamed "fanatic moralists for the fire."
The Express said the work of the "hose company" was "not very effective," "but excused them because of their unfamiliarity with the hydrants."
FIRST MURDER IN FORT COLLINS
MUSEUM (GLENDURA) SCRAPBOOK (Christmas eve, 1881)
"Brawl resulted in First Murder." "Pistol shots--a dozen or more--shattered the silence of Fort Collins' west side about 10 p.m.
A man called "Tex" gave himself up to Lundy, the Justice of the Peace. He was registered at the hotel as William Lindville. Tex was a hard character, a tough cowboy with his face cut and bleeding. He turned his weapons over to Lundy. The next morning (Sunday) a wagon pulled up at the Tedmon House. It carried the body of Albert Sherwood, the Tedmon's black cook, a bullet hole above his left eye--clearly alive.
Just before noon Sherwood died, becoming Fort Collins' first murder victim. The brawl had been at "Lizzie Palmer's" mansion--a house of ill repute. Fight between Tex and Sherwood. Tex testified that he didn't know how he came about having guns in his possession. Sherwood had jumped Tex (armed with a razor or a pistol).
Conclusion: "The jurors do say Albert Sherwood came to his death, Saturday night, December 24, A.D. 1881, from a pistol shot fired from a pistol in the hand of William Lindville--"Tex"--without felonious intent."
HOWE MURDER/LYNCHING
FORT COLLINS YESTERDAYS-Swanson
1888
It occurred April 4, 1888, not long after the courthouse was finished. He fatally wounded his wife while drunk. He did not resist arrest. He was lynched that night by a mob which took him from jail. He was hung with a rope from the derrick in the jail yard. "The following day the jury of inquest reported his death 'by hanging at the hands of an infuriated and unknown mob.'"
There was a lynching in Greeley shortly after this one in Fort Collins. "Some thought one city set an example for the other. The Fort Collins paper supported both actions: 'Much as lynch law is to be deplored in the abstract, yet there are times or at least, seem to be, when the checking of crime can be accomplished in no other way.'"
WIFE ABUSE/LIQUOR
COLORADOAN (4/15/1984)
1880s
Following the Howe murder/lynching: "Residents vowed that other cases of families with domestic problems shouldn't be allowed to end in murder."The Courier reported : 'An organization numbering among its members a large number of leading citizens was perfected in the city last week, having for an object the protection of wives from the cruelty and brutality of drunken, wife-beating husbands and fathers.' A committee was appointed to look into reports of battered wives 'and to mete out deserved punishment to each and everyone engaged in such brutality.'"
RIVER BATHING
HISTORICAL SKETCHES FORT COLLINS AND LARIMER COUNTY, Volume 1-James R. Miller (On page 21 is Coloradoan article 8/29/1963, page 3)

1880s
'Complaint is made that certain men and boys are in the habit of bathing in the river near private residences, to the annoyance of the occupants. Marshal Shortridge has the matter in hand and unless it is stopped the guilty parties will be prosecuted.'"
JEFFERSON STREET AND OLD TOWN
FORT COLLINS YESTERDAYS-Swanson
1880s
"Jefferson and Walnut streets, crossed by Linden, formed important segments of the business section. The name, Old Town, suggested that the area was developed prior to College Avenue. In reality the two sections raced one another in construction. Each had old and new shops frequently remodeled or moved. Linden was not built up entirely from Walnut to Mountain until December, 1882."
Stone sidewalks gradually replaced wood ones.
CITY DEPARTMENTS
HISTORY OF LARIMER COUNTY-Watrous
1880s
"Old Town Board of Trustees Adjourns." A proclamation declared Fort Collins a city of the second class. The town was divided into four wards. A mayor, eight council members, county officials were elected.
"The campaign preceding this election was the most bitter in the history of the town." The issue was licensing saloons--high or low fee. The election gave high license supporters control of the government. (Drinking and incendiarism were problems). All but six of the saloons were forced out by excise ordinance resulting in "a quiet, peaceable and law and order loving community."
1883-84
The first election after Fort Collins was made a city of the second class "was the most bitter in the history of the town, as it is apt to be whenever a moral question is embraced in the issues. The main issue was high as against low license. For years the town had been charging saloon keepers a license fee of $300 per annum, with the result that the town was overrun with saloons and places where intoxicants could be obtained."
"The election was held on Tuesday, April 3rd, and resulted in the choice of a high license Mayor, City Clerk and six of the eight aldermen, thus giving the high license party control of the government. The total number of votes cast was 499 (population 2,034) and the high license mayor was elected by 27 vote majority."
License fee was made $1,000 a year. "...One fourth payable quarterly in advance..."
"The effect of this ordinance was to weed out all but six of the saloons and the proprietors of these were each placed under $3,000 bond, conditioned that he should keep and observe all the provisions of the ordinance regarding closing on Sunday and election days, gaming with cards or other devices in the saloon, etc., fixing the penalties for violations at from $50 to $300. The ordinance and all other law and order ordinances were strictly enforced and a radical improvement in the social and moral condition of the city followed." The "riff-raff" left town and Fort Collins "...became a quiet, peaceable and law and order loving community."
The following year the council passed an order prohibiting the sale of "intoxicants of all kinds" in Fort Collins. It was repealed in 1885 for high license ordinance, "which remained in force until 1896, when the city again returned to the principle of absolute prohibition..."
CITY GOVERNMENT--FIRST ELECTRIC LIGHTS AND SEWER
FORT COLLINS YESTERDAYS-Swanson
1880s
Mayors: 1880 - David Patton
1881 - Jacob Welch
1882 - George B. Brown
1883 - Abraham L. Emigh
1884 - John M. Davidson
1885-87 George Bristol
1888 - James C. Evans
1889 - Dr. E. A. Lee
"In 1882 a real city hall with a belfry and bell was built on Walnut to house the fire station on the first floor and offices on the second. This remained the seat of government until 1957, serving a population which grew from 1300 to 25,000. The furniture in the first recorder's office consisted of some cane-bottomed chairs and a walnut desk. In 1888 each of the eight aldermen was provided with a solid cherry desk. From 1883, when Fort Collins became a city of second class, until 1913, the government was the mayor-alderman type so popular then in the United States."
"The work of the city officials included keeping abreast of all the new modern developments, satisfying aesthetic and moral standards, and resolving personnel problems."
Various activities supervised in 1880s included introduction of electric lights and the first sewer.
VOLUNTEER FIRE DEPARTMENT
HISTORY OF LARIMER COUNTY-Watrous
1880s
"The burning of the Welch block in February started a vigorous discussion in favor of better fire protection, which resulted in the organization on May 21 of a Hook and Ladder Company and its equipment by the town authorities"
FORT COLLINS EXPRESS-COURIER (9/19/1928)
1880s
"The Fort Collins Fire Department originated May 21, 1880, in the office of J. Deaver and Company when a committee of citizens met there to organize what was afterwards known as Hook and Ladder Company No. One. It was entirely a volunteer organization; no salaries being paid, and most of the maintenance expense of the company devolved upon the members themselves, even to keeping the truck in repair."
It had as many as 30 members, but numbers dwindled when horses used for motive power. Disbanded in 1912 when the town took over maintenance of the department.
"'In those early days,' says J.H. Cameron one of the old volunteers, 'a fireman had to be a good foot-racer and a long-winded one at that. When the old fire alarm bell in the tower clanged he had to dash from his home afoot and grab the rope with the other men and make a race to a fire that might be located miles away. After getting there, usually, he had plenty of work to do as most of the buildings were made of wood and that meant sure-enough fires.'"
LIBRARIAN
DEMOCRACY'S COLLEGE-Hansen
1880s
First librarian appointed.
CITY SEWER
HISTORY OF LARIMER COUNTY-Watrous
1880s
In 1888 Fort Collins citizens voted against bonding the city for sewer funds. But citizens did want a sewer. City "saw its' way clear" to start construction in July. Its' cost was $3,500. It was 2,870 feet long. It went from the Lincoln Avenue bridge to the alley west of Franklin School. It was expanded in 1891 and 1893.
WATER WORKS/WATER LAW
FORT COLLINS YESTERDAYS-Watrous
1880s
"When the city developed its' waterworks in 1882, building the plant near Laporte, there was a more efficient source for the growing town and the laterals to the town ditch were sometimes neglected and left clogged. In March, 1887, James Arthur, along with William Stover, Jay Bouton, Charles Mantz, and F.W. Sherwood, formed a new company to buy the ditch and from then on it was generally known as the Arthur Ditch, though he was only one of the owners. Bouton was also a director of the Highline Reservoir and Canal Company in 1885 so he was well situated for investment in water, the most important resource in the county. "

"This ownership of water by private corporations was a new phenomenon of the Rocky Mountain states and a puzzling feature of western law for whose background has been shaped by water law recognizing riparian rights. The latter system, as implied by the name referring to the river bank, associated the water with the land through which the river flowed. This was traditional in the eastern United States and in English law. The arid west developed quite a contrary viewpoint. Water needed for mining in the days of the California gold rush supported an industry far distant at times from the course of the river. Colorado miners and ranchers in territorial days seized upon this doctrine of prior appropriation and water became a commodity to buy and sell, independent of land."
FIRST WATERWORKS
HISTORY OF LARIMER COUNTY-Watrous
1883-84
At the municipal election in 1882 the people of Fort Collins voted in favor, 268--44, of a water works system for domestic use and fire protection.
"Up to this time and for more than a year afterwards when the works were completed the people were supplied with water for cooking and drinking purposes from what was known as the 'water wagon,' consisting of a tank on wheels. From this primitive system of water works, people were able to supply their needs at the rate of 25 cents a barrel or five cents a pailful. This water was dipped up from the river near College avenue bridge and peddled out through the town by the owner of the 'water wagon.' Water needed for the laundry and cleaning purposes was obtained from the irrigating laterals that traversed the town."
FORT COLLINS EXPRESS-COURIER (7/3/1933)
1880s
Some details of Fort Collins' first waterworks are: The water main was 43,300 feet; it had 20 hydrants and 15 water gates; and it had 120 pounds of pressure.
LIGHT, HEAT & POWER COMPANY
DEMOCRACY'S COLLEGE-Hansen
1880s
"In 1887 the city council authorized the establishment of a light, heat, and power company, which soon began erecting poles and stringing wires along the town's streets and alleys. Before long, blazing arc lamps were illuminating College Avenue, and ordinary homeowners were enjoying the benefits of electrical power."
COURTHOUSE
FORT COLLINS YESTERDAYS-Swanson
1887
The jail location was at the Tedmon House until 1887. The new courthouse was built in 1887. Prior to this officials had worked in Old Grout, the Opera House, or rented space above stores.
"Residents were jointly proud of the edifice. It was located in the center of a pleasant square, well-shaded with trees, south of Mountain and west of Howes. The two-story red brick structure with attic dormers and tower with flagpole loomed up in the skyline like Old Main on the south and Hottel's mill on the northeast. Each formed a center for specialized activities.
Construction began after voters supported a bond issue in November, 1886. In July, 1887, the Fort Collins Foundry was making castings for pillars, columns, and lintels. On August 11, the Masons conducted an impressive cornerstone-laying ceremony. The builders paid honor to the tradition of Roman law by carving a Latin motto in Germanic letters on the stone: 'Justitia non est neganda non deferencci.' Justice is not to be denied or delayed. William Quayle of Denver was the architect. He arranged for electricity since that became available during the period of construction."
CITY HALL
HISTORICAL SKETCHES FORT COLLINS AND LARIMER COUNTY-James R. Miller
1882
The first City Hall constructed was finished in June 1882. It was located in the 200 block of Walnut street. Abner Loomis sold the city part of a lot for $500 for the site of the hall.
TOP
---
COLLEGE/UNIVERSITY
COLORADO EXPERIMENT STATION
AGRICULTURE IN COLORADO-Steinel
1880s
The first State appropriation for experiment stations was in 1893. The Colorado Experiment Station was organized in 1888. The departments were: Horticulture and botany, chemistry, irrigation engineering, and veterinary. It had substations at Monte Vista and Rocky Ford.
The Hatch Act, 1887, by Congress stimulated research activity, provided funds for land grant colleges. The station was required to conduct original investigations on farm crops and other problems or verify studies beneficial to the nation's agriculture. It reports to the U. S. Department of Agriculture and must publish bulletins describing results of experimental work.
WEATHER RECORDS STARTED
AGRICULTURE IN COLORADO-Steinel
1887
"Because of the close relation existing between meteorology and irrigation, there has been kept a continuous record of the weather and other meteorological data since 1887" apparently at the State Experiment Station at Colorado State University-Fort Collins.
SECOND PRESIDENT FOR COLLEGE
DEMOCRACY'S COLLEGE-Hansen
7/26/1882
Charles L. Ingersoll was the second president of the college.
DEFIANCE WHEAT
DEMOCRACY'S COLLEGE-Hansen
1885
Defiance wheat was developed and distributed by Professor Ainsworth Blount, superintendent of the college farm and first head of the A & M Experimental Department.
A & M MILITARY COURSE BEGUN
DEMOCRACY'S COLLEGE-Hansen
FALL 1882
Drills were conducted at first by President Ingersoll.
In 1884 Vasa E. Stolbrand was hired to teach mathematics, civil engineering, and military tactics.
FIRST DORMITORY
DEMOCRACY'S COLLEGE-Hansen
1880
On December 3, 1880, the first dormitory, Spruce Hall, was authorized at A & M College.
GRADUATE PROGRAM
DEMOCRACY'S COLLEGE-Hansen
1888
The first graduate program was approved by the Board of Agriculture as a result of the Hatch Act, which provided funding for experiment stations at land-grant schools. Agricultural research was encouraged.
ELWOOD MEAD
DEMOCRACY'S COLLEGE-Hansen
January 1883
Elwood Mead, famous engineer, founded the course in irrigation at A & M. He was later head of the Reclamation Bureau.
A & M EXHIBIT AT STATE FAIR
AGRICULTURE IN COLORADO-Steinel
October 4, 1887
The Agricultural College at Fort Collins was represented by an exhibit in charge of Professor A.E. Blount, the comment being: "It is attracting universal admiration. Such a display of grains was probably never before made in any county. He must have a thousand varieties of cereals."
Blount was the college's first scientific experimenter in agriculture.
FARMERS INSTITUTE
AGRICULTURE IN COLORADO-Steinel
1888
The first institute was authorized in 1879. It was the precursor of A & M--C S U Extension service.
TOP
---
CIVIC
LIQUOR AND THE W. C. T. U.
FORT COLLINS YESTERDAYS-Swanson
1880s
In Ohio Mrs. William O. Collins helped found the Women's Christian Temperance Union in 1874.
"On Circus Day in May, 1880, 'drunks were three or four deep on the cooler floor, a disgusting mass of brutish humanity.' In June, 1881, prostitutes rode through the city on horseback. A beer garden was planned and beer was sold on Sunday. One December night in 1881, James Shaw froze to death on Walnut and Linden right in front of the Presbyterian Church after drinking at Lindenmeier's saloon. The coroner's jury found it was the usual custom of that saloon owner to put intoxicated people in a rear unheated shed so there was danger that the accident might be repeated. With such incidents as background, the local chapter of the W. C. T. U. formed in August, 1880, got busy. Among the leaders was Mrs. Charlotte Calista Edwards, mother of Alfred Augustus and Robert Edwards. She had come west to keep house for Alfred until his marriage in 1883. "

"The first success for the ladies followed the address of Governor St. Clair of Kansas in the Fort Collins Opera House in January, 1884. A council supporting prohibition was elected in April and an ordinance prohibiting saloons passed. Its' abandonment eleven months later was due to a simple reckoning of financial loss to the city treasury. The saloon keepers had been paying one-third the cost of government, $1,200. This was accepted as a temporary setback for the women and they concentrated on getting the vote to express their desire."
OLDTIMER'S ASSOCIATION
FORT COLLINS YESTERDAYS-Swanson
1880s
"Very early in the town's development there was some recognition that the history of the little village was worth preserving. One method was by sharing experiences in clubs. In December, 1880, an 'Oldtimer's Association' was formed with Dr. Timothy Smith, who had been doctor at the fort, as president. Auntie Stone was treasurer, and her nephew-in-law, Harris Stratton, secretary. Membership fees were three dollars a year, and eligibility depended upon residence before May 1, 1870."
WINTER ENTERTAINMENT, SOCIAL ACTIVITIES
HISTORICAL SKETCHES FORT COLLINS AND LARIMER COUNTY, Volume 1-James R. Miller (On page 144 is Coloradoan article 11/28/1963, page 7)

1883
Need to form dramatic and dance clubs to help make winter less dull.
5TH ANNUAL COUNTY FAIR
HISTORICAL SKETCHES FORT COLLINS AND LARIMER COUNTY, Volume 1-James R. Miller (On page 83 is Coloradoan article 10/11/1963, page 12)

In October 1883, three day fair held in Fort Collins under the management of the Larimer County Agricultural and Mechanical Association.
NEW SCHOOLS
HISTORY OF LARIMER COUNTY-Watrous
1880s
In 1886 new school facilities were needed.
"For several years the district had been compelled to rent vacant store rooms on Jefferson Street and Mountain Avenue in which to house several of the grades that could not be accommodated at the Remington Street School building, and it was decided to erect an eight room school house on property owned by the district at the corner of Mountain Avenue and Howes Street. A bond issue of $19,000 was promptly voted by the taxpayers. The school was completed in 1887.
EARLY SCHOOLS
TRIANGLE REVIEW (9/23/1981)
1880s
Kindergarten was added to grades one through eight in 1880. It was the first such program west of the Mississippi River. Experienced teachers were paid $70-$75 a month. Most teachers were single and women.
$19,500 in bonds were sold to build a second school (Franklin School). It was a two story building on the southwest corner of Howes and Mountain. It was finished in 1887 (razed in 1956).
In 1889 a high school program was proposed by Elwood G. Lyle. Before this students had to go to "preparatory" program at the Agricultural College to get a high school diploma.
The School Board established a four year program on 6/1/1889. The curriculum was college preparatory for those wanting to be teachers.
OPERA HOUSE
COLORADOAN (4/15/1984)
1880s (SEE ALSO "WELCH BLOCK & OPERA HOUSE" in FORT COLLINS YESTERDAYS-Swanson)
The entrance was marked by stone pillars and arches. It was located on the second story of the Opera House Block. "Only a third of the seats sat on an incline, the rest on a level floor, and there were four boxes on the east side. The decorating and frescoes were done by 'Signore' E.D. Hurle of Denver (formerly of Milan). Eleven special backdrops were painted by Harry Learned--they depicted a palace, forest, prison, garden kitchen, plain chamber, fancy chamber, street and rock gorge. The drop curtain featured a Colorado mountain landscape from the San Juan Mountains.
"The early touring shows included such star attractions as Muscular Muldoon and Company who gave an exhibition of the Greco-Roman style of wrestling, 20 Georgia minstrels, a sleight-of-hand performance and a humorous lecture with American, Irish, French, German, and 'Negro' impersonations."
Also Shakespeare's 'Richard III,' and 'Much Ado About Nothing," and 'Uncle Tom's Cabin,' (favorite of Civil War veterans) were staged in the 1980s among others.
OPERA HOUSE
HISTORY OF LARIMER COUNTY-Watrous
1879-80
When word got out that the Opera House was going to be built, property values soared: Lot prices were $50-$75 in 1879 and went to $500-$800 in 1880.
(More information in "Welch Block and Opera House" in "FORT COLLINS YESTERDAYS by Swanson.)
WELCH BLOCK AND OPERA HOUSE
FORT COLLINS YESTERDAYS-Swanson
1880s
Welch, Avery, and Bouton owned lots on College Avenue extending north from the northwest corner of College and Mountain. Fire destroyed the Welch store on that corner in 1880. With other partners the three collaborated to build a new store, a bank, a hotel, and an opera house. John Colpitts was the architect and builder. Parts of the building were occupied early in 1881.
"The whole facade was treated as a unit, three stories high in front, with matching sections. Jacob Welch made his part of the Opera House four stories high. Another fire in 1885 destroyed the store and the Windsor Hotel sections, and these were rebuilt with only two stories so the facade thereafter was quite different from the original one. While Welch continued his interest for a while in the Opera House, his sons, A. Wilbur, another Corwin R. took over the store."
When Corwin Welch reopened the store in 1885, he was the first to use gas.
TRIANGLE REVIEW (3/4/1981)
"Some of the leading citizens of the Fort Collins business community decided in 1880 that an opera house would be an invitation to new settlers. The city would be able to offer inducements which would encourage people to come to Fort Collins and help the young community grow.
They devised a plan for a tremendous commercial block right in the center of the new business district. Backers included Franklin C. Avery, P.S. Balcom, L.W. Welch, Jay H. Boughton, M.F. Thomas, and Dr. C.P. Miller. Each had his own reason for wanting the new building.
"Avery needed a home for his newly organized business 'The Larimer County Bank' while Welch had lost his dry goods store in a tragic fire that February. Boughton owned the lot toward the middle of the block where the new three-story structure was to be built. (He constructed the first business on College Avenue on the site in early 1873.) Plans included four major businesses as part of the complex. Welch's new store would occupy the corner of Mountain and College Avenues. "Next north would be the Windsor Hotel, followed by the Avery's bank and finally the gem of the project--the Opera House.
"Construction began in March, 1880, after Boughton's original wood frame building was moved around the corner on West Mountain Avenue. An early plan called for a smaller two-story structure, but by May the other investors, Balcom, Thomas, and Miller, had joined the three originators, and the scheme was quickly enlarged."
"In 1917, the performing hall was converted into a ballroom. The front of the building was redone with the buff brick we see today, and the whole structure was renamed 'Central Hall.' In later years other uses were made of the large room. In February 1978, the OpenStage Theatre and Co. brought the performing arts back to a small portion of the original hall. Last year they were forced to close because the troupe couldn't meet strict city fire codes."
ARTHUR HOUSE
FORT COLLINS YESTERDAYS-Swanson
1880s
The Arthur house was located at 335 East Mulberry. It was built in 1882. James Arthur had a cabin south of Timnath in the 1860s.
EPISCOPAL CHURCH
FORT COLLINS YESTERDAYS-Swanson

1882
Father Byrne officiated at many events.
"Of all the early churches, that built by the Episcopalians in 1882 gave the longest service for it was used until 1965."
PRESBYTERIAN CHURCH--READING ROOM
FORT COLLINS YESTERDAYS-Swanson
1880s
"In October, 1881, a twenty-foot brick extension in the rear was added to form a public reading room open during the week. The public was urged to supply the reading matter. In December, 1882, the reading room was the joint project of the church and the Women's Christian Temperance Union. 'It still exists, lives, thrives, and needs more room' was the firm announcement."
LINCOLN AND WASHINGTON PARKS
TRIANGLE REVIEW (5/13/1981)
1880s
"When Franklin C. Avery surveyed and platted the town for the Larimer County Improvement Company in January, 1873, he had instructions to include two half-block park areas. These 'parks' remained little more than additional open fields in a town with a lot of undeveloped areas."
In 1887 the Express editor felt Washington Park needed a fence, plantings "and other 'public improvements.'" Washington Park was part of a large marsh.

"Lincoln Park, now Library Park, on the other side of College Avenue was nothing but a public eyesore, according to the Express story. 'It is now an unsightly place and has been for years surrounded by a tumbled down fence and used as a cow pasture.'" Abner Loomis, who lived nearby offered trees for the park if the city would take care of the land. The city didn't take up the offer.
MOUNTAIN HOME AND GRANDVIEW CEMETERIES
FORT COLLINS EXPRESS-COURIER (9/27/1953)
1880s
There were several reasons for purchase of Grandview Cemetery among them:
"Many persons did not like its' location, rather far from the city at the time. Also there was a problem of drainage."
There are indications that the cemetery was not crowded, but it ran out of lots.
HISTORY OF LARIMER COUNTY-Watrous
1880s
Mountain Home cemetery "became too confined to meet requirements. The city purchased 80 acres a mile and a half west of Fort Collins with water rights from Pleasant Valley and Lake Canal. The cost was $4,000.
Half of the tract was immediately landscaped with circular drives, small parks with bluegrass, shrubbery and flowers. One-half acre was set off for the use of George H. Thomas Post No. 7, Grand Army of the Republic, which removed to its plot the remains of the ten soldiers buried in the old cemetery at the time of the military occupation and many deceased soldiers of the Civil War have therein been interred."
"No new interments were permitted in Mountain Home Cemetery after Grandview was opened, and the remains of those buried in the former have since been removed to the latter."
TOP
---
HEALTH/MEDICINE
DOCTORS
FORT COLLINS YESTERDAYS-Swanson
1880s
Popular doctor, Timothy Smith, left in 1881 after his wife gave birth to twins when he was 65 years old.
Dr. Ethan Allen Lee arrived in 1883. He was a family physician for twenty years. His office was at 241 Linden near the Parlor Drugstore. He became Mayor in 1889.
HEALTH HAZARDS
HISTORICAL SKETCHES FORT COLLINS AND LARIMER COUNTY, Volume 1-James R. Miller (On page 53 is Coloradoan article 9/19/1963, page 11)

1880s
"Water for domestic use was slowly being piped into houses of settlers from the town's first waterworks system, but there was no sanitary sewer system as yet. There were a few cesspools, but open-pit outside toilets were the rule."
"Garbage was retained, often in uncovered cans or upon the ground, until it could be carried to pig pens in back yards. Many persons dumped garbage and dead animals into the open irrigation ditches which traversed the town."
"Milk was produced under unsanitary barnyard conditions, peddled from horse-drawn wagons on the dusty streets and dipped from cans into any kind of container the customer provided. The only refrigeration was from ice boxes supplied with ice cut from the river or ponds. in mild winters the ice supply was short, and at best it was costly and usually far from clean. Life was great for typhoid germs."

HISTORICAL SKETCHES FORT COLLINS AND LARIMER COUNTY, Volume 1-James R. Miller (On page 104 is Coloradoan article 10/27/1963, page 12)

SCARLET FEVER EPIDEMIC

In 1883, the early doctors had wordy battle over Scarlet Fever. Was it scarlet fever and should there be a quarantine?
TOP
---
CIVIL RIGHTS
IMMIGRANTS
FORT COLLINS YESTERDAYS-Swanson
1880s
Arrival of various immigrant families: Albert Damm, A. Thors, and Troutman all from Germany; Frank or Pierre Dastarac from Scotland; George Gowy, Choy Lay, Chioy Ling--Chinese who ran the laundry. They received a hostile reception (stone throwing incident).
TOP
---
TRANSPORTATION
WAGONS
FORT COLLINS YESTERDAYS-Swanson
1880s
"Farmers coming into town were nearly all identified by their teams. The small bronco-type was common. The Schuttler and the Studebaker spring wagons were popular. There were few buggies. Most people used regulation farm or mountain wagons and big horses were appearing in 1883."
UNION PACIFIC RAILWAY SURVEY
HISTORY OF LARIMER COUNTY-Watrous
1880s
The Greeley, Salt Lake & Pacific Railroad between Greeley and Fort Collins was completed in 1883.
pre-1860 | 1860 | 1870 | 1880 | 1890 | 1900 | 1910 | 1920 | 1930 | 1940 | 1950 | 1960 | 1970 | 1980 | 2000
Time Line Home