Fort Collins Detailed Time Line 1890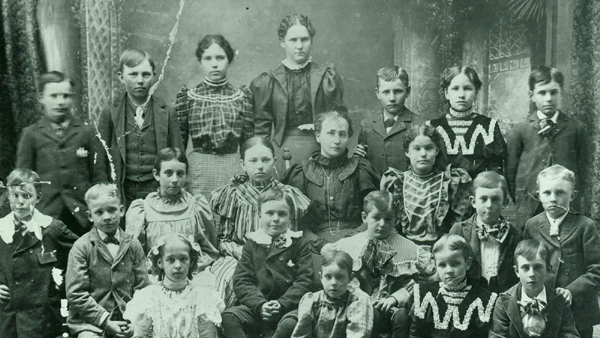 The following links are to a chronological index of Fort Collins information compiled by Fort Collins Archive volunteers and staff.
The information is from these reference sources and they are noted in the Time Line. There is also a Brief Time Line available.
[BUSINESS/INDUSTRY] [AGRICULTURE] [PEOPLE] [GOVERNMENT/CITY DEVELOPMENT] [COLLEGE/UNIVERSITY] [CIVIC] [NATURAL PHENOMENA] [MILITARY ACTIVITIES/WAR] [HEALTH/MEDICINE] [CIVIL RIGHTS] [TRANSPORTATION]
By 1890 Fort Collins had developed into a more cultured and civic-minded community. The town's women were at the forefront of this process. They were especially concerned with the issue of prohibition. When women in Colorado received the right to vote in 1893, Fort Collins women organized on the liquor issue. Alice Edwards was elected as alderwoman in 1895. Anti-license men were also elected to the city council. Thus, an ordinance was passed which prohibited liquor sales. It would last until 1969.
Fort Collins' women also helped establish a city library. Members of the Women's Christian Temperance Union helped gather about 800 volumes which became the core of a library when a public library association was organized in 1899. The books were placed in rooms on the second floor of the Welch Block with Mrs. Jane Budrow serving as the first librarian. Women of Fort Collins were often involved in intellectual pursuits. Their leisure time afforded them opportunity to read and discuss historical and literary works. Liberal arts courses were begun at the agricultural college to accommodate female students for whom technical courses were not deemed appropriate.
Such intellectual courses were not considered worthwhile by many members of the college community. The development of a broad-based educational philosophy was long hindered by those who felt the college, located in a region dominated by agriculture, should concentrate on courses relevant to farming, ranching and mechanical endeavors. This practical emphasis led to the requirement that students work two hours a day in the garden, shop, or on the farm.
The college also provided a new form of entertainment. The first Aggie football team was organized in 1893. Durkee Field, south of Old Main on College Avenue, was laid out in 1899.
Cycling was another activity gaining popularity in Fort Collins. However, it evidently contributed to early traffic problems. Ordinances prohibited riding bicycles "or other riding machines" on sidewalks or street crossings. Riding a horse across a sidewalk was subject to a fine. Horses could be dangerous, as occasional reports of injuries or deaths caused by bolting steeds indicate. In spite of this, townsfolk honored the animals so important in their lives by placing a water fountain for them in the intersection of College and Mountain in 1879. It was removed eleven years later when street car tracks were laid. (Currently in front of the Museum). Medical services available to Fort Collins residents improved in the 1890s. From Dr. Tim Smith, the old fort doctor, to physician-mayor Dr. Ethan Allen Lee, Fort Collins had always been served by dedicated doctors. The tradition was continued by Peter J. McHugh and W. A. Kickland, who arrived in Fort Collins during the decade. Both became immediately established in the community. McHugh married the daughter of Harris and Elizabeth (Keays) Stratton. He would be elected mayor in 1903. Kickland partnered with Dr. Lee and married his daughter. He became a noted surgeon and both he and McHugh would study in Vienna.
Hospital care was being developed at this time. Dr. Peter J. McHugh, who had his home and office in the Andrews-Harris house at 303 Remington, converted its' carriage house into a hospital. Christian White, a veteran army nurse, offered nursing care in part of a frame building he built in 1893.
Two of the most distinctive buildings constructed in the 1890s were the First National Bank and the Methodist Church. Both were designed by architects with local attachments. Montezuma Fuller, an agricultural college graduate, designed the bank which was completed in 1897. It was located at Mountain and Linden. Harlan Thomas, a former Fort Collins youth, helped plan the church, which was built at College and Olive. It was dedicated in 1898.
Fort Collins' telephone system expanded during the 1890s. The Colorado Telephone Company built a line connecting the town with other Colorado communities, including Denver. About fifty people subscribed to the exchange which was first managed by J.R. Wills in his drugstore.
The greatest local industrial advance of the 1890s was the founding of the sugar beet industry. The Colorado Agricultural Experiment Station test planted the beets in the college garden. Research results indicated that sugar beet culture in Larimer County had potential unequaled in the U. S. The future of this industry was further enhanced by its association with the embryonic sheep industry. Beet tops and by-products from beet processing provided feed for sheep. This relationship signaled prosperity for area farmers and, consequently, the town of Fort Collins.
A less dramatic but significant development was the creation of the Water Supply and Storage Company, which replaced the unsuccessful Larimer County Ditch Company. Thanks in large part to Alfred A. Edwards, who came to Fort Collins with the Mercer Colony, the new company investigated and developed new sources of water. Ultimately, Water Supply and Storage would be responsible for the irrigation of a large part of northeastern Colorado.
Fort Collins also had its' difficult times in the decade. A sensational, but distressing murder trial took place in 1890. Franklin Avery's brother, William, died of what originally was thought to be a stomach disorder brought on by natural causes. However, when his wife secretly married again twelve days after William's death, foul play was suspected. It was discovered that William had died of arsenic poisoning. The prosecution could not prove that anyone other than William himself had administered the poison. So the former Mrs. Avery and her new husband, Frank Millington, were acquitted.
In 1895 Fort Collins lost one of its favorite pioneers. The bell at City Hall rang 94 times to mark the years and the passing of Auntie Stone in December.
A bitter winter in 1899 brought nine record lows in 28 days. During the first two weeks of February the daily low temperature went from one degree below zero to 38 degrees below zero. Large numbers of livestock were lost. Water lines froze and burst. Just carrying on normal activities was difficult.
Thus ended the "Gay Nineties" and the early chapters of Fort Collins history. It was clear that the former military outpost had become a modern community. Sparked by the developing sugar/sheep industry, the town looked forward to a prosperous new century.
TOP
---
BUSINESS/INDUSTRY
FLOUR MILL
MUSEUM (GLENDURA) SCRAPBOOK
1895
The mill was located on the corner of Willow and Lincoln. On October 5, 1895, the mill was burned down, presumed to be the work of arsonists. Auntie Elizabeth Stone and H.C. Peterson began building the mill in 1867 completing it in 1868. They owned the mill until December 10, 1873. In 1878 it was remodeled and modernized. Later owners were Mr. Mason, sole owner; Mr. Hottel in 1881; Colorado Milling and Elevator Company in 1885. Later the mill was known as Fort Collins Flour Mill.
LINDELL MILL
FORT COLLINS YESTERDAYS-Swanson
1890s
The mill burned again in October, 1895, and was rebuilt. "An interesting article on the rebuilt mill in June, 1896, described part of the structure, the crib, for storage of grain and feed ingredients as it still stands today. "The Lindell Mill is all ready for expected machinery. The new warehouse being built with ten bins will hold 7,500 bushels. It is built block-house fashion. The exterior walls have 2x8 planks spiked together one above the other and the division walls are 2x6's spiked together. "People who lived near the millrace scooped water from it for cleaning and laundry work; children skated there in winter."
FIRST NATIONAL BANK
FORT COLLINS YESTERDAYS-Swanson
1890s
Franklin Avery was president. Montezuma Fuller was the architect.
CYCLING CRAZE
MUSEUM FILES (probably article from the FORT COLLINS EXPRESS-COURIER)
1890s
"The cycling craze of the Gay Nineties was gaining momentum in Fort Collins in 1893. The Express proudly noted that 'P. Anderson & Company have sold 25 bicycles this season; new wheels are sent out almost daily.' And an advertisement read, 'Bicycles, buy one of those nobby (sic) bicycle suits at the Collins Cash Clothing Company.'"
PANIC OF 1893 AFFECTS COLORADO
1893
The memorable "Panic of Ninety-three" followed the collapse of the Wall Street financial house of Jay Cook & Company and over-speculation in stocks and bonds, especially of railroad and steel companies. The next five years were a period of declining markets, business bankruptcies, high unemployment and devaluation of the national paper currency issued to finance the Civil War.
In Colorado a revision of the national coinage laws by Congress played havoc with the state's silver mining industry, the silver dollar being dropped from the coinage list. Prices for livestock and farm crops hit bottom. Larimer County was not exempt from all these factors.
TOP
---
AGRICULTURE
LARAMIE RIVER CANAL
FORT COLLINS EXPRESS SPECIAL EDITION, 1894
1894
A.A. Edwards is now secretary of US & S Company which has constructed during the past year the Laramie River Canal, which diverts the water of the Laramie River to Chambers Lake.
FORT COLLINS SUGAR BEET TESTS
AGRICULTURE IN COLORADO-Steinel
2/27/1892
Comment by Field and Farm magazine on sugar beet tests at Fort Collins.
FRUIT GROWING
AGRICULTURE IN COLORADO-Steinel
1891
Crandall survey lists Larimer County fruit growers as Joseph McClelland, Charles E. Pennock, W.F. Watrous, J.E. Plummer and A.M. Hoag.
TERRY LAKE
AGRICULTURE IN COLORADO-Steinel
1890
Irrigation reservoir filled in 1890. First survey made in 1877-78 by R.Q. Tenney of Poudre Valley.
RESERVOIRS
COLORADO STORY-Hafen & Hafen
1890s
"Among the first large reservoirs in Colorado were the Terry Lake, the Windsor, and Lake Loveland--all constructed in the Greeley-Fort Collins region during the nineties."
WATER EXCHANGE SYSTEM
AGRICULTURE IN COLORADO-Steinel
1897
"Another feature of development in which the irrigation systems of the Cache la Poudre Valley pioneered is that of water exchange. This was originated by the Water Supply and Storage Company and it was found so beneficial and so equitable that the legislature in 1897 incorporated it in the irrigation law of Colorado." Allowed owner of a reservoir to supply water from that reservoir in exchange for water taken out of the public stream at a higher point to water higher land.
A.A. EDWARDS & WATER SUPPLY & STORAGE COMPANY
MILLER COLLECTION
1891
"In the history of the agricultural development of the Cache la Poudre Valley and the fertile area to the east, no name is more honored than that of Alfred A. Edwards. To his far-seeing recognition of the production possibilities of the rich soil, and the related opportunity for imaginative development of irrigation-water supplies and delivery facilities, are due the prosperity of thousands of persons living in a vast area of northeastern Colorado.
When the Water Supply and Storage Company was formed upon the wreckage of the old Larimer County Ditch Company in 1891, Mr. Edwards became a director and secretary of the company, and in 1895 he was elected president and manager. He then became responsible for the widespread operations of the company.
The Larimer County Ditch project had proved a disappointment for lack of sufficient water supply from its Cache la Poudre appropriations, despite its Chambers Lake storage and that of plains reservoirs. The new organization began investigations of possible additional sources, and ultimately tapped new sources at the headwaters of other streams."
START OF SHEEP FEEDING
HISTORY OF LARIMER COUNTY-Watrous
1890s
Farmers and stockgrowers were struggling as prices dropped for their commodities. 1889 - farmers started raising sheep. Encouraging results fueled sheep industry.
"As a general thing the business was profitable. It enabled many a struggling farmer to pay off his debts and save his farm and home. By feeding sheep and lambs he made a home market for his surplus alfalfa, coarse grains and roots and also increased the fertility of his soil, resulting in larger and better harvests. The impulse of the prosperity of the farmers during this period was felt in Fort Collins and the town began to take on new life."

Nearly 200,000 sheep and lambs in 1896-97.
SUGAR BEET CULTURE/SHEEP FEEDING
FORT COLLINS YESTERDAYS-Swanson
1890s
"The Colorado Agricultural Experiment Station, established in Fort Collins in 1888, concentrated on sugar beet culture. There was a test planting of one-fourth of an acre in the college garden. Dr. Ingersoll, president of the college, was director of the station. He visited the sugar beet factory in Grand Island, Nebraska. A progress report on the research in 1891 compared the yield per acre of the college, twenty-two to twenty-nine tons, with that of Germany, fourteen. Another factor noted was that land cost ten times as much in Germany as in Colorado. Tests were reported in 1892 even more glowingly.
The success attained at Fort Collins in sugar beet culture last year has never been equalled in the United States. The Department of Agriculture is getting out a new sugar beet bulletin in which Larimer County is put ahead of the world.
William Watrous' son, Frank, left the college before receiving a degree, because he was offered a job at Rocky Ford supervising sugar beet testing. Local opinion was sampled to get ideas on the attitudes toward beet sugar instead of cane.
Added to the excitement over this new prospect for Colorado agriculture was the realization that feeding sheep was a new occupation which would be integrated with the culture of beets. The accidental stranding of some Mexican lambs in Colorado and the necessity of feeding them near Fort Collins in the winter of 1889-1890, together with their successful spring sale brought a totally new emphasis to local agriculture. Both the sugar beet tops in the field and the by-products in the factory supplied feed for the lambs. Unfortunately just when the experiments made future prospects look good, financial panic and depression hit the country in 1893. There were several years of hard times, and Loveland beat Fort Collins in getting capital for a factory, which began slicing beets in October, 1901. Local farmers began raising beets. In July 1902 wagon loads of German-Russians were brought up from Loveland to work in the fields."
TOP
---
PEOPLE
FREDERICK R. BAKER ELECTED MAYOR
HISTORY OF LARIMER COUNTY-Watrous
1895-96
Served four terms.
Prohibition ordinance passed 1896.
AUNTIE STONE DIED
FORT COLLINS YESTERDAYS-Swanson
1895
"The bell on City Hall tolled ninety-four times in December, 1895, to mark the passing of this favorite pioneer who, in the days of the fort, had been known from Julesburg to the Green River as 'Auntie.' "
R.Q. TENNEY
EXCERPT OF STATEMENT
1890s
Read at meeting of Fort Collins Farmers Alliance, July 14, 1890. Excerpt of statement from Denver meeting of representatives of the Grange, the Farmers Alliance, Knights of Labor, etc., R.Q. Tenney of Fort Collins Alliance one of five members of issuing committee: State meeting called for August 20, 1890, to nominate candidates for state offices.
Charges: State robbed by high officials; party pledges proved false; State property passed into hands of speculators; "Money, and the unscrupulous use of money, are the powers that make our laws and dictate the decisions of our courts. We are a commonwealth of slaves..."
"We insist that there shall be no privileged classes or persons; no tribute to monopoly; no watered stock to absorb the greater part of our produce in extortionate freight rates; no restriction of coinage or volume of money by corporations or leagues of money loaners; no fees to unduly fatten office holders; no loaning of state funds to dominate party nominations; no corporations between the people and their water for irrigation; that ours shall not be a government by corporations for corporations, but by the people for the people; and we ask for a secret ballot as far separated from bribery and "counting out" as possible."
On August 4 Tenney was elected delegate to State convention.
TOP
---
GOVERNMENT/CITY DEVELOPMENT
FIRST CHRISTIAN CHURCH
MILLER COLLECTION--COLORADOAN

1890s
"The First Christian Church of Fort Collins was founded on December 4, 1892, in a makeshift meeting place in a vacant store building in the 100 block of Linden Street. Before an improvised pulpit of rough planks supported by empty wooden shipping boxes and covered by a strip of red carpet, 66 persons affixed their signatures to a document known in the church's history as the Covenant of 1892." Known as Church of Christ and later Disciples of Christ.
Fort Collins, a town of about 2,000, thus had seven churches. Pastor Leander S. Brown's efforts helped smooth some "unfavorable" reactions of established churches.
OUR STONE HORSE FOUNTAIN
FORT COLLINS YESTERDAYS-Swanson
1897
"A tribute to the horses and their importance in the life of the town was the erection of a water fountain for them at the intersection of College Avenue and Mountain, the heart of the city. The city council gave permission in May, 1895. Place taken by streetcars in 1908. Scars and nicks from tongues of wagons were present as horses jostled against it.
METHODIST CHURCH
FORT COLLINS YESTERDAYS-Swanson
1890s
Architect was Harlan Thomas. Building Commission - Peter Anderson, S.H. Seckner, Elza Silcott and Franklin Avery. Dedicated 1898.
"It added to the growing number of buildings of distinction on College Avenue since it was located one block south of the Episcopal Church, on the southeast corner of College and Olive. Souvenir pitchers from Austria decorated with a picture of the church were sold at the Nimble Nickel store on College." Altered and enlarged in 1912. Razed in 1964.
LOVELAND WATERWORKS
LOVELAND-BIG THOMPSON
1880s
After a deep well failed to meet expectations...October 11, 1886, a bond election was held to fund a waterworks. Town contracted with Michigan Wood Pipe Company to construct the plant. The works was completed in the spring of 1887.
SECRET BALLOT FIRST USED
FORT COLLINS YESTERDAYS-Swanson
1890s
Australian, or secret ballot, first tried in Colorado in 1888. Fort Collins tried it in 1891.
"Before the election there was a practice session in Denver and a diagram appeared in the paper. A few people were bewildered and their ballots had to be discarded, but the innovation was well received."
CITY GOVERNMENT
FORT COLLINS YESTERDAYS-Swanson
1890s
Mayors: 1890 Henry H. Hall
1891-92 William B. Miner
1893-94 James B. Arthur
1895-1902 Frederick R. Baker
While sewage was not treated before it entered the river, there was an attempt to prevent sawmills from putting sawdust in the river in 1896.
CITY LIBRARY ESTABLISHED
HISTORY OF LARIMER COUNTY-Watrous
1899
"In 1899 a public library association was organized and the collection of books gathered up by the Women's Christian Temperance Union and by the Rev. George N. Falconer, numbering about 800 volumes, all told, were donated to the association as a nucleus of a public library."
Books first placed in rooms on second floor of the Welch block. Mrs. Jane Budrow was the first librarian. Mayor F.R. Baker later (few months) appointed a board of directors which accepted the books from the association. Books became property of Fort Collins' free library. Later moved to town on College Avenue until 1903 when they went into the Carnegie library.
CURFEW LAW
FORT COLLINS EXPRESS-COURIER (Feb. 1934)
1897
Ordinance by city council provided curfew (10 taps) to be rung at old city hall at 7:50 p.m. each evening from October 15 to April 15; children under 17 required to be off streets from 8:00 p.m. to 6 a.m. Fines for violation $1 to $10.00, or for careless parents up to $25.
OLD ORDINANCES
FORT COLLINS EXPRESS-COURIER (3/19/1939)
1890s
Ordinances from before the turn of the century still in effect in 1939.
Curfew: "It is unlawful for children under 17 years of age to be on the streets from 9 p.m. to 6 a.m. from April 15 to October 15, and from 8 p.m. to 6 a.m. from October 15 to April 15." City marshall was to "tap" the fire bell 10 times before deadline.
Riding horse across sidewalk subject to fine.
Riding bicycles "or other riding machines" on public sidewalks or street crossings also against the law.
WOMEN'S VOTE IN COLORADO
DENVER POST - EMPIRE MAGAZINE (March 4, 1979)
11/7/1893
Referred bill to confer suffrage on women passed at popular election. Vote: 35,798 for, 29,451 against.
EARLY TELEPHONE SYSTEM
HISTORY OF LARIMER COUNTY-Watrous
1890s
"...the city council granted a franchise to the Colorado Telephone Company to build a line connecting Fort Collins with Denver and other Colorado cities. The line was completed and an exchange was located in J.R. Will's drug store and Mr. Wills was the first manager. There was about fifty local subscribers."
"1877-City Hall also had telephone connection established with the waterworks pump house in case more pressure was needed during a fire."
AVERY MURDER TRIALS
MUSEUM (GLENDURA) SCRAPBOOK
Article: "Franklin C. Avery's Impact on Fort Collins."
1890s
William Avery's death (Franklin's brother) in 1890 was thought to be gastritis, a stomach disorder. But twelve days after his death his wife, Mary, secretly married her lover, Frank Millington, in Hastings, Nebraska. William H. Avery was worth over $100,000. The lovers were acquitted on charges of feeding William enough arsenic which, according to one expert, was enough to kill 50 people. The strongest point in their defense was the fact that the prosecution could not prove that William had not administered the poison to himself, despite a chemist's testimony that 14 year old Pearl, daughter of the deadman, had purchased a box of "Rough on Bats," a substance which is one-third arsenic. Pearl denied she had ever purchased the poison, and the jury took her at her word. The lovers were acquitted.
FORT COLLINS GOES DRY (PROHIBITION)/WOMEN'S SUFFRAGE
FORT COLLINS YESTERDAYS-Swanson
1890s (1895 election followed by Prohibition)
"...nowhere did the city get involved in social issues more complicated than the field of prohibition. This movement became such a political issue that after the women of Colorado received the vote in 1893 an alderwoman was elected to the council in 1895. The organization of the women for the vote in this area rallied around that one question."
In Ohio Mrs. William O. Collins helped found the Women's Christian Temperance Union in 1874.
Background of liquor related excesses given. (See, "Liquor and the W.C.T. U" 1880s.)
"Carrie Chapman Catt, a national figure in women's suffrage, spoke at the Opera House in October, 1893, the year the State Legislature gave women the vote."
Alice Edwards, daughter-in-law of Charlotte Calista Edwards, was elected to the council in 1895 along with other anti-license male members. "Though Ms. Edwards moved to another ward in the city and thus lost her office the following year, the platform on which she had run was adopted. The council passed an ordinance prohibiting the sale of liquor. When Frank Miller's license for his saloon on Linden expired on June 11, 1896, it ended the sale of liquor within the town. The women had used the ballot effectively."
"The Courier noted:
The melancholy days have come
The saddest yet, we fear,
For every man in town
Must now give up his beer."
Prohibition lasted until 1969.
NATIONAL FOREST PROPOSITION
FORT COLLINS YESTERDAYS-Swanson
1890s
"The formation of the Roosevelt National Forest was bitterly fought both in the town and county. Only the steady support of thoughtful, far-seeing leaders made it a political reality."
R.Q. Tenney was one of these leaders.
"The system of national forest reserves was devised in 1890 and the first one was officially established by President Benjamin Harrison at that time. Just one year later, R.Q. Tenney and John G. Coy circulated a petition in Fort Collins to have the three tributaries of the South Platte included in a reserve to protect the watershed. Coy and Tenney were charter members of the Larimer County Stockgrowers Association and they realized that their industry depended on water. In 1893 the State Forestry Association forwarded the petition to the president. Tenney used his surveying equipment and often guided inspectors during the next ten years while the project was under investigation. In 1898 a public meeting in Fort Collins favored the proposition. Peter Anderson and N.C. Alford added their endorsements.
"The opposition then gathered 208 names on a counterpetition." However, Roosevelt established the reserve in 1902.
"L. G. Carpenter, an irrigation expert at the Agricultural College, supported Coy and Tenney. Their intelligent leadership was of primary importance in the crucial decade while the land was still in public ownership."
TOP
---
COLLEGE/UNIVERSITY
DR. WILLIAM P. HEADDEN'S PAMPHLET "ON ALFALFA"
DEMOCRACY'S COLLEGE -Hansen
1890s
Alfalfa introduced, became one of the most important crops and livestock feeds in Colorado. Illustrates the importance of research as aid to Colorado agriculture. Headden also did pioneer research in sugar beets. He joined the faculty in 1893.
HOME ECONOMICS COURSE STARTED
DEMOCRACY'S COLLEGE -Hansen
1895
Theodosia Ammons was the first professor of domestic economy.
FIRST ELECTRIC LIGHTS AT COLLEGE
DEMOCRACY'S COLLEGE -Hansen
1890s
FIRST AGGIE FOOTBALL TEAM
DEMOCRACY'S COLLEGE -Hansen
1893
The game was played without rules, was hard on physique, and players had little protection.
DURKEE FIELD WAS FIRST FOOTBALL FIELD
DEMOCRACY'S COLLEGE -Hansen
1899
The field was prepared by students. It was full of rocks. Located on College Avenue south of Old Main.
FIRST LIBERAL ARTS (Ladies course)
DEMOCRACY'S COLLEGE -Hansen
1890-1891
Men students worked on college farm. Liberal arts courses not well accepted. Many members of the college community did not consider "intellectual" courses worthwhile. Initial consideration of such courses sought to accommodate female students for whom many technical courses did not seem appropriate. "The anti-intellectual outlook was one that would inhibit an adequate commitment to the liberal arts throughout the school's history."
"Advocates of a truly 'broad' educational philosophy would continually experience opposition from elements of the Board, the administration, the faculty, and a significant segment of the Colorado populace."
AGRICULTURAL COLLEGE
FORT COLLINS YESTERDAYS-Swanson
1890s
"There was great pride in the practical emphasis. In 1890 the seventy or so students were required to work two hours every day on the farm or in the garden or shop. 'They do not sit with Plato in their hands or mumbling over logarithms and conic sections with a piece of chalk all day.'"
In 1894 the goal was clearly stated: 'To promote liberal and practical education of the industrial classes in the several pursuits and professions of life.' The five courses of study included 'agricultural, mechanical, chemical, irrigation engineering, and ladies,' though all classes were open to both sexes. Since the tuition was free, the annual yearly expense would not exceed two hundred dollars and it was stressed; 'This included everything.'
"When Justin Morill died in Washington, D.C., in 1898, his bust in Old Main in Fort Collins was draped in mourning. His philosophy, embodied in the Land Grant College Act at the time of the Civil War, had initiated the program which made the college possible."
TOP
---
CIVIC
LADIES CLUBS
FORT COLLINS YESTERDAYS-Swanson
1890s
Women had leisure time and used it for intellectual activities. The Women's Club studies included German works and Dickens. The Columbian Club studies included the Bretons and English kings. Books were in short supply so, "...the club ladies sparked the movement for getting a public library."
A.H. DUNN MADE HIGH SCHOOL PRINCIPAL
DUNN BIOGRAPHY-Irish
1893
City school staff reported in Courier June 8, 1893.
High school occupied three rooms in Franklin School at Mountain Avenue and Howes Street. Enrollment about 60, staff included superintendent, principal and one other teacher. Dunn's first graduating class in 1894 had nine pupils. His salary was $1,000 a year (reduced from $1,100 after the first year). Dunn was a Latin scholar. He was elected superintendent in 1912.
TOP
---
NATURAL PHENOMENA
LONGEST COLD SNAP
COLORADOAN (2/4/1982)
FEBRUARY 1899
"Back in 1899, nine record lows were set in 28 days. For the first 13 days of February, the daily low went from 1 degree below zero to a Klondike-like 38 degrees below zero. For nine days, it didn't get above freezing."
Large losses of livestock; challenge to carry on normal activities; many water lines froze and burst. "It has never again been so cold for so long in Fort Collins."
TOP
---
HEALTH/MEDICINE
SULFUR SPRING
MUSEUM FILES (probably COLORADOAN, 1963)
1890s
"Water from a sulphur spring on the Jesse Harris ranch in Soldier Canyon was popular in Fort Collins because of its supposed medicinal value,..."
From FORT COLLINS EXPRESS:
"The road from the city to the famous sulphur spring west of town is lined with vehicles nearly every morning. The people of Fort Collins are appreciating the value of this water more and more every day as evidenced by the amount consumed. It is just a nice ride from here to the spring and is a favorite run for our local wheelers who frequently take a spin in that direction before breakfast."
DOCTORS/HOSPITALS
FORT COLLINS YESTERDAYS-Swanson
1890s
Dr. W.A. Kickland--"...he investigated Fort Collins partly because of his weak lungs and because he saw a challenge in the needs of a small town"--population under 2,000. He became Dr. Lee's partner and son-in-law.
Dr. Peter J. McHugh--also a physician-mayor: "He moved here in 1890, married Auntie Stone's great niece, and after 1899 had his office in his home, the Andrews-Harris house at 303 Remington. He converted the carriage house into a private hospital. He, too, studied in Vienna."
"Hospital care was a new idea at the turn of the century. Christian White built a frame dwelling in the Loomis Addition in 1893 and fitted up part of it as a hospital where he gave nursing care. The county hospital provided limited facilities."
TOP
---
TRANSPORTATION
TRAFFIC HAZARDS
MUSEUM FILES (probably FORT COLLINS EXPRESS-COURIER)
1890s
"Runaway Horses A Deadly Problem." Fort Collins and Larimer County residents occasionally being killed or injured by bolting, uncontrollable, horses drawing carriages and wagons.
pre-1860 | 1860 | 1870 | 1880 | 1890 | 1900 | 1910 | 1920 | 1930 | 1940 | 1950 | 1960 | 1970 | 1980 | 2000
Time Line Home