Fort Collins Detailed Time Line 1930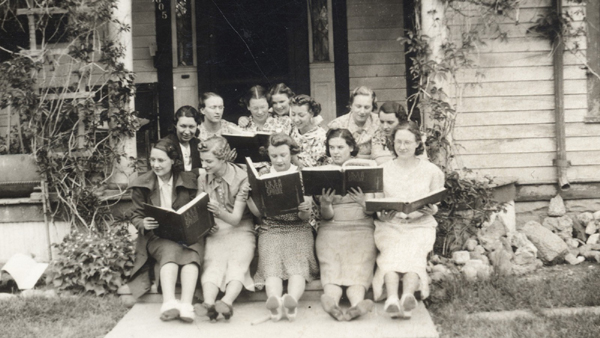 The following links are to a chronological index of Fort Collins information compiled by Fort Collins Archive volunteers and staff.
The information is from these reference sources and they are noted in the Time Line. There is also a Brief Time Line available.
[BUSINESS/INDUSTRY] [AGRICULTURE] [PEOPLE] [GOVERNMENT/CITY DEVELOPMENT] [COLLEGE/UNIVERSITY] [CIVIC] [NATURAL PHENOMENA] [MILITARY ACTIVITIES/WAR] [HEALTH/MEDICINE] [CIVIL RIGHTS] [TRANSPORTATION]
The Great Depression of the 1930s worsened an already dismal situation. A farm economy which had been depressed since the end of World War I sank even lower as prices fell to new lows for agricultural commodities. Drought during the first half of the decade, combined with a grasshopper plague, added to the hardships, especially for plains farmers, many of whose crops were lost.
In the Fort Collins area the water shortage became so severe that the city banned the use of water from the waterworks system for lawns and gardens in September, 1934. The Cache la Poudre River was said to be at the lowest level known since settlement of the valley. In March, 1935, the city council approved a watering rule which allowed townspeople to water their lawns one day per week.
The Extension Service of Colorado Agricultural College played a vital role in providing relief to afflicted farmers. Extension personnel helped to gather and distribute food, protect crops from grasshoppers, and promoted tree cultivation. The Extension Service also participated in the development of several New Deal programs. The College's Experiment Station also worked to alleviate the effects of the drought and grasshoppers, and conducted other beneficial projects.
In Larimer County, unemployment was experienced by a large portion of the population. By March, 1935, about 11,500 persons, nearly 35% of the county's population, received federal or county relief. A variety of programs were established to assist farmers and the unemployed. Seed and feed loans were available to farmers, with payment deferred until their crops were sold. The county rented a seven acre garden in 1935, in which county dependents could raise food for themselves. The Civil Works Administration and its' successor, the Emergency Relief Administration, put hundreds of men to work on improvement projects throughout the county. President Roosevelt's Civilian Conservation Corps included Larimer County's Redfeather C. C. C. Camps and Buckeye C. C. C. Camp. These camps concentrated on flood control and soil conservation measures, such as dam and reservoir building, contouring, and tree planting. The Redfeather camp also built roads, made campground improvements, and built a ranger station.
TOP
---
BUSINESS/INDUSTRY
DENVER POST ARTICLES
1933
Ft. Collins National Bank to be liquidated (2-23-1933 13/7)
F. L. Kokrda is receiver (2-25-1933 18/8)
Ft. Collins National Bank pays $20,263 (8-16-1933 24/3)
First National Bank to open (11-14-1933 12/4)
1934
Allotted $738,000 for water plant (1-9-1934 5/5)
F. C. National Bank pays dividend (1-26-1934 5/5)

Fort Collins Productions Credit Association given charter (3-10-1934 19/3)
First National Bank to reopen (4-22-1934 1/8)
New charter being prepared (4-24-1934 25/15)
Wants to condemn Public Service Co. electric system (5-27-1934 10/3)
Superior Court denies Public Service Co. change of venue (7-13-1934 40/8)
1935
Light plant suit delayed (1-11-1935 8/4)
Public Service Co. attacks power of state board (2-27-1935 28/5)
P. S. Co. hearings end 3-1-1935 28/3
Light plant contract let 10-25-1935 4/2
1939
Sells refunding bonds at record price 1-15-1939 12/1
TOP
---
AGRICULTURE
"NO SPRINKLING RULE"
FORT COLLINS EXPRESS-COURIER (9/21/1934, page 1)
"Effective immediately, use of water from the Fort Collins waterworks system for sprinkling lawns and irrigating gardens is banned..."
"The order results from the most acute shortage of water in the Cache la Poudre River that has been known since settlement of the valley. Less than 28 second feet of water are being carried by the river, and the cities of Fort Collins and Greeley are taking more than half this volume."
Water supply for sugar factory operation was a concern, as was the possibility of severe cold weather freezing the river.

FORT COLLINS EXPRESS-COURIER (3/29/35)

A strict watering rule was approved by the city council allowing people to sprinkle one day a week depending on address number and opportunity--Wednesday, Thursday, or Sunday if can't do it then.
DENVER POST ARTICLES
1933
Farm women demand cut in county costs (9-13-1933 1/7)
1934
Chas. R. Evans is president of Lamb Feeders Association. (1-19-1934 22/1)
TOP
---
GOVERNMENT/CITY DEVELOPMENT
TOP NOTCH FIRE DEPARTMENT
FORT COLLINS EXPRESS-COURIER (12/31/1939, page 1)
"For the ninth consecutive year the Fort Collins Fire Department held the title Saturday as No. 1 Fire Department in Colorado, Fire Chief T.P. Treadwell announced. The announcement came only a few hours after the department learned Friday that it had placed sixth in competition with other fire departments of the nation. Both the state and national ratings were made by the National Fire Protection Association."
FORT COLLINS AGAINST PROHIBITION REPEAL
FORT COLLINS EXPRESS-COURIER (9/13/1933, page 1)
"Remaining true to its' traditional conviction that the principles embodied in the Eighteenth Amendment to the Federal Constitution voted 3,288 to 2,674...against repeal. Fort Collins gave a majority of 85 against repeal..." (1,213 for; 1,298 against) unofficial. State polls favored repeal by more than two to one margin.
LIQUOR
COLORADOAN (4/15/1984, page 7, Crossroads section)
Fort Collins prohibition law did not stop drinking. Alcohol was available just outside the city limits and from nearby towns. 3.2 beer available in town after 1933.
POLICE DEPARTMENT SHAKEUP
FORT COLLINS EXPRESS-COURIER (11/22/1936, page 1)
Mayor Ray R. Matthews planned to reconstruct the police department on "an entirely different basis." All positions were open to application except police chief. Orville P. Kelley had recently been named to this position. Personnel to be selected by qualifications--possibly not done this way before.
DEPARTMENT OF UTILITIES
FORT COLLINS EXPRESS-COURIER (8/12/1938, page 1)

"An ordinance creating a Fort Collins Department of Utilities and making the manager of the Municipal Light and Power Department, G.H. Palmes, manager of the new utilities department, was adopted by the City Council Friday. Under the ordinance Mr. Palmes will be responsible for the administration of utilities--the light department, the street railway department, and the water department--subject to necessary supervision of the Commissioner of Works and the City Council. Earl Douglas, Commissioner of Finance, explained Thursday that the ordinance was a step toward making Mr. Palmes City Manager..."
SUNDAY MOVIES
FORT COLLINS EXPRESS-COURIER (4/22/1931, page 1)
"By far the largest number of votes ever polled in a city election--3,430--was the result of several weeks of intense effort on the pact of both Sunday movie petitioners and the anti-Sunday amusement faction to secure a representative vote of qualified elections in Fort Collins,..." Sunday movies won by 336 votes. Also permits other entertainments "where any admission charge is made." Believed that student vote favored Sunday entertainment.
PIONEER RESIDENTS
FORT COLLINS EXPRESS-COURIER (4/26/1936, page 1)
Ninety-six men and women who lived in Fort Collins in 1876 or earlier, still made their homes here in 1936. List given from survey.
DENVER POST ARTICLES
1930
M. C. Short is Chief of Police (1-8-1930 14/1)
Harry H. Hariman is mayor (4-9-1930 12/5)
1932
Vote for city water plant (9-13-1932 8/7)
Three escape jail (1-11-1932 10/7)
1933
Gets $738,000 from P. W. for power (11-3-1933 25/5)
1935
Ordinance regulates light rates (2-15-1935 29/4)
Citizens vote for taking over power plant (3-20-1935 10/3)

Drys win election (6-26-1935 12/1)
Liquor permit row (7-3-1935 17/4)
Old Age Pension fund ruling in their favor (7-5-1935 4/2)

1937
Six die in fire in Mexican shack (11-19-1937 1/8)
1939
Two drown near Ft. Collins, baby Padilla and 8 year-old Billy Njak (6-6-1939 11/7)
TOP
---
CIVIC
COMMUNITY CHEST
COLORADOAN (4/15/1984, page 9, Volunteers article Crossroads section)
"The community leaders in Fort Collins wanted an organized fund-raising drive. The Community Chest was born with their meeting in the Northern Hotel. The group's members thought a combined drive would mean less time, at less cost, and better meet the community's needs. Their goal in 1936 was $8,000."--split among five participating agencies.
It became United Fund in 1957, United Way in 1973. Budget in 1980s--nearly $1 million. 1984--supports 28 agencies and one program.
CITY PARK NINE
COLORADOAN (4/14/1984, page 12-13, Crossroads section)
"City Park Nine"--first Fort Collins golf course. Built in 1938 on old Larimer County Fairgrounds. It was a WPA Project.
NEWCOMERS CLUB
FORT COLLINS EXPRESS-COURIER (8/17/1938, Society and Clubs, separate section, page 11)
"The Fort Collins Newcomers Club was organized in May, 1937, with the aid of the Chamber of Commerce and the Fort Collins Women's Club, to fill a definite need in the community. Since that time it has grown to a membership of 125 and a position of importance in Fort Collins. The object of the organization is to provide new friendships, varied interests and pleasant social contacts for women recently arrived in Fort Collins. Each member may remain in the club for two years from the January or July following her entrance."
TRANSIENT CARE PROBLEM
FORT COLLINS EXPRESS-COURIER (6/16/1938, page 1-2)
Care for transients in Fort Collins was becoming a great burden for the Salvation Army as greater numbers of transients came to Fort Collins. Consequently, appeals were made by Frank Pulliam, Director of Public Welfare, and Capt. Alice Askew of the Salvation Army to send transients to the police station when they seek aid. Salvation Army would provide supper, lodging, and breakfast, and if needed, transportation out of town. However, some stayed in town. Meals served transients jumped from 683 in May to 710 in June. Budget won't allow for feedings and boarding for so many.
To try to cut off source, warning sent that there would be labor only for Coloradoans on Grand Lake diversion project for at least a year.
DENVER POST ARTICLES
1932
Full page of society women (9-4-1932 1-1-52)
1935
Farmers-Merchants party 7th annual (2-26-1935 10/5)
Passion Play (8-21-1935)
1936
Story and photos of Lamb Feeders' party (2-28-1936 5/1 and 17/5)
Annual banquet (2-28-1936 3/4)
Annual Banquet (photos and story) (2/29/1936 5/1)
1939
Sheriff Ted Schaffer wins prize fight to aid radio fund (5-13-1939 1/5)
TOP
---
HEALTH/MEDICINE
GATHERINGS BANNED
FORT COLLINS EXPRESS-COURIER (9/22/1937)
Schools closed, public meetings were banned, club meetings weren't allowed. Ordered by city health board to fight infantile paralysis.
Order:
"Pursuant to order of the Board of Health, all private and public schools, churches, theaters, library, parks, lodges, places of amusement and public gatherings are hereby closed, and all parents are hereby required to keep their children of school age within their own yards. Effective September 21, 1937, until further order." Signed by Dr. T.C. Taylor, city health officer.
FORT COLLINS EXPRESS-COURIER (10/3/1937)
Rescinded order on October 1, 1937. "The health board acted in response to petitions bearing the names of more than 500 Fort Collins businessmen and other residents, and a communication signed by 21 physicians, chiropractors and osteopaths." Felt further observance of order useless and a hardship. Children to be closely observed by health service.
DENVER POST ARTICLES
1937
Schools close due to infantile paralysis (9-22-1937 16/2)
Ban is lifted (10-2-1937 8/8)
TOP
---
TRANSPORTATION
DRIVERS' LICENSES
FORT COLLINS EXPRESS-COURIER (2/17/1936, page 1)
"Driver examiners for the new State drivers' licenses spent a busy day Monday as 54 drivers 'went through the mill,' making a total of 134 examined." Only one failed--forgot eyeglasses for eye test.
"Examiners grade each applicant on 25 different phases of driving, scoring one point for less than average ability on each phase, two points for fair execution and three points for good. A score of less than 50 is rated unsatisfactory and will not obtain a license, while 75 is a perfect score."
"The phases of driving which are considered include starting, turning, observation at intersections, at railroad crossings and under general driving conditions, turning corners left and right, driving in traffic, at the curb and in center parking, passing in traffic and in the country, signals, U turns, road driving, unusual district driving and stopping."
DENVER POST ARTICLES
1930
Street Car fare is raised (4-6-1930 9/4)
1936
Fort Collins - Cheyenne Highway to be opened (10-12-1936 10/2)
Highway Dedicated (10/20/1936 19/3)
pre-1860 | 1860 | 1870 | 1880 | 1890 | 1900 | 1910 | 1920 | 1930 | 1940 | 1950 | 1960 | 1970 | 1980 | 2000
Time Line Home