Fort Collins Detailed Time Line 1940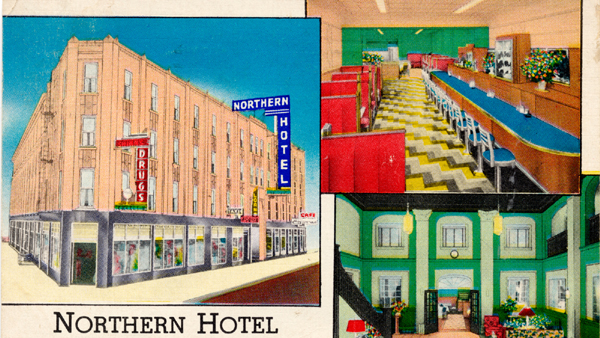 The following links are to a chronological index of Fort Collins information compiled by Fort Collins Archive volunteers and staff.
The information is from these reference sources and they are noted in the Time Line. There is also a Brief Time Line available.
[BUSINESS/INDUSTRY] [AGRICULTURE] [PEOPLE] [GOVERNMENT/CITY DEVELOPMENT] [COLLEGE/UNIVERSITY] [CIVIC] [NATURAL PHENOMENA] [MILITARY ACTIVITIES/WAR] [HEALTH/MEDICINE] [CIVIL RIGHTS] [TRANSPORTATION]
The war in Europe, which began in 1939, had almost immediate effects in Fort Collins. At the college, pilot training school which began in September, 1939, was expanded to the summer months in 1940 as a result of the nation's magnified defense program. A summer defense training program was also started in Fort Collins in 1940. A program was also initiated to train laborers in specific war industries.
In October 1940, 3,881 Larimer County men registered for Selective Service. A national draft was held at the end of the month. Battery A, of the 168th Field Artillery and Medical Detachment, was inducted into the U. S. Army in February, 1941.
In September, 1941, three months before the Japanese attacked Pearl Harbor, personnel for the local defense organization were chosen. In addition to providing advance preparation for possible attack or sabotage, the program was expected to improve preparedness for peace-time emergencies.
The pain of war was felt immediately in Fort Collins. Ben Schlect, a Navy radioman who had attended Fort Collins High School and had family here, was killed at Pearl Harbor.
After Pearl Harbor the local war effort began in earnest. 1942 saw Fort Collins citizens involved in many activities to aid the war effort. These included: War bond and stamp campaigns; relief for needy families in the Navy, Marines, and Coast Guard; United China relief; and a salvage program. In addition, farmers were challenged to increase their food production. Throughout the war farmers were aided by prisoner of war labor.
Because of Colorado State College's tradition of supplying military instruction, an R. O. T. C. program, and pilot training, its' former students contributed heavily to the war effort. More than eighty former C. S. C. students died in the war. The College's faculty also took part as over one-third of the male teaching and research staff served in the armed forces or as advisers to the military. Several members of the faculty aided in weapons research, including work on the atom bomb. The College's Extension Service and Experiment Station worked to maximize food production.
Fort Collins women took part in defense training classes which taught skills needed for war industries. Although excluded from foundry work, women were included in classes for welding, machine shop and sheet metal work.
Although never put to the test, Fort Collins civilian defense conducted blackouts and air raid drills during the war. The first blackout test was held in December, 1942. Officials considered it a success as almost a complete blackout of the city was achieved five minutes after the alarm was sounded.
The war was brought much closer to home in March, 1945, when a balloon carrying incendiary and explosive devices landed and exploded on the Swets farm near Timnath. The Japanese had launched more than 9,000 such balloons the previous November in an effort to create forest fires which, combined with the random bombing effect, they hoped would hurt American morale. Only about 290 of the balloons were reported to have reached American soil.
The end to the world conflict was celebrated on August 14 & 15, 1945, following announcement of the Japanese surrender. In Fort Collins, pedestrians and motorists jammed the streets until late at night. Businesses and offices closed. A thanksgiving service was held at the Methodist Church.
The post war years brought curricular and physical changes to Colorado A & M. The G. I. Bill allowed veterans the chance to receive an education at no cost to themselves. As a result, enrollment at the College increased dramatically. Housing became a problem, necessitating the purchase of prefabricated quonset huts which were used to create a "Veterans Village" on the south side of Laurel Street east of Shields Street in the spring of 1946.
Just retruned from a war in which they'd fought against a regime supported by racism, the veterans were sensitive to discriminatory practices. Hence, they led a protest against local merchants who would not do business with Spanish-American customers and displayed "White Trade Only" signs.
The College had experienced a change in leadership earlier in the decade when Dr. Charles A. Lory, president for thirty-one years, retired in 1940. To honor Lory, crowds of people celebrated "Lory Days" on May 2 and 3. A three mile long parade depicted the school's history during Lory's tenure.
Roy M. Green became the College's sixth president. Green saw the school through the difficult war years and the growth problems which followed. He died of a heart attack in January, 1948. I. E. Newsom acted as interim president before William E. Morgan was appointed to the office in 1949.
The College and High School provided exciting athletic teams during the decade. The College's football team played in its' only bowl game, the Raisin Bowl, following the 1948 season.
The Fort Collins High School basketball team won its' first state title in March, 1941.
One of the worst winter storms in the history of the region struck in January 1949. After a local New Years Day temperature of 70 degrees, a "killer" blizzard began on the 2nd. A second storm battered the area four days later. Temperatures which dropped to as low as 50 degrees below zero combined with eighty mile-per-hour winds to maroon 200,000 people and claim over one hundred lives along the storms' paths.
Fort Collins' cultural resources were enhanced by two major developments during the decade. In 1940 the Pioneer Museum, a W. P. A. project, was completed. The Antoine Janis cabin had been moved to Library Park in 1939 from its location near LaPorte. It formed the nucleus of the museum.
The Fort Collins Symphony was founded in 1949 when Will Schwartz, a New York native, came west to teach at Colorado A & M. Fifty musicians made up the orchestra, which held its' first performance in December.
TOP
---
BUSINESS/INDUSTRY
DENVER POST ARTICLES
1940
Fort Collins Royalty Co. declares dividend (1-29-1940 21/8)
1944
Extends P. S. Co. franchise for one year (7-21-1944 23/3)
1945
Record price on cattle: $17.55 (10-3-1945 4/2)
Light plant free of debt (10-15-1945 23/8)
Colo. Division Production and Marketing Administration to be there (11-29-1945 22/1)
1946
Seeks new radio station (4-11-1946 32/7)
Douglas D. Kahle and others authorized to operate radio station (5-25-1946 14/8)
1947
Strike brewing on labor projects (6-21-1947 3/2)
Phone rate hikes (11-21-1947 5/6)
1948
Raises city workers pay (1-23-1948 12/3)
1949
Oil boom deflated (8-31-1949 26/7)
TOP
---
AGRICULTURE
SUGAR BEETS NEEDED
FORT COLLINS EXPRESS-COURIER (1/1/1942)
Beet farmers assured there would be no restrictions by the government on the acreage devoted to beets in wake of possible great losses of sugar imports from Hawaii and the Philippines. Beet crops satisfied "Secretary Wickard's plea for food to win the war and write the peace, not just any kind of food, but the highly concentrated, highly nutritious foods that ship easily, store easily. Beets produce sugar and indirectly meat since beet tops are used as feed."
FOOD FOR VICTORY

COLORADOAN (6/11/1942)
"One of the most patriotic groups in the county, the farmers are working tirelessly to increase production of 'Food for Victory' in the face of growing shortages of labor and materials. They have been asked to increase production of dairy products 5 percent, of eggs 10 percent, and of various kinds of animals for slaughter between 5 and 30 percent, and they are going to meet all of these goals, according to Don Mc Millen, county extension agent. Beet production also increased. Good rainfall helped.
PRISONER OF WAR CAMP
DEMOCRACY'S COLLEGE-Hansen (Page 352)
Windsor area - Thousands of POWs did agriculture work on farms.
POW FARM LABOR
FORT COLLINS EXPRESS-COURIER (3/22/1945)
Prisoners of war were used in Larimer County for labor during the war. Nearly 700 German POWs were to be used at Fort Collins in 1945 for cultivation of the sugar beet crop to arrive about May 15. 1,655 prisoners were in the county.
BEET WORKERS NEEDED
FORT COLLINS EXPRESS-COURIER-(10/14/1942)
Fort Collins residences to be canvassed. Residents asked questions on their willingness to work in the beet fields and their beet experience. Volunteer laborers still needed for 1,515 of 12,315 acres or 4,500,000 pounds of sugar could have been lost. Vital crop for war effort.
Fort Collins Express Courier called problem "...one of the most critical conditions which has arisen locally since the start of WWII."
DRIVE TO GET BEET WORKERS OFF RELIEF
FORT COLLINS EXPRESS-COURIER (3/25/1941)
Junior Chamber of Commerce pushing plan which would, hopefully, take Larimer County beet workers off county relief rolls and save county thousands of dollars. The plan would put laborers on farms and keep them there thus "stabilizing the laborer and helping to improve the farm."
"The laborer would be expected to take an interest in the farm, to help with ...odd jobs... and to do the 'extra labor' which is needed from time to time."
Want 50 farmers and beet labor families for trial run. Farmers would allow families "to live on their farms the year around, to provide them with a house, garden space, a place for chickens and perhaps even a small amount of pasture."
"The farmer would be expected to provide for nothing more. It would not be his responsibility 'to carry the man through the winter' as has so often been true and which is chiefly responsible for the failure of the farmer to keep his worker on the farm."
Government would provide aid for laborer in winter.
MECHANICAL HARVESTER
COLORADOAN (10/2/1945)
"Larimer and Weld Counties, center of the Colorado beet sugar industry, are witnessing a race of engineers against an impending shortage of labor for harvesting next year's sugar beet crop."
"Mechanical harvesters, in all stages of experimentation, are being tested in fields here by several of the nation's biggest manufacturers. Independent designers are on the scene as well."
Labor problem threatened beet industry in 18 states. Labor costs expected to rise as worker shortage increases--necessary to keep costs down to compete with imported cane sugar.
"Chief reasons for the labor shortage next year will be the repatriation of German prisoners of war and a probable legislative bar against bringing Mexican nationals to the fields."
HORSETOOTH CONTRACTS
COLORADOAN (6/27/1946)
Big headline announces Reservoir appropriations: "Long awaited word that the Horsetooth Reservoir contracts have been signed in Washington and received here today. Despite the failure of congress to make a $15,000,000 appropriation for the Colorado - Big Thompson project for 1947, the contracts call for the enlarged estimate of a 146,000 acre - foot reservoir costing 9 1/2 million dollars. Horsetooth reservoir is the first major Eastern slope storage unit of the Colorado - Big Thompson project, and because of its proximity to Fort Collins, the unit which will most profoundly affect this community."
June 28, 1946, page 1

Reservoir work crews and their families would increase Ft. Collins population by about 2,000. Main dam to be 125' high.
July 17, 1946
Ground broken-- Spring Canyon Dam.
HORSETOOTH DAM COMPLETION
COLORADOAN (July 5, 1949)
"Horsetooth Reservoir west of here will be completed this week, except for some clean-up work remaining on the main Horsetooth dam.... All rock and gravel work on the main Horsetooth dam, the fourth and final structure of the reservoir, is expected to be finished this week, the project engineer reported."
"The reservoir, which has a capacity of 147,000 acre-feet of water, is not expected to be filled until about the middle of 1951, when other phases of the Colorado - Big Thompson project and the Horsetooth feeder system are scheduled to be completed."
DENVER POST ARTICLES
1945
Referee in Water Supply and Storage Company upheld (2-20-1945 32/2)
Irrigation suit set for Dec. 18; case filed in 1926 (10-20-1945 2/4)
1946
To study water seepage loss (11-16-1946 14/4)
Ranchers cooperate during shortage (12-1-1946 8/1)
1947
First trainload of Mexican laborers arrives (5-17-1947 16/4)
1949
Ft. Collins Lamb Feeders Association Fred W. Beier, Jr., Denver, addresses annual meeting (2-7-1949 19-1)
Hartner to head agricultural board (4-13-1949 48/1)
To celebrate soil victory (11-15-1949 19/1)
Irrigation authorities to meet at Colorado A & M November 30 (11-27-1949 12/7)
TOP
---
GOVERNMENT/CITY DEVELOPMENT
WOMEN ON JURIES
MILLER COLLECTION FORT COLLINS EXPRESS-COURIER (4/2/45)
"District Judge Claude C. Coffin feels a headache coming on, due next September--so do the county commissioners. The headache arises from the fact that last September the people of Colorado adopted a constitutional amendment providing that women may serve on juries, combined with the further fact that members of juries serving in some important trials may not be separated. Providing of adjacent quarters in such a way that the legal ban against separation of a confined jury may be observed, at the same time that the social custom for separate sleeping quarters for men and women is upheld, poses a nice question in the fields of architecture, moral custom and psychology for some of the state courts."
PETTICOAT RULE
COLORADOAN (10/23/1946)
Women of the Moose, 11 strong, will invade the mayor's office, the council chambers and other F.C. city offices, taking the reins of city government for one day. The invasion is in celebration of Mooseheart Day and the birthday of the lodge's governor, James J. Davis, on Oct.27. Some 500 chapters of the organization are expected to carry out similar programs promoted by the lodge to make better citizens of its' members. Mayor to be Mrs. Frank P. Jessee and others are listed. This is the first time the local chapter ha done this.
CITY GOVERNMENT
FORT COLLINS YESTERDAYS-Swanson
The town was still under 14,000 population in the 1940s when reform in city government gained headway. See city government, 1950s.
Mayors:
1936-42 Ray R. Mathews
1942-48 William M Bevington
1948-54 Robert W. Hays
CITY GOVERNMENT
COLORADOAN (6/11/1942)
Commission Manager form of government described for Fort Collins Mayor--Commissioner of Health and Safety, Commissioner of Public Works, Commissioner of Finance and Purchases. Under commission is police court, zoning board, library board. Other executive duties, including management of city utilities, are handled by city manager.
Each department of city has superintendent responsible to city manager. "All policy, including ordinances are drawn up, approved and passed by the commission, and the manager executes such ordinances, as are necessary in the control of city government."
POUDRE VALLEY BANK/LINDEN HOTEL
TRIANGLE REVIEW (7/28/1982)
See article attached to written copy.
CROWDED CHURCHES
COLORADOAN (10/24/1946)
New construction and remodeling costing approximately $120,000 is planned by three Fort Collins churches. A survey made this week revealed that they are seeking to overcome crowded conditions resulting from heavy gains in population here in recent years. Other churches are considering similar steps. The three churches are First Baptist, First Presbyterian, and Church of the Nazerine. Most of the churches in the city report attendance much larger than ever before. Most pastors reported that more college students were in attendance and that they were much more serious- minded than before.
DENVER POST ARTICLES
1942
M. M. Bevington elected mayor (4-8-1942 7/1)
Three drown in cesspool (7-11-1942 1/5)
1945
Ration coupons stolen (2/13/1945 1/7)
$50,000 in coupons stolen (2-14-1945 3/5)
Gets loan of $24,422 for sewage plant (9-26-1945 24/8)
Chamber of Commerce urges 2 cent gas tax increase (11-15-1945 6/2)
1946
Shows growth (1-18-1947 16/4)
Rent controls established by OPA (1/21/1946 30/3)
F. A. Murke home destroyed by fire (2-1-1946 9/1)
To vote April 2 on sewage plant (2-22-1946 9/1)
Two candidates for Commissioner of Finance in April 2 election (3-7-1946 5/1)
Vote for quarter of a million bond issue for sewage (4-3-1946 1/7)
J. Morris Howell named city commissioner (4-3-1946 24/4)
Wins fire prevention honor in its' class (4-10-1946 32/1)
67 building permits issued (8-11-1946 5/3)
May vote on dry law repeal (9-30-1946 24/1)
Big blaze knocks out fire prevention record (11-28-1946 32/1)
1947
Police study salary offer (3-26-1947 30/8)
Explosion at Ed Johnson's hurts six (4-24-1947 1/1)
Gas supply causes halt in heat units at Fort Collins (5-5-1947 24/4)
Fire plug blasted by dynamite (6-11-1947 3/6)
29 residents sue for highway upkeep (6-19-1947 32/2)
Public service franchise election tomorrow (10-13-1947 30/4)
Vote for gas franchise (10-15-1947 36/1)
1948
Power rate rise may help finance recreation plan (2-14-1948 16/2)
Petition asking legalization of liquor sales filed (3-9-1948 32/3)
Plans for vote at city election on liquor sales meets defeat (3-11-1948 40/2)
Dr. Robert W. Hays elected mayor (4-7-1948 32/6)
Sewage plant nears completion (6-15-1948 32/7)
Wins fire prevention honors of 1948 (12-27-1948 24/7)
1949
To build new rodeo grounds (2-17-1949 2/2)
To build city park swimming pool (3-22-1949 13/4)
Tightens sewage disposal laws (5-3-1949 3/1)
To study rent curb end (5-31-1949 40/4)
Ponder rent decontrol (7-8-1949 36/8)
Council asks rent decontrol (7-15-1949 36/7)
New swimming pool opens (8-2-1949 13/6)
Knous requests facts for rent action (8-3-1949 13/6)
Fort Collins rebukes Knous for rent query (8-13-1949 16/8)
Letters to Knous protest rent decontrol (8-17-1949 23/5)
Knous again demands rent data from councilmen (8-18-1949 2/2)
Knous to hold hearing on rent control (8-21-1949 3/7)
Rent curb plans leaves governor cold (8-24-1949 2/1)
Housing unit data given by landlords (8-29-1949 13/1)
Knous sent report on rents (9-21-1949 22/1)
Knous delays in lifting rent controls (9-22-1949 3/14)
Chamber of Commerce asks for flags back from Fraternity (10-6-1949 2/8)
Factory razed by fire (10-13-1949 60/2)
Knous refuses rents decontrol (10-26-1949 48/1)
Wins third place in anti-fire drive (12-26-1949 36/2)
TOP
---
COLLEGE/UNIVERSITY
COLORADO A & M FOOTBALL
COLORADOAN (April 15, 1984)
Most successful period for CSU football was post-war years of 1947-50. Played in only bowl of school's history after 1948 season - the Raisin Bowl- lost to Occidental 21 -20.
Notable players of those years include Jack Christiansen, who went on to become the only Colo. A & M/CSU alum in the NFL Hall of Fame; Thurman McGraw, who became an all-pro tackle for the Detroit Lions in an injury-shortened career, and later coached for CSU and took administrative positions as assistant Athletic Director and Athletic Director.
RECORDS FOR THOSE YEARS:
1947: 5-4-1
1948: 8-3-0
1949: 9-1-0
1950: 6-3-0
BIG COACHING CHANGE
COLORADOAN (October 22, 1946)
Front page headlines announced that Harry Hughes would take over coaching duties for Aggie football team.
"Today Julius (Hans) Wagner, head football coach at Colorado A & M College, was ousted from his coaching job in a surprise move, spearheaded by a group of alumni of the college and others, which came as the direct result of two disastrous Aggie gridiron defeats in Big Seven conference play."
"Coach Wagner was, in effect, relieved of his duties as head coach shortly before noon today by President Roy M. Green, who temporarily turned full responsibility for directing the Aggie team back to Harry W. Hughes, who retired as coach before the 1942 season to become full-time director of athletics."
Players reportedly dissatisfied.
Hughes was head coach from 1911-1942. He was often called, "Dean of American Coaches".
"Thus the head coaching duties went back to the man who but six months ago was the target of a student ultimatum demanding that the college athletic department be revised to do away with asserted `decadent conditions and impassive attitudes prevalent in the very foundation of the department.'"
Wagner very successful wrestling coach at A & M.
RAILROAD PROBLEMS ON CAMPUS
FORT COLLINS EXPRESS-COURIER (April 9, 1941)
The Faculty Club of Colorado State College was investigating the possibility of removing the Railroad tracks from the campus. Resolution sent to President Roy Green and State Board of Agriculture. Similar proposal had been made several years earlier.
Railroad noise halted classes three times daily and plays in Old Main auditorium had to freeze. Traffic dangers were considered.
OBSTACLES: Railroad here first and has right of way. In early days campus was not a part of Fort Collins; people rode train from campus to town.
HOUSING PROBLEMS
COLORADOAN (12/7/1945)
"Two announcements told of work scheduled to start immediately on the 'Veteran's Village' on the Colorado A & M campus and on a 77 unit housing project in Laramir County, Moore's third addition in the southeast section of the city. Money expenditures totaling more than $800,000 are involved in the projects of which $200,000 will be accounted for in a bond issue to finance 'Veterans Village,' to be offered by a Denver bond firm through arrangement with college administration. Vet Village, a 100 unit project for vet students and families. Pre-fab houses ordered through Montgomery Ward & Co.
HOUSING PROBLEMS
COLORADOAN (1/1/1946)
Not enough housing for incoming students to Colorado A & M. Enrollment estimaed at 1,300 but could be more if housing was available. Offices and storage areas are being converted to dorm rooms. A $1,000,000 building plan for the year is being developed including Veterans Village, L.C. Moore additions, cheese factory, city waterworks improvements, city sewage treatment plant east of the city, and possibly construction of part of city-county civic center buildings on courthouse square.
ROY M. GREEN ELECTED PRESIDENT COLORADO A & M
DEMOCRACY'S COLLEGE-Hansen
1940
COLORADO A & M PRESIDENT GREEN SHOT
COLORADOAN (Oct. 1, 1946)
Colorado A & M president, Dr. Roy M. Green, was an unfortunate bystander during a shooting spree in the Brown Palace Hotel. Green received a flesh wound on his right shoulder. A war veteran went berserk with a gun following a reportedly trivial argument with a salesman. A CU medical professor was killed.
Green and companions had just staggered inside the Ship's Tavern on their way to the State Health Association meeting when a man at the bar started firing. The man, who was a Grand Junction policeman, denied firing the gun.
PRESIDENT GREEN DIES
COLORADOAN (January 23, 1948)
Colorado A & M President, Roy M. Green, died on the 22nd from a heart attack caused by a blood clot. Had undergone two nerve operations for high blood pressure; died while in St. Joseph's Hospital. He was 58 and had been president. since Aug. 16, 1940. He succeeded Dr. Lory.
I. E. NEWSOM, INTERIM PRESIDENT
DEMOCRACY'S COLLEGE-Hansen (Fall 1948/49)
ROY GREEN DEATH
William E. Morgan elected president, 1949.
LORY DAYS
FORT COLLINS EXPRESS-COURIER (May 23, 1940)
Big crowds celebrated "Lory Days" on the 2nd and 3rd to honor retiring Dr. Charles A. Lory, president of Colorado A & M for 31 years. Several bands participated in a parade, 3 miles long, that depicted school's history during Lory's tenure. Gov. Ralph Carr was present. A rodeo and ball were held. A dinner and assembly closed the celebration on the 3rd. Dr. F. D. Farrell, president of Association of Land Grant Colleges and Universities spoke, as did Dr. Lory.
DR. LORY'S LAST COMMENCEMENT ADDRESS
FORT COLLINS EXPRESS-COURIER (Aug. 16, 1940)
In his final commencement address as president of Colorado A & M, retiring Dr. Lory warned graduates of the challenge of totalitarianism and of the need for loyalty, service, and patriotism.
"... in meeting the challenge of totalitarianism, let us not forget that the struggle of peoples for individual freedom, the opportunity for advancement and security of life and property under law are eternal."
The Honorary degree of Doctor of Science was awarded Lory.
A & M ENROLLMENT RECORD
COLORADOAN (Oct. 1, 1946)
Colorado A & M registration went over 3,300 far exceeding pre-term estimates of 2,600-2,800, and the previous pre-war record of 2,050. 1945 fall enrollment was 1,050; Spring was 1,650. Housing was promised to all students.
Oct. 4,1946: Additional registrants expected to boost total to 3,500.
COLLEGE PROGRAM FOR VETS
FORT COLLINS EXPRESS-COURIER (May 21, 1944)
Returning veterans to be offered three types of instruction--regular college courses of study--degrees in agriculture, home economics, science & arts, forestry, veterinary medicine, vocational education, and engineering. Others who have not graduated from high school, but have experience and can pass entrance exams will be allowed to enter regular course study.
Shorter, practical programs offered for vets wishing to register as unclassified students and receive certificates of attainment in two years.
For those who can't qualify for college entrance and want only vocational training, they can receive this at the Ft. Lewis branch of the college in Durango.
G.I. BILL FOR VETERANS EDUCATION
DEMOCRACY'S COLLEGE-Hansen (1946)
Campus swamped by vet students
VETS' VILLAGE--Quonset huts for housing

DENVER POST ARTICLES
1947
Students to try out own traffic plan (10-3-1947 22/4)
1949
Civil engineering professor, Robert L. Lewis, takes new job (4-13-1949 48/6)
TOP
---
CIVIC
STATE ELKS CONVENTION
COLORADOAN (9/16/1948, 9/20)
Making big headlines on this date was the 45th annual state convention for the Elks.
"With flying banners and a funfull (sic) schedule Lodge No. 804 and all Fort Collins welcome the Colorado Elks to their forty-fifth annual state convention. Local Elks and their wives have worked, planned and decorated to make the 1948 convene one of the best ever. In addition to normal convention business, planned events included Fort Collins tours, recreational activities, parade, Grand Ball, picnicking and midget auto races." About 2,400 registrants.
MASONS
FORT COLLINS EXPRESS-COURIER (9/29/1935)
Began with small group of 10 members meeting in attic of "Auntie" Stone's flour mill in 1870 to discuss formation of a Masonic Lodge. Collins Lodge No. 19 received its' charter on 9/28/1870. Charter members: Henry Clay Peterson (Worshipful Master), J. H. Bradstreet (Secretary), J. R. Wills (Senior Warden), B. H. Eaton (Junior Warden), Abner Loomis (Treasurer), Clyde J. McDivitt (Senior Steward), A. J. Davis (Junior Steward), and George W. Smith. Titles received following month when Deputy Grand Master installed officers, some of which were not charter members. Had earlier authorization for Freemasons--included other members. Then it was chartered.
RED CROSS WOMEN
FORT COLLINS EXPRESS-COURIER (8/7/1940)
More than 300 Larimer County women active in Red Cross volunteer service are making clothes. Most garments going to European victims--most to hospitals in England, but some wheel chair lap robes given to vet hospitals in America. 12 garment units in county, 3 in Fort Collins at Presbyterian. Congregational, Unitarian, and Baptist churches.
FAMINE RELIEF
COLORADOAN (5/19/1946)
Famine a worldwide problem in post war years. Former President Herbert Hoover said hunger is facing 1\3 of the world population. Fort Collins will join the rest of the country this week in a concentrated campaign to furnish food and money for food for hungry millions in the rest of the world. Churches today will unite in prayers and plans to help relieve famine conditions in other parts of the world. Several churches are having their own collections, Members of other churches will join in the community wide effort by taking their contributions to the various collection stations.
FIRE CONTEST WINNER
COLORADOAN (4/8/1949)
For the second straight year, Fort Collins has ranked first in its' population class in the U.S. Chamber of Commerce inter-chamber fire waste contest. Contest judged cities which did the most to reduce fire waste. For its' efforts in 1948, Fort Collins placed first in class 6, the division for municipalities of less than 20,000 in population.
FORT COLLINS MUSEUM
DEW MEMORY - MUSEUM FILES 1940-1941
Built as WPA project, and called Pioneer Museum. It opened spring of 1941. Building demolished, museum moved to old Carnegie Library, 1976.
PIONEER MUSEUM
COLORADOAN VACATION EDITION (5/29/1941)
Museum completed 1940 a WPA project - appropriation of $18,881. Janis Cabin (moved to Library Park in 1935 from location near LaPorte) formed nucleus of museum. Fort Collins Pioneer Societies and Indian Relic and Hobby Club added $6,300. Examples of museum holdings listed.
FORT COLLINS SYMPHONY
FORT COLLINS REVIEW (10/7/1981)
"Founded in 1949 when Will Schwartz came from his native N. Y. to teach at CSU (then Colorado A & M) the symphony was originally a college orchestra which accepted community people. Only 17 musicians responded to the first orchestra call that Fall. But undaunted, Schwartz announced its' first concert to be held in December. By the second rehearsal, attendance had doubled, and by the performance the orchestra had some 50 musicians."
MAMMOTH TUSK FOUND IN HORSETOOTH
IN OLD WYOMING NEWSPAPER (10/1947)
Discovery of a 3 foot section of a mammoth's tusk estimated to be 25,000 plus years was reported by Major Roy G. Coffin, retired geology and chemistry professor at Colorado A & M. The find was uncovered near the vicinity of the Spring Canyon Dam, in one of the huge ditches that connect the sections of the reservoir. The tusk was lying on shale, overlaid with the characteristic red mud of the area. This indicates, according to Coffin, that it was deposited at the end of the glacial age 25,000 years ago and afterward overlaid with soil eroding from the nearby hills.
SEQUENCE OF POINTS AT LINDENMEIER
IN OLD WYOMING NEWSPAPER 10/28/1940
A stratified sequence of different types of Folsom points, supposedly spearheads, which have been found associated with the remains of mammoths and extinct bison and camels which presumably became extinct shortly after the close of the last ice age. The spearheads were the work of the oldest known human inhabitants of the continent -- a race of nomadic hunters.
Reported by Dr. Frank H. Roberts Jr., archaeologist for the Bureau of American Ethnology.
One of Dr. Roberts' most significant finds at the Folsom level this year consists of bone needles with an eye --by far the oldest artifact of this sort yet uncovered in North America and approximately contemporary with the earliest true needles of European cave dwellers.
BASKETBALL TITLE
FORT COLLINS EXPRESS-COURIER (3/16/1941)
Fort Collins High School Lambkins basketball team won its' first state title in 11 tournament appearances. They beat Longmont 27-14 in championship game.
DOG LEADER
FORT COLLINS EXPRESS-COURIER (Feb. 23, 1941)
"Burly", a dog who became leader of a pack of coyotes which raided livestock and poultry northwest of Ft. Collins, made the headlines. Some sympathetic readers urged a "fair trial" for the dog. The director of Dogville in Ft. Worth, Texas asked that Burly not be killed... said he would take him. Burly eluded hunters using shotguns the previous week. Hounds would be used this day.
Feb. 24, 1941
Burly could not be located by hounds or hunters.
Feb. 26, 1941
Burly caught alive when he became entangled in a barbed-wire fence after being shot at. May become pet.
Feb. 28, 1941
Burly taken by trainer from Wheatridge for training in "how to roll barrels, jump hoops, do `mathematical problems' and demonstrate traffic safety." He will be used for "kindness to animals" programs for Denver school children.
DENVER POST ARTICLES
1941
Gift of paintings of George and Martha Washington (10-2-1941 23/1)
1946
Fort Collins Jaycees to stop in Denver (1-12-1947 3/5)
Pioneer Society asks Horsetooth Dam be named Lake Lory (8-5-1946 24/1)
1948
To celebrate 75th anniversary February 3 (1-22-1948 5/5)
Rural drama festival scheduled Mar. 19 (3-4-1948 26/6)
To hear Women's GOP chief, Mrs. Addison Green (3-15-1948 14/5)
School annexation vote set for June 10 (5-25-1948 9/1)
Elementary school building bids open Dec. 10 (11-15-1948 3/6)
1949
Fort Collins Engineers Club in favor of present state highway set-up (1-17-1949 8/5)
Engineers Club opposing high salaried administration to head highway department (1-20-1949 25/5)
Berkeley Heights Boosters home demonstration club play wins honors in rural play festival (3-26-1949 18/8)
High school class of 1929 to rally (5-25-1949 3/1)
Churches seeking aid for more DP students (10-10-1949 27/3)
Children of Mr. & Mrs. Jess R. to have Christmas (12-23-1949 28/4)
Fire Chief T. P. Treadwell named for Kiwanis award (12-29-1949)
TOP
---
NATURAL PHENOMENA
"KILLER" BLIZZARD
COLORADOAN (April 15, 1984)
New Years Day temperature was 70 degrees... Strong winds blew in on the 2nd... 125 stranded people taken to Wellington's American Legion Hall, while an emergency station was set up. "A marooned doctor examined people for frostbite and shock, and women offered to take refugees to their homes."
"On Jan. 6 a new storm devastated the area. By mid-January, 200,000 people were marooned and faced starvation in ranch houses, trains, cars and towns. Winds of 80 MPH and temperatures as low as 50 degrees below zero were recorded.
"The storm claimed more than 100 lives. People and animals were found frozen in snowdrifts. Over-exertion killed other people, and some died of asphyxiation in cars buried by snow."
(Contemporary paper in files: 1/3/1949)
HIGH WINDS
COLORADOAN (Dec. 20, 1948)
"High winds, mounting at times to hurricane force, swept the Ft. Collins area today, inflicting damage to buildings, utility lines and trees. Building damage was concentrated at Colorado A & M college and its veterans' and trailer villages. E. G. Whitehead, college building superintendent, estimated the damage toll would reach $48,000."
Also much damage at Christman field where wind peaked at 96 MPH. Loss of much topsoil reported at areas north and west. Wind apparently caused derailment of five baggage cars of Colorado and Southern railroad 28 miles north of Ft. Collins. No one hurt as passenger cars stayed on track.
TOP
---
MILITARY ACTIVITIES/WAR
PILOT TRAINING COURSE
FORT COLLINS EXPRESS-COURIER (6/4/1940)
As a result of the nation's expanded defense program and the college's high ranking for pilot training, CSU had a summer pilot training program added and it would begin June 20.
SUMMER DEFENSE TRAINING
FORT COLLINS EXPRESS-COURIER (7/3/1940)
Fort Collins was to be included in a summer defense training program. This is a national program for which $15,000,000 is allotted each community to have a directing committee or board to include Head of Vocational Education, head of local state employment office, representatives from manufacturers that have war orders, and labor representatives. It is a program to train laborers in specified industries and may be expanded later.
SELECTIVE SERVICE
FORT COLLINS EXPRESS-COURIER (10/17/1940)
3881 men ages 21 to 36, registered in the county on the 16th. These men will be categorized as either available for service, or deferred for various reasons. 10/29 list of Larimer Co. men drawn in national draft would receive questionnaires on availability.
(11/19) Larimer County's first five draftees given.
SELECTIVE SERVICE
Larimer Co. Men register for the draft
BROWN'S SCRAPBOOK, THE WESTERNERS
List of the names of Larimer Co. men registered under the Selective Service Act and their serial numbers as assigned by the County draft board. There are approximately 3,500 men registered in the County.
CIVIL DEFENSE PROGRAM
FORT COLLINS EXPRESS-COURIER (9/8/1941)
Personnel for principal parts of local defense organizations were to be chosen this day. "The executives will follow the outlines of a local defense plan suggested by Fiorello H. La Guardia, United States director of civil defense, for cities throughout the country. The plan is based on experience of European cities which have undergone bombing raids and sabotage, and is intended to prepare American cities to meet public emergencies in general, especially those which may result from war developments. Felt it would also be good preparation for peace time emergencies.
BATTERY A: ITS' HISTORY
FORT COLLINS EXPRESS-COURIER (2/25/1941)
Battery A, of the 168th Field Artillery and medical detachment, Fort Collins National Guard units, were inducted into U.S. Army. Claims to be the oldest artillery in the state. "...the history of the unit begins with the muster into state service of the Chaffee Light Artillery" at Denver, March 7, 1878. "Records of the muster-in show as officers Captain Albert H. Jones, First Lieutenant Samuel C. Chapin and Second Lieutenant Ralph C. Webster. On July 1, 1898, the United States having declared war against Spain, the 'Chaffee Light Artillery' was mustered into federal service as 'Battery A, Colorado Volunteer Artillery.'" Went to Ft. Logan, then to Ft. Hancock, N.J. for garrison duty and training. Mustered out of federal service in Nov. 1898. " Chaffee Light Artillery" was reformed. 1906 redesignated "The First Field Artillery." 1908 became "Battery A Field Artillery, Colorado National Guard." Also see 1910s' Time Line section.
COUNCILS FOR DEFENSE
FORT COLLINS EXPRESS-COURIER (12/10/1941)
Colorado counties asked to organize defense councils. "The cities of Fort Collins and Loveland, towns and communities, and the county generally were busy completing organization of defense councils Wednesday on instructions from Governor Ralph L. Carr and State Defense Coordinator W. H. Leonard. "The councils will include several committees assigned to handle fire-fighting services, police services, medical services, public works, including streets, buildings, water and sewage; utilities; maintenance of vital services; and public relations and education."
Mayor will head the council in Fort Collins. Sheriff's posse is being formed - police powers supersede those of any organization or individual with exception of federal authorities in county. Sheriff asking for special car--2 way radio, special fuel tanks and fire-fighting equipment, to be available for "any emergency."
BLACKOUT
FORT COLLINS EXPRESS-COURIER (12/15/1942)
Fort Collins civilian defense officials rated the town's first blackout test a success. Virtually a complete blackout of the entire county was reported within five minutes after the alarm signal was sounded at 9:00 P. M. Blackout period lasted 20 minutes. Fake bombing and fire incidents were practiced.
WAR EFFECTS ON COLLEGE
DEMOCRACY'S COLLEGE-Hansen
Casualties of students in war service
Faculty people in service
College's services in war effort
Accelerated academic program to get students as much education as possible before active duty. Over 80 former students killed in war. Contributions of college and its' people.
WORLD WAR II
COLORADO STORY-Hafen & Hafen 1941-1945
138,832 men "served in the military effort, one out of every eight residents of the state." "In eight great War Loans Colorado citizens subscribed over 700 million in bonds, which amounted to about 150% of the quotas assigned." "Approximately 150,000 Colorado men and women served in the military forces during the war period. Of these, about 2,700 gave their lives for their country."
FIRST WW II CASUALTY
FORT COLLINS EXPRESS-COURIER (12/14/1941)
Ben Schlect, radioman in the U.S. Navy, was killed at Pearl Harbor, the first local casualty of the war. Had two brothers in Fort Collins. He was 35 and went to Fort Collins High School.
DEFENSE TRAINING CLASSES
FORT COLLINS EXPRESS-COURIER (12/30/1941)
"The National Defense training classes of this city will swing into high gear immediately after Jan. 1, with approximately 200 men enrolled, it was announced Tuesday by Howard H. Kob, supervisor. (16 more needed for welding classes.)
CIVILIAN AIR PATROL
FORT COLLINS EXPRESS-COURIER (1/22/1942)
"Organization of a Fort Collins civil air patrol was launched here Thursday by two Denver officials of the State Patrol who arrived by airplane and appointed Otis T. Massey as squadron commander." Five divisions are being formed in Colorado. The local patrol will be a subdivision of the northern group with headquarters at Sterling. The patrol's principal functions are to furnish aid to the armed forces and to aid civilian defense units. Patrols will scout for sabotage and aid ground searchers in any emergency relating to defense."
FIRST COUNTY DRAFTEE RECALLED
FORT COLLINS EXPRESS-COURIER (1/23/1942)
"Chester D. Leonard, the first Larimer county man inducted into the United States armed forces through selective service, also the first returned to his home in the county because of being past 28 years old, is returning to the Army." He was on reserve status--reserve forces recalled to service.
LOCAL WAR EFFORT
FORT COLLINS EXPRESS-COURIER (4/12/1942)
"War efforts" contributed to by Larimer County in the spring of '42 included Navy Relief--to aid needy families in the Navy, Marines and Coast Guard; United China relief; United Service Organizations; and the usual purchasing of war savings bonds and stamps. Farmers also challenged to increase production for the nation, its' fighting men and other needy nations.
PROFESSOR WORKED ON A-BOMB
FORT COLLINS EXPRESS-COURIER (8/12/1945)
"Dr. Philip G. Koontz, assistant professor of physics at Colorado A & M college until he left on leave in February, 1942, was one of the first 20 scientists working on the atomic bomb..." Worked for a year in Chicago then transferred to New Mexico plant in 1943. Nearly 30 Fort Collins college men had some part in the project.
CONGRESSIONAL MEDAL FOR LOCAL MAN
Miller Collection - COLORADOAN
FORT COLLINS EXPRESS-COURIER
"Tomorrow is 'Bob Maxwell Day' in Fort Collins. Tech. Cpl. Robert D. Maxwell, former Bellvue timber worker whose grandmother, Mrs. Lydia Maxwell, lives at Cottage Grove, Ore., won the Congressional Medal by falling on a German grenade to save the lives of four comrades in an outpost near Besancon, France, Sept. 7, 1944.
V - J DAY CELEBRATION
COLORADOAN (8/15/1945)
Streets were jammed by pedestrians and motorists from 5 P.M. the day before (time of Japanese surrender announcement) until late at night as Fort Collins celebrated V - J day. "Few disruptions in law and order occurred." City offices and businesses closed. Thanksgiving to be given at Methodist Church.
ARMY PILOT TRAINING COURSE
DEMOCRACY'S COLLEGE-Hansen
Mechanical Engineering Dept. program for training aviation pilots.
AIR CORPS CLERICAL TRAINING PROGRAM
DEMOCRACY'S COLLEGE-Hansen
There is also instruction for Army engineers and veterinarians and about 1,500 men are on campus. Two downtown hotels are leased for barracks, also Johnson Hall and men's gym. Field House used as a dining hall.
BLACKOUT TESTING AND AIR RAID PRECAUTIONS
MUSEUM (KELLEY II) SCRAPBOOK

"Fort Collins will be notified of the blackout order by the sounding of the 'wildcat' siren mounted by the fire department. Warnings will be telephoned to other centers of the county. Each individual and institution is responsible for lights."
Motorists were to pull to the side of the street and distinguish all lights. A test rehearsal was held on Saturday (12/10/1942). On Monday night (12/12/1942) the real regional blackout test.
"Council approves Rules for Air Raids." Rules for the conduct of persons during air raid alerts:
1. Persons not in their homes or other places of shelter when an air raid alert is sounded must go to the nearest indoor shelter and remain there until an all clear signal is given.
2. Automobile passengers must park their vehicles in accordance with the city's air raid ordinance and proceed to the nearest indoor shelter.
3. All persons are to remain in indoor shelter throughout the raid period.
4. Parents are to be held responsible for children found outside an indoor shelter during an air raid period.
WWII CASUALTIES, HEROES, DRAFT
MUSEUM FILES (4 FILES)--ONE CASUALTY FILE INCLUDING "DEATH MARCH" DIARY
Also file on early casualties, including first Fort Collins man killed in action--Bert Christman for whom Christman field is named and Ben Schlect killed at Pearl Harbor. (Fort Collins Express-Courier 2/22/1942)
MILITARY DRAFT - SPRING 1940
War relics: Draftee lists, photo of Laporte Avenue Vets' Memorial, Card of "Greetings", ration cards, etc.
FIRST WAR CORPORATION 1942
FORT COLLINS EXPRESS-COURIER (5/21/1944)

Northern Colorado Manufacturing Company - Fort Collin's 1st war corporation established October, 1942, leased premises at Giddings Machine Shop, 401 Pine.
As of this date $6,500 payroll, $12,000 worth of war production a month. Navy valves are its' sole business.
RATIONING
FORT COLLINS EXPRESS-COURIER - Various Papers -WAR YEARS
Rationing of gas and various foods a feature of Fort Collins' life during WWII.
CPS CAMP
FORT COLLINS EXPRESS-COURIER (8/10/1942)
120 conscientious objectors were camped under supervision at the Civilian Public Service camp near Poudre Canyon. The men were involved with four public service jobs at the time, including construction of five trails near Cameron Pass, Buckeye soil conservation project, Seaman Dam project, and soil conservation research range at Briggsdale. Most of the men were members of the Mennonite Church, others were Methodists, Pentecostals, and Jehovah's Witnesses.
BALLOON BOMBS TIMNATH
CHOICE MAGAZINE (9/83) COLORADOAN (9/7/1986)
Japanese Balloon Bombs fall on farm near Timnath.
SALVAGE
FORT COLLINS EXPRESS-COURIER (5/19/1944)
Larimer County school children, in salvage program promoted by school district, praised for their salvage work by soldiers of salvage company in Fort Collins area for a week. Soldiers demolished Linden Street Bridge for salvage. They collected paper and scrap metal.
WAR TOURISM
COLORADOAN (6/11/1942)
Vacation issue promoting Colorado/Larimer County as ideal vacation spot for mentally preparing for war times ahead. Recreational and scenic spots given. President Roosevelt recommended a period of relaxation from work in summer.
WOMEN IN DEFENSE CLASSES
FORT COLLINS EXPRESS-COURIER (5/10/1942)
Women were included in all areas of defense training classes except foundry work at this time in Fort Collins. Other divisions include machine shop and sheet metal.
DENVER POST ARTICLES
1947
Guard unit activated (1/19/1947 15/8)
TOP
---
HEALTH/MEDICINE
ANTI-RAT CAMPAIGN
COLORADOAN (4/26/1948)
Today city firemen, aided by two officials of the Fish and Wildlife service and directed by Richard S. Baker of the city manager's office, began the city's annual rat extermination campaign as a preliminary to the local observance of National Cleanup and Paint up week. The anti-rat campaign which will be carried on for several days, will be followed by an anti-fly campaign, involving the spraying of alleys and other areas with DDT insecticide. The twin campaigns have incidental objectives of co-operation in national efforts for conservation of food supplies and of eliminating conditions possibly connected with infantile paralysis. Red Squill poison was used at strategic spots for rats.
NO COST IMMUNIZATION
FORT COLLINS EXPRESS-COURIER (12/18/1941)
Fort Collins children are being offered free immunization against diphtheria and smallpox. Many children have not been immunized as parents could not afford it. This is seen as being especially needed during wartime because of increased worldwide travel.
POLIO OUTBREAK
COLORADOAN (8/21, 8/25, 9/4/1946)
Although not an epidemic in Larimer County, polio was a big concern in summer of 1946. Classes were taught on the Sister Kenny "hot pack" method of paralysis treatment; several Fort Collins women volunteered to assist in this emergency.
30 cases in Larimer County as of September 4th.
"...officials of the National Foundation for Infantile Paralysis reported having cleared the way for extending financial aid to the families of poliomyelitis patients."
"...financial aid for hospital and medical care will be extended from the chapter's $2,500 fund, accumulated in past years through the annual March of Dimes Campaigns."
Colorado's number of polio victims for 1946 at 593 is more than double the previous high of 289 in 1943.
DENVER POST ARTICLES
1946
Hospital limits patients through lack of nurses (4-1-1946 22/1)
TOP
---
CIVIL RIGHTS
DISCRIMINATION
DEMOCRACY'S COLLEGE-Hansen
"With fresh memories of sacrifices made on behalf of democracy, veterans led a protest against Fort Collins merchants whose 'White Trade Only' storefront signs discriminated against 'Spanish American patronage.'
VETERANS GROUP PROTEST "White Trade Only" signs on downtown cafes, stores, etc.
TOP
---
TRANSPORTATION
TROLLEY GETS NATIONAL RECOGNITION
COLORADOAN (12/3/1947)
Dec.6 Saturday Evening Post article on street cars includes Fort Collins "galloping goose" system. In the article Peter Kocan wrote:
"For really fancy performances in the field of transit, no place on earth can beat Fort Collins, Colorado, smallest town in the U.S. to support a trolley system. " Kocan called the three way switch at Mountain and College an ingenious small town stunt. Every 20 minutes all three trolleys in use confront one another in the town square just a few feet short of a collision. At the proper moment the motormen exchange greetings and drive ahead, just as a collision of catastrophic proportion seems inevitable, the cars swerve and narrowly pass one another on a "y" track in the town square. Kocan pointed out that the Fort Collins system is one of the few in the country which operates at a profit, despite the lowest trolley fares in the country. The fares had since been raised 25 cents to $ 1.25 for a monthly pass.
AIRLINE SERVICE
FORT COLLINS EXPRESS-COURIER (6/18/1944)
"Commercial linking by air of Fort Collins with Denver and seven other Colorado towns and cities will become an actuality tomorrow as the Massey and Ranson Flying Service Inc. inaugurates its Scenic Airline service with a flight starting at 7:30 A. M. from the base at Christman Field here. Many Fort Collins residents are expected to be at the field tomorrow morning to witness the inauguration of service with two five-passenger planes under a recently granted authorization from the Colorado Public Utilities Commission."

AUTO CHECK
COLORADOAN (5/12/1946)
"Playing their role in the education of highway traffic accidents, which this year have caused 5 fatalities in Larimer County and nearly 140 in Colorado and many thousands in the U.S., Fort Collins police will co-operate in a nation-wide police traffic safety check. Beginning May 15, police officers throughout the U.S. and Canada will check brakes, lights, tires, windshield wipers, and horns of all automobiles involved in traffic accidents or moving violations. The program is sponsored by the International Association of Chiefs of Police."
CHRISTMAN FIELD
FORT COLLINS EXPRESS-COURIER (12\27\1942)
Colorado State College airfield to be named after Allen Bert Christman, CSU alumnus killed in combat over Rangoon, Burma, while flying for "Flying Tigers", an American volunteer group under Chinese flag . He had already been enshrined by the Chinese.
DENVER POST ARTICLES
1945
Bidders for operation of Christman Field to be interviewed (12-12- 45 3/5)
1948
Tram fares 10 cents starting Jan. 1 (11-5-1948 40/8)
1949
Tramway shows new loss (4-11-1949 28/3)
pre-1860 | 1860 | 1870 | 1880 | 1890 | 1900 | 1910 | 1920 | 1930 | 1940 | 1950 | 1960 | 1970 | 1980 | 2000
Time Line Home