Fort Collins Detailed Time Line 1920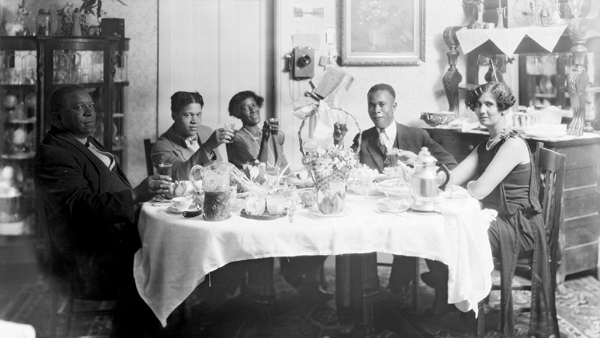 The following links are to a chronological index of Fort Collins information compiled by Fort Collins Archive volunteers and staff.
The information is from these reference sources and they are noted in the Time Line. There is also a Brief Time Line available.
[BUSINESS/INDUSTRY] [AGRICULTURE] [PEOPLE] [GOVERNMENT/CITY DEVELOPMENT] [COLLEGE/UNIVERSITY] [CIVIC] [NATURAL PHENOMENA] [MILITARY ACTIVITIES/WAR] [HEALTH/MEDICINE] [CIVIL RIGHTS] [TRANSPORTATION]
Despite a generally depressed farm economy after World War I, Larimer County farmers were comparatively prosperous. The Fort Collins Express-Courier (the two papers combined in 1920) claimed that no other county in Colorado fed as many sheep and cattle as did Larimer County.
Beet growers were also still doing well. An attractive contract in 1925 between Great Western Sugar Company and the Mountain States Beet Growers Marketing Association guaranteed eight dollars per ton plus incentive bonuses.
Larimer County was also prospering industrially. It ranked third among Colorado counties in manufacturing. Most of the factories were in or near Fort Collins. The biggest producers were the sugar factory and the Ideal Cement plant built in 1927 near La Porte.
Rapid growth was predicted for Fort Collins in the 1920s following the discovery of oil and natural gas near Wellington in 1923. A gas explosion in an oil and gas well destroyed half a derrick in November. Area residents swarmed to the site. The well was not capped for six weeks.
As the sugar industry grew, so did the need for field workers, who needed housing. Thus, Great Western Sugar organized a community for Spanish-American workers. The community, alternately referred to as "Alta Vista" and "Spanish Colony," was platted in 1927. Great Western offered equitable payment plans to encourage workers to build and own their homes.
The Church of the Holy Family, on Cherry and North Whitcomb, began serving Spanish-speaking Catholics in 1929. Father Pierre Trudel, who served in Fort Collins from 1924 to 1936 concentrated on the needs of the Spanish-speaking beet workers.
Another notable building was completed in 1925. Fort Collins High School was built with a fronting park on South College, considered an advantageous location because of its beautiful surroundings and its accessibility by streetcar. That same year the high school's track team excited the town by winning the national track and field championship in Chicago.
Also in 1925 a new, modern, hospital was built just outside the city limits. 14,500 people were treated in the three-story brick building each year.
The local chapter of the Red Cross also provided valuable health care during this period. Organized in 1916, the Red Cross aided war-separated families, soldiers overseas, and influenza victims. After the war, the Red Cross aided returning servicemen and their families. Through the 1920s its services broadened. Doctors and other medical professionals offered their services. An average of fifteen civilian welfare cases per month were handled by the Red Cross.
The Larimer County Public Health Association was organized in 1920. It aided people who could not otherwise obtain proper medical treatment.
The 1920s marked the high point of the Ku Klux Klan in Colorado. The Klan virtually gained control of state politics during the early part of the decade, and had many men in elective and appointive offices. Klansmen in Fort Collins could be found in courthouse offices and city hall. During one rally, sheet-covered KKK members marched from North College Avenue to Lincoln Park. However, the Klan did not place a significant number of its' people into local public offices. Its' influence faded during the latter half of the decade.
A political figure whose star was on the rise came to Fort Collins in 1920. Franklin D. Roosevelt, on a campaign tour as a vice-presidential candidate, spoke from the courthouse steps against increasing the Navy and for the League of Nations.
A notable local trial lawyer, Fancher Sarchet, was in the headlines in 1927 when he was shot in the head while driving home on a September evening. He was seriously wounded and later lost his left eye. The gunman was apprehended. He confessed and went to prison. However, an oilman who Sarchet suspected was behind the shooting was found not guilty. Sarchet had defeated the man in a court case involving property in the oil fields.
In May, 1929, the people of Fort Collins dedicated an airfield at the west end of La Porte Avenue. A plane carrying mail left for Denver to advertise the availability of the field, which would later be named "Christman Field" in honor of a World War II pilot.
A bus line was also established in the 1920s between Fort Collins and Denver. Paradox Land and Transport Company of Denver operated the twelve passenger buses, which started their routes in September, 1921.
City traffic became enough of a problem in 1925 to require the installation of a traffic signal at College and Mountain. The model purchased included red and green arms which alternately lowered to signal traffic.
Entertainment in Fort Collins during the "Roaring Twenties" included the old and the new. In September, 1920, the town made its first home movie. The public was invited to view the filming of "The Girl from Collins" on the college campus. The cast was entirely homegrown. The Empress Theatre planned to show the film as soon as it was completed.
The Fort Collins Roundup was an annual affair, delighting crowds with Wild West events. Mr. and Mrs. Frank Miller managed the show, which included: Races, trick riding and roping, bucking broncos and Indians. In 1922 Sioux Indians performed dances.
In 1926 the Fort Collins Express-Courier and the Lyric Theatre sponsored a Fiddlers Contest as they worked to make Fort Collins "the fiddlers capital of the west." Adam Deines, an elderly German, won the contest using a fiddle he had brought from Russia many years before.
As the decade was drawing to an end, "Talkies" came to Fort Collins. Forthcoming movies with sound advertised on March 10, 1929, included "The Jazz Singer" with Al Jolson. Fort Collins citizens had witnessed earlier experiments with sound movies using a Kinetophone at the Empress Theatre in 1923. These "movies" were usually short features with a singer more or less synchronized to a phonograph.
TOP
---
BUSINESS/INDUSTRY
OIL BOOM
COLORADOAN (4/15/1984)
11/22/1923
Predictions of BIG GROWTH were made following discovery of oil & gas near Wellington in 1923. Predictions included: Reaching 30,000 population in two years, 50,000 by 1928. The Express-Courier newspaper of 1923 carried a motto at the top of each front page: "Fort Collins, 50,000 by 1928. Watch us grow." "The roar of the first oil well (which gushed for six weeks uncapped) sounded like prosperity," the Express-Courier said. The population was just under 9,000 at the time, and had been stagnant for a decade. It grew during the oil boom, but not nearly as much as projected. Fort Collins' population in 1930 was 11,489, a 31% growth for the 1920s.
FORT COLLINS OIL FIELD
COLORADO STORY-Hafen (pages 376-378)
1925
The annual output (of oil) passed one million barrels of crude oil (with a flow from the Wellington dome near Fort Collins and from the field near Craig). Production did not reach large proportions during the next fifteen years, but averaged about one and a half million barrels annually. (Mark Miller photograph).
OIL FIELD
FORT COLLINS EXPRESS-COURIER (9/19/1928 page 14)
Drilling still going on. " The heaviest drilling was done in 1925 and part of 1926, when ten to twelve teams were at work in the field. They started drilling in 1923, the first well came in on Armistice day that year. Continuous drilling since that time, has given Fort Collins 34 producing wells, all owned in whole or part by the Union Oil Company." A 100,000 barrel month. Natural gas for Fort Collins, Cheyenne & the cement plant. This was the largest oil field in Colorado, the 3rd largest in the Rocky Mountain region.
NATURAL GAS TO FORT COLLINS
COLORADO STORY-Hafen (pages 375-6)
1929
Natural gas pipeline from Amarillo, Texas, to Denver was completed June, 1928. A year later the gas line was extended 75 miles north to Fort Collins (where it connected with the Cheyenne, WY system).
NATURAL GAS
FORT COLLINS EXPRESS-COURIER (12/10/1925 page 1)
The final connections are being made in the meterhouse at the gas plant today connecting up natural gas from the Mitchell well (fourteen miles to the south of Fort Collins with the city's mains. Gas will be turned into the main's in Fort Collins tonight. First City in Colorado to get use of natural gas.
MITCHELL'S GAS FIRE
FORT COLLINS EXPRESS-COURIER (7/23/1924 page 1)
A 2nd BIG GAS WELL (on Mitchell ranch in Larimer County) caught fire 4 days after it first blew--it had not been properly capped. Spark from a rock reportedly started it. One man was seriously burned, others were only slightly injured. It had been throwing 82 million cubic feet of gas daily, burned for a month until nitro charge put it out. It was finally capped 2 weeks later.
FORT COLLINS REFINING COMPANY
FORT COLLINS EXPRESS-COURIER
1924
President of Quaker Oil Company, Vice president of Colorado & Southern & other Oil Men completed the agreement here Monday. Calling for the immediate relocation of refining on the C & S to be on the Northeast side of town, where the stockyards are now located. To cost $750,000 & be called the Fort Collins Refining Company. One mile east of town on C & S Stockyards, which are to be removed. The refining company is not connected with the Quaker Oil Company and the Colorado & Southern Railroads except that their official names are in it as individuals only. Quaker Oil had property in the field & was drilling one well at the time. Fort Collins men involved were Dr. D. O. Norton, O. H. Bonner & N. E. Bonner.
FISH HATCHERY
FORT COLLINS EXPRESS-COURIER (7/30/1924)

Fort Collins citizens raised money & purchased land near Bellvue to give area a fish hatchery. It had a capacity of 3 million eggs annually. It cost $20,000. Expected date of operation-Oct. 15th.
COURIER TAKEN OVER
FORT COLLINS EXPRESS (5/16/1920)
By a deal consummated Saturday, the stock (of Morris-Emerson) and Ralph Goff (of the Courier Printing and Publishing Company), was purchased by George C. and James G. McCormick, P. R. McDowell and a number of Fort Collins businessmen. It is the intention (in the near future) to consolidate the two papers, this movement having been urged for years by businessmen & others in Fort Collins. The McCormicks have published the Fort Collins Express for the past 14 years. Mr.Goff has been with the Fort Collins Courier for about ten years & Mr. Emerson for about four years. Both papers have been doing a good business; but the increasing cost of production made it advisable for the papers to consolidate just as hundreds of others are doing all over the United States at this time. For the present, each paper will be published as heretofore. It is apparent (to everyone) that under present conditions Fort Collins is a one newspaper town & the public will be better served by morning & evening editions issued by one management (with one set of overhead expenses & one setting of ads). This will reduce the advertising rate to the advertisers & give the public better news service. It is the only way to meet present conditions.
FORT COLLINS INDUSTRY
FORT COLLINS EXPRESS-COURIER (9/19/1928)

Larimer County ranked 3rd among Colorado Counties in manufactured products, most of which were located in the Fort Collins vicinity. The Sugar Factory & the newly established Cement Plant (a few miles away from Fort Collins) are among the biggest producers. Others included are: The Foundry Shop, Union Oil Company, Brick & Tile Company, Canning Factory, Flour Mills, Ice Factory, Creameries & Butter Factories. Fort Collins is a good location with cheap power sources.
CEMENT PLANT, LAPORTE
COLORADO AND IT'S PEOPLE-Hafen & Hafen (Vol. II, p. 538 (380?))
1927
Ideal Cement plant built near LaPorte in 1929. Crushed limestone and shale are the principal materials used in the manufacturing of cement.
MIDWEST SUGAR FACTORY
FORT COLLINS EXPRESS
March 1920
Nickerson and Keck had been in constant communication with a committee from the Beet Growers Association. E. A. Nickerson and A. W. Keck, made propositions to incorporate the Midwest Sugar Company in Fort Collins. The Midwest Sugar Company formerly operated in California. The company will contract out to experienced beet farmers for five years. A total of 6,500 acres will be contracted out. Growers are also asked to subscribe for $200,000 in capital stock, and $200,000 in bonds.
GREAT WESTERN SUGAR AND THE SPANISH-AMERICAN COMMUNITY
FORT COLLINS YESTERDAYS-Swanson (pages 62-63)
1923
Great Western announced plans for a colony of Spanish-American workers.... Material for a two room house was $75. Many were of adobe construction in the traditional building method of the southwest. The company furnished straw, lime & gravel to encourage the workers to build their own homes. The first year NO PAYMENT was required the next three $40 a year, & the fifth $25 to $50 for the lot 50 X 85 feet. By this system the Company hoped to hold steadier & more dependable workers. A survey of Colorado noted that only in Fort Collins were the Spanish-speaking beet workers becoming farm tenants or owners. The screening process attempted to select the best workers. Character references were required & the Company could evict occupants if the home was used for any illegal activities. "Alta Vista" or the Spanish Colony was officially plotted and registered by the Company with the county in February 1927. The Company criticized in general housing standards provided by the farmers for migrant workers. On the other hand, they also had praised a few for their improvements.
PIGGLY WIGGLY STORES
FORT COLLINS EXPRESS-COURIER (9/19/1928)
Grocery chain store was well patronized; large chain store allowed for lower prices. Price tags on items allowed women to shop at their own leisure & decide what to buy without a clerk's influence.
EMPLOYMENT
FORT COLLINS EXPRESS-COURIER (2/17/1929)
A list of Fort Collins employers was compiled & the number of their employees. The list was then divided into 4 categories: Small Industries, Large Industries, Utilities & Special. A total of 1543 people were employed by these four industries. The Agricultural College was the single largest employer by far, with 417 employees. Portland Cement Company was next with 160.
FIRST HOME MOVIE
FORT COLLINS EXPRESS-COURIER
1920
Fort Collins will make her initial step towards fame in the movie world (Friday afternoon at 2 P.M. on the college campus) when the shooting of the film "The Girl From Fort Collins" will start. The public is cordially invited to be on hand and watch how the making of a production is done. The cast will contain all Fort Collins folks. The picture will be shown as soon as it is completed, at the Empress Theater.
CINEMA/TALKIES
COLORADOAN
1929
The BIG ANNOUNCEMENT that everyone had been waiting for came on March 10, 1929. There was a half page newspaper ad that announced Now you may see AND hear movies at the American Theater!!!!!!!" The ad showed three scenes from forth coming "talkies", that included "The Jazz Singer" staring Al Jolson. Fort Collins had experienced early experiments with sound movies (invented by Edison with a kinetophone picture at the Empress Theater in 1913). These short pictures most often were a short performance by a singer, synchronized (more or less) to a phonograph.
FIRST RADIO SHOW
FORT COLLINS EXPRESS-COURIER
1929
A dedication message by former Fort Collins resident M. H. Aylesworth (president of National Broadcasting Company) was featured for opening day of the radio show. It was held at the Northern Hotel, on Friday & Saturday. The number of sets for the show is the largest ever shown Northern Colorado. During the 2 days of the show, the dealers (on the average) expect to draw the largest crowd ever to attend a radio show in this area.
Besides the display on the mezzanine floor, the dealers have each placed one set in the lobby. These sets will be used to furnish music for the show and the set is to be awarded on Saturday night.
DENVER POST ARTICLES
1924
Colorado & Southern Railroad station safe cracked (6-19-1924 3/2)
Fort Collins Field
Whitaker well comes in as oil producer (8-8-1924 1/7)
Shoots 6 in. column 200 ft. (8-9-1924 1/2)
Dr. D. O. Norton and others to build refinery (10-1-1924 1/7)
American Gasoline and Refining Co. to build refinery (10-9-1924 1/5)
Safe blown at A. P. Jordan's grocery (11-12-1924 1/4)
To have $2,000,000 cement plant (12-18-1924 26/1)
1925
Fort Collins Producing Assn. loses $461,504 in 1924 (4-7-1925 25/1)
Farmers Bank and Trust Co. closes doors (5-4-1925 11/1)
To get gas (9-6-1925 12/1)
1927
Big chicken hatchery is planned (5-21-1927 3/5)
Cattle Feeders Asso. hold convention (6-12-1927 3/5)
Public Service Co. safe cracked (7-11-1927 2/1)
To have chicken hatchery (8-29-1927 10/8)
1928
Fort Collins Express-Courier newspaper is sold (3-30-1928 8/5)
Same (3-30-1938 13/3)
Burned (6-5-1929 30/7)
Sold to M. C. Spridel (10-29-1936 20/3)
Union Oil Co. of Calif. wins Supreme Court case vs. C. J. Goodrich (12-31-1928 4/2)
1929
Co. C. increases yield (1-6-1929 3/6)
TOP
---
AGRICULTURE
BIG BEET CONTRACT
FORT COLLINS EXPRESS-COURIER
1925
Fort Collins Express-Courier ran headlines and extra issues to announce contract between the Mountain States Growers Marketing Association & the Great Western Sugar Company. In addition to the 8 minimum for 1926 sugar beets (which is an increase of $2 per ton over last year) the grower will get a figure (determined by a sliding scale) higher than last year if volume of production increases and a bonus for volume of production. The Great Western collects the Beet Growers Association dues. This attractive contract insures a record beet acreage for Colorado for next year. Crop conditions are favorable for A BIG YIELD!!! The Sugar Company and the Beet Growers Association are in perfect accord. All this spells of prosperity and great activity for 1926.
BEET FIELD LABOR
FORT COLLINS YESTERDAYS-Swanson (page 64)
Summarizes the work done by the incoming laborers in 1924! Described their arrival in April in time for the blocking and thinning of the beets. The hoeing was the next BIG CHORE, the second hoeing ended in late July. Then there was no hand labor needed until the October harvest. Loosened by horsedrawn machines (called "lifters") then pulled by hand & thrown in piles to be topped. The worker, with a knife in his right hand, hooked up the beet & chopped off the crown of leaves with a sharp downward stroke. He used a knife eighteen inches long with a hook. Fort Worth and El Paso were the leading recruiting centers for the best field workers. The basic problem was that of seasonal fluctuation. Many families depended on seasonal labor & had no regular income for large parts of the year.
POSTWAR DEPRESSION ON FARMS
DEMOCRACY'S COLLEGE-Hansen (page 294-295)
1920
Inflation was rampant, according to the State's Board of Agriculture. There was an inequitable tax situation existing, along with the existing drought. Gas powered tractors made their introduction to farming.
LARIMER COUNTY CENTER
FORT COLLINS EXPRESS-COURIER
1928
Larimer County is still the best agricultural and livestock county in the State. In no other county of Colorado are fed as many sheep & cattle as in Larimer County. Lots of manure & crop rotation increases productiveness of soil. Most crops in the county are kept here for livestock. This is a health condition and insures continued fertility of our soils.
DENVER POST ARTICLES
1926
Fort Collins Producing Corp.
Earns over $5 per share (7-19-1926 16/1)
Larimer Co. output is over 5,000 lbs per day (12-8-1926 30/1)
1927
Water system finished (8-4-1927 4/7)
Contract let for irrigation reservoir (8-25-1927 10/8)
TOP
---
PEOPLE
FATHER JOSEPH PIERRE TRUDEL & HOLY FAMILY CHURCH
FORT COLLINS YESTERDAYS-Swanson (pages 64-66)
1929
He was ordained in Quebec in 1901, studied in Paris. Joseph came to Colorado for his health in 1911. He rapidly learned Spanish & concentrated on the needs of this part of the population. In 1924, he came to Fort Collins & remained until 1936. First priest since the French-Canadian's to minister to the Spanish speaking people. Establishing 7 mission chapels for Spanish speaking people in Northern Colorado. The construction of the church of the Holy Family occurred in 1929 in Fort Collins. This happening unified the Spanish speaking Catholics here. Father Trudel began services in 1924, with a building bought from the Presbyterians. C. V. Maddux was in charge of Mexican Labor (for Great Western) for they attended the dedication. The Company had contributed to the purchase price on his recommendation. He assumed the Catholic position, that all religious makings were for a social good. There were 500 in the audience.
DENVER POST ARTICLES
1927
John H. Nightingale is postmaster (4-8-1927 1/8)
TOP
---
GOVERNMENT/CITY DEVELOPMENT
CHILD LABOR ISSUE
FORT COLLINS EXPRESS-COURIER (10/28/1921)
Two Denver Club women visited Fort Collins to get opinions from people in sugar producing county on a bill they wanted to initiate at the next general election. The bill would have prohibited children under the age of 14 from working in the beet fields. Dr. C. A. Lory called a meeting of the Y.M.C.A. 30 representative citizens were invited to hear & confer with the Denver ladies. That is, those who were concerned with children's safety & education. General opinions of Fort Collins representatives were that present laws were adequate to provide for education & safety of children, if properly enforced.
FORT COLLINS COMMUNITY NEEDS
FORT COLLINS EXPRESS-COURIER (1/13/1929)
A poll was conducted based on responses to a questioner. It inquired of what Fort Collins needed most." The voting was done on 50 top suggestions. The top 3 were: 1) Provisions of money & work during the slack period of the year. 2) Municipal light & power plant. 3) Rerouting of Colorado & Southern railroad line to come in from East & use Union Pacific Station.
NEW ZONING ORDINANCE
FORT COLLINS EXPRESS-COURIER (5/31/1929)
The city council (at its Friday session) voted unanimously to adopt the ordinance. "The measure is designed to evaluate and restrict the use of lands & buildings, to limit the height of buildings & to determine the size of yards surrounding buildings. Its purpose is the promotion of health, general welfare & stabilization of property value. This was accomplished by restricting each type of residence, business and industry to its specified district". Divided into residential, commercial & industrial districts. There were 3 residential classes, 2 commercial classes & 1 industrial class. The new zoning ordinance went into effect June 14th. Ordinance printed in the June issue of the Fort Collins Express-Courier with maps.
WATERWORKS EXPANSION
FORT COLLINS EXPRESS-COURIER (9/19/1928)
New reservoir & pipelines will supply water for the next 25 years of growth. Up to a population of 45,000. Large amount of water available for domestic use IS A BIG Fort Collins privilege! System is considered "equalled by few Colorado cities".
NO SUNDAY BUSINESS
FORT COLLINS EXPRESS-COURIER (12/07/1924)
City Council discussed an ordinance prohibiting the operation of "business houses" on Sunday. The discussion was the result of a recent violation, although it had been discussed sometime before. L. R. Temple (attorney for Harry Speak who was ousted for violating the ordinance) questioned the ability of some of the provisions of the ordinance to stand the test of constitutionality in court. Drug stores were an exception to the rule (medicine & refreshments were the reason). The problem of business men who observe some other day than Sunday as Sabbath was discussed. Some overlapping of goods pointed to the fact that Drug Stores & Restaurants were selling items which might be in grocery stores (which were not allowed to be open). This hinted of unfair competition! The overall opinion was that Fort Collins citizens favored Sunday closings.
CITY GOVERNMENT
FORT COLLINS YESTERDAYS-Swanson (page 240)
1925
1920 ordinance allowed NO WAGONS loaded with beet pulp to park on pavement. A 1927 ordinance called for beautification of trees & the City, but not much done until Clark Jorgensen was appointed arborist in 1963. There was a zoning ordinance in 1929, but NO BOARD to enforce it until new charter of 1954.
Mayors: 1918-24 Fred W. Stover
1924-30 Frank R. Montgomery
CENSUS CHALLENGED
FORT COLLINS EXPRESS-COURIER (5/12(16)/1920)
Express newspaper is upset over census reports which give Fort Collins' population as 8,734, a gain of only 524. Express says count is a "Slap in the City's Face, every citizen can prove his loyalty in backing the recount." An article states Fort Collins is actually about twice that size, 12,000 to 15,000 is the estimation. A recount should be paid for; Express newspaper will start collection with a $100 donation. They urged Fort Collins citizens to stand up for Fort Collins and pay for the recount. Fort Collins Commercial club decided to make recount of city's population. Population would be about 10,000, still enough of a difference to justify recount.
CITY RECALL MOVEMENT
FORT COLLINS EXPRESS-COURIER (11/04/1921)
One or possibly ALL of the City commissioners will be required if plans set afoot by the Taxpayers League at its' Thursday night meeting in the district courtroom are carried through to a successful termination. The League passed a motion instructing the executive committee to initiate a recall of one or more of the City commissioners. This action was taken as a climax of the meeting, which was called to consider a report on the reception of the petition initiated by the League for the amendment of two ordinances received at the hands of the City Clerk. This action also was in view of a report made to the meeting, charging the City with wasting money and the council with making an insincere attempt to reduce the cost of City government in its' wage cutting. 5 of 7 League Officials opposed to a recall movement. Mayor Stover & other City officials expressed a willingness to cooperate in any investigation.
FIRST TRAFFIC LIGHT
TRIANGLE REVIEW (History Section page 82)
1925
From the scrapbook--"The Good Old Days". Light was installed at Mountain and College. It was an old model with red & green arms that came down to control traffic. It had dual indicators to cut down on possible accidents. Cost for installation, in 1925 approximately $2,500.
FANCHER SARCHET SHOT/TRIAL
FORT COLLINS EXPRESS-COURIER
1927
Fancher Sarchet came to Fort Collins in 1906. His flamboyant personality made him a likely target, as people either loved him or hated him. "In a manner bearing all the marks of a professional gunman, local attorney (Fancher Sarchet) was shot with a shotgun by an unknown assailant. This person committed an early phase of the "drive-by shooting." It took place on the Adult Highway, about 5 miles northwest of the City at 10:30 P.M. Friday night. The victim of the attack is at Larimer County Hospital, where he is in serious condition. It is feared that he may lose the sight of his left eye. Officers were baffled. The eye was later removed. A complaint was filed, charging J. J. Verstraten, Perry W. Johnbeck & Clyde J. Bartelson with assault with intent to kill. Bartelson is alleged to have confessed to the shooting. He said Verstraten hired himself & Johnbeck to do it. Verstraten was tried in May in District Court in Greeley, Weld County. Jury disagreed after being out fifty hours. Bartelson confessed to the actual shooting, he was sentenced to serve from 18 months to 14 years. The charge of attempted murder pending against Johnbeck. He drove the rented automobile, according to Bartelson. A new trial for Verstraten was set for Dec. The cases were taken to Weld County. This was after prosecutor obtained order for a change of venue, after charging prejudice upon part of the Larimer County people. The case was reopened again in January, amidst charges of jury tampering. The jury & witnesses were dismissed for the day. Verstraten was found not guilty of assault with intent to kill. The case against Johnbeck was dismissed, due to lack of evidence.
STOLEN HAIR
FORT COLLINS EXPRESS-COURIER
1922
14 year old Ellen Ryder had her hair stolen as she slept on a curtained porch at the rear of her family's home at 938 W. Mountain Avenue. Apparently an intruder lifted the hooklatch with something and then punched through a small slit in the screen. They found some scissors on the dining room table. He/She returned to the porch, where he/she cut the long braided hair (which reached below the waist), possibly intending to re-sell it.
DENVER POST ARTICLES
1921
Tax payers start recall movement (11-5-1921 7/5)
1922
Woolworth Store robbed of $400 (3-7-1922 9/1)
Is temporary military center with 300 regulars, student soldiers and army aviators (5-25-1922 5/3)
1925
Rev. F. Moore asks injunction vs. roadhouse (3-1-1925 9/4)
H. J. Doss to cross question the Rev. (3-1-1925 14/4)

Suit in court (roadhouse) (3-17-1925 8/1)
Six men file jail bars (11-14-1925 3/3)
A. Drees and son killed in laundry explosion (12-11-1925 1/7)

1927
Foremen and policemen get raises (7-24-1927 12/7)
Bandits rob post office of $10,000 and flee in direction of (on back of card) (7-25-1927 4/1)
Same as above (7-25-1927 1/8)
No trace of bandits (7-26-1927 3/2)
James and Floyd Vandewark, icemen, held on water theft charge (7- 27-1927 16/5)
Riverside Ice and Cold Storage Co. fined $150 for using city water (8-12-1927 3/6)
State closes it 24 hours 8-26-27 5/1 Mistrial in water hearing (8-16-1927 3/3)
Canned goods are stolen (9-5-1927 9/7 S2)

1928
Avery block burns (2-7-1928 2/2)
Election April 3 (2-19-1928 12/1)
Election to be April 3, Sheep Feeders Day (3-10-1928 22/4)
Sawmill burns (6-23-1928 5/1)
Hotel men protest city tourist camp (7-15-1928 12/3)
1929
Supreme Court holds tax for paving rwy street center invalid (9-30-1929)
Three Mexicans burned to death in ranch house (9-30-1929 14/1)
To have airport (11-29-1929 14/7)
TOP
---
COLLEGE/UNIVERSITY
COLORADO SCHOOL OF AGRICULTURE CLOSES
FORT COLLINS EXPRESS-COURIER (4/1/1927)
With the graduation of 13 seniors at the annual commencement exercises in the Agricultural College auditorium Thursday night, the Colorado School of Agriculture brought to a close its 18 years of service as a short course secondary vocational school. President Charles A. Lory of the Agricultural College, who established the school in 1909 (shortly after he began service as president) was the commencement speaker. He recounted some of the important things that the school has worked for and accomplished.
STUDENT PRANKS
FORT COLLINS EXPRESS-COURIER (5/20/1923)
22 students made news by scaring sorority girls by walking a goat through sorority houses on the night of May 1st. They were suspended for 2 weeks; they would probably miss finals & fail.
COLLEGE PRACTICE HOUSE
FORT COLLINS EXPRESS-COURIER (6/18/1921)
A formerly ill baby turned out to be part of the equipment at the home economics practice house. Six girls (taking domestic science) learned to keep house by actually doing it. College instructor & six girls cared for the baby, who required a special diet. The mother visited each day.
FIVE-MILL LEVY
DEMOCRACY'S COLLEGE-Hansen (page 291-292)
1920
By the State legislature for higher education, the five-mill levy was voted on after a college-led campaign.
STATE BIBLE COLLEGE
FORT COLLINS EXPRESS-COURIER
1928
Established on Sept. 1, 1927, in Fort Collins. It succeeded the Christian Bible College of Colorado, formerly located in Denver. The Colorado Bible College is one of a chain of colleges conducted by the International Bible Mission of Eugene, Oregon. They had classes in Liberal Arts, Classical and Biblical Religious Education, Teachers Training and Natural Bible Courses.
TOP
---
CIVIC
FDR IN FORT COLLINS
COLORADOAN (7/5/1980)
10/07/1920
See museum for extensive files!
THRIFT DAY
FORT COLLINS EXPRESS-COURIER (4/15/1926)
Fort Collins will have a weekly thrift day starting next week. This has been arranged by the Merchants Bureau of the Chamber of Commerce, to stimulate shopping on Wednesday and to attract more shoppers to the city in greater numbers. Wednesday of each week will be the day for "thrifty buyers." Thrift specials advertised on Monday offer a certain item for a special price on Wednesday.
SECRETARY WORK VISITS
FORT COLLINS EXPRESS-COURIER (7/19/1927)
Dr. Hubert Work (Secretary of the Interior & former Colorado resident) was in Fort Collins. An audience of more than 1,000 heard Dr. Hubert Work discuss one of the most vital issues of the day at the College auditorium Monday night. It was at that time he was presented to Fort Collins citizens & Summer School students, under the auspices of the Colorado Agricultural College. Secretary Work paid personal tribute to President Charles A. Lory (who was introduced to him) & to A. A. Edwards, chairman of the State Board of Agriculture (who was present) and also to Dr. Edward Mead (U.S.Commissioner of Reclamation) formerly a member of the faculty here. He is now ill in a Denver Hospital.
WINDSOR BASKETBALL CHAMPIONS
FORT COLLINS EXPRESS-COURIER

1924
Windsor High School won the National Interscholastic Basketball Championship Tournament, defeating Yankton S.D. 25-6 in the Championship game. The tournament involved schools from all over the USA. Windsor was the Northern Colorado Conference Champion, school only had enrollment of 120. Town population was 1,300. That event made for BIG HEADLINES in the Express-Courier. Town of Windsor "went crazy" when they heard the news from Chicago. Fort Collins contributed to welcome home celebration for "The Wizards".
NATIONAL HIGH SCHOOL CHAMPS
COLORADOAN
1927
Fort Collins High School won the National Track Championship 3 years in a row, to bring home the silver Chicago Cup (had to win it 3 times to get permanent possession). Coached by Ted Blevins (field events) & George Scott (track). They took 6 places in the Hammer Throw, which provided the edge over the other teams.
FCHS TRACK CHAMPIONSHIP
Miller Collection-FORT COLLINS EXPRESS-COURIER
1925
Fort Collins High School track team and Coach George Scott were welcomed home from Chicago (where the team won the National Championship at the National Interscholastic meet at Chicago) originated by Amos Alonzo Stagg.
FORT COLLINS NEW HIGH SCHOOL
FORT COLLINS EXPRESS-COURIER
1928
Land for a 3 story building & frontage park was donated by L. C. Moore. A bond was issued for $400,000 for the building passed in 1923. The old High School was too crowded. South College location was considered advantageous because of the beauty of the surroundings & the accessibility of near-by streetcars. The cornerstone was laid in 1924; the building was completed in 1925. Ironically, Fort Collins built a new Fort Collins High School in 1995 for the same reason as before.
NATIONAL TRACK & FIELD CHAMPIONS
FORT COLLINS EXPRESS-COURIER
1925
Massive headlines announce the news that Fort Collins High School had won the National Championship. Fort Collins High School (which last year tied for 2nd), today (June 6th) won the National Interscholastic meet held here under the auspices of the University of Chicago by a margin of 7 & 1\2 points. Fort Collins' total was 20 & 1\2. Most of the points came in field events. A BIG CELEBRATION was planned to welcome home the champs! Businesses were urged to close.
FARMER-MERCHANT PARTY
FORT COLLINS EXPRESS-COURIER
1928
The Farmer-Merchant Party began in 1925, it was an annual event in Fort Collins. Fort Collins businessmen were host to State officials and Northern Colorado Farmers. In 1928 the entertainment included: Clowns, acrobatics & orchestra members. The party was held at the College gymnasium. Express-Courier & Fort Collins merchants held open house. Gov. Ammons attended.
PROSPECT PARTY
MUSEUM (VOGUE) SCRAPBOOK
1921
Within the limits of Fort Collin's City Park, there was once a large grandstand and race track (Fairgrounds & rodeo plus horse races). Frank C. Miller (well known showman, artist & trick shooter) was the manager. This was called the Fort Collins Roundup. The events were: 1) Drills by U.S. troops of the military detachment of C.A.C. 2) Ducking mules and burros 3) Expert and fancy shooting by Frank C. Miller & Captain A. H. Hardy. "The World's Greatest Crack Shots." 4) Potato sack races 5) Ladies bronco riding 6) A night shirt race 7) An umbrella race. Purses ranged from $25 to $250 daily. There was a downfall however, as someone had left the gate open at Prospect Park. The stock escaped!! They trampled many lawns, gardens & etc.
A GREAT DEAL OF VEGETATION! Whoever left the gate open had to face the wrath of the people & the Chamber of Commerce. Frank Miller took his show to Greeley the next year. There, they started the famous Greeley Spud Rodeo. In the late 1920s, the grandstand burned down.
ROUNDUP
FORT COLLINS EXPRESS-COURIER
1922
The Fort Collins Roundup was an annual event, delighting crowds with Wild West Events. The 1922 version featured "Bucking Broncos, Races, Shooting, Bulldogging a steer from an automobile, Trick & Fancy Riding and Roping". Sioux Indians also performed dances. Mr. & Mrs. Frank Miller managed the show. Committees from the Rotary, Kiwanis, Lions Clubs contributed along with the Chamber of Commerce.
YWCA
FORT COLLINS EXPRESS-COURIER
1928
Founded in 1920, they used the YMCA facilities. They were sponsored by two different groups. The first being the Blue Triangle Couriers. They were on a splendid program throughout the year, a program of social, spiritual & intellectual helpfulness for business girls and women. The second group was the Girl Reserves who sought to develop leadership & train girls in high ideals of living.
BUSINESS & PROFESSIONAL WOMEN'S CLUB
FORT COLLINS EXPRESS-COURIER
1928
Membership in the club is confined to women in business and professionals. All types of jobs are represented by more than 50 members. The local chapter is affiliated with the State Organization and was organized in 1926. Its motto: Better Business Women for a Better Business World!!
COMMUNITY ENTERTAINERS
FORT COLLINS EXPRESS-COURIER (9/19/1928)
A 35 member non-profit troupe is giving performances of one acts free. They are charging only a small fee, sufficient to meet expenses. They are doing this, when more pretentious plays are being offered. The Community Entertainers are organized for the purpose of developing dramatic talent and raising standards of amateur theatrical activities of the community.
BETTER BABY CONTEST
FORT COLLINS EXPRESS-COURIER
1927
Results in the Fort Collins Express-Courier's "Better Baby Contest"(which closed Nov.18th) have just been received from the Denver experts who did the judging. As predicted the judges found GREAT DIFFICULTY in narrowing the selection from the 360 entrants. They reported there should have been prizes for every baby. Judith A. Norton (daughter of Dr. and Mrs. D. O. Norton, 316 S. College Avenue) was awarded first place, which entitled the parents to a free oil painting of the baby.
FIDDLERS CONTEST
FORT COLLINS EXPRESS-COURIER

1926
Over 30 contestants entered the Old Fiddlers contest for Larimer County, sponsored by the Fort Collins Express-Courier & the Lyric Theater. Over $150 in prizes, held February 8th & 9th. Five best chosen on each night to compete for championship to be held Wed., Feb. 10th. "The Fort Collins Express-Courier is putting Fort Collins on the map as the Fiddlers' Capital of the west. It recognizes NO RIVAL outside Missouri." Henry Ford (the patron saint of the old fiddlers) was impersonated by W. E. Vaplor, who presided at the contest at the Lyric Theater on Monday. Contest was won by Adam Deines, an aged German who played on a fiddle brought from Russia many years ago.
DENVER POST ARTICLES
1922
Annual roundup July 3,4 and 5th (6-29-1922 15/7)
Roundup boosters in Denver (7-1-1922 11/3)
1924
Cornerstone laid on new high school (5-9-1924 26/3)
1925
St. Joseph Catholic Church to build $60,000 school (3-22-1925 14/8)
1927
Booster week (2-18-1927 20/1)
Fourth annual Lamb Feeders Day (3-27-1927 7/1)
1928
Parent Teacher Association on dancing question (2-18-1928 8/2)
Parents form dance club for children (3-10-1928 7/5)
American Legion to build clubhouse (5-24-1928 6/5)
1929
Mayday fete to be March (4 4-18-1929 27/4)
Spanish Catholic Church new building starts work (4-19-1929 10/3)
Highschool safe cracked (9-23-1929 6/4)
TOP
---
NATURAL PHENOMENA
CYCLONE NEAR TOWN
FORT COLLINS EXPRESS-COURIER (5/6/1920)
"A record breaking" cyclone swept across the county eight miles east of Fort Collins, about 2:30 yesterday afternoon & wrecked homes, fences and telephone poles and everything it's path..... Charles Westfall's home was destroyed, the roof was taken off Frank Well's home. No injuries were reported. It lifted a Ford car & a grain processing mill off the ground, both were demolished. It was called a "record breaker" because of heavy damage. Fort Collins had only thunderstorms & brief periods of hail.
TOP
---
MILITARY ACTIVITIES/WAR
FORT COLLINS NATIONAL GUARD CALLED OUT
FORT COLLINS EXPRESS-COURIER (11/21/1927)
Each man came carrying an automatic pistol with twenty-one rounds of ammunition (equipped with four machine guns). Company H (157th Infantry Machine Gun Company) which was in the command of Capt. Preston J. Murphy. Left at 1 o'clock Monday for the Columbine mine where a clash with WW1 veterans occurred this morning. The Fort Collins Company will receive rifles at the Loveland Armory in route. The Company consists of 65 men, nearly ALL of whom left with the command. Several miners had been killed by State Police (the miners were attacked near the Lafayette Columbine Mine). Many injured, including police. In light of this, the National Guard was called out.
TOP
---
HEALTH/MEDICINE
PUBLIC HEALTH ASSOCIATION
FORT COLLINS EXPRESS-COURIER
1928
Founded for the purpose of assisting persons who are deserving but unable to secure proper dental, surgical or other medical treatment, Larimer County Public Health Association was formed in 1920. Each year since its' organization, it has been helping 100 people deserving of dental and surgical attention. The program was financed by donations from individuals and sale of Red Cross Tuberculosis stamps. Until the previous March, the Public Health Association had supported their own Nurse. They then went to a combination Nurse employed by the association and the College. J. H. Setzler was president of the board. Members included Dr. P. J.McHugh, Miss Emma T. Wilkins, Mrs. Luella Rhodes & Nurse Joanne Buoy. Doctors also gave free service to cases recommended by the Association.
MEDICINE
COLORADOAN
1920
Doctor's Office calls were $1.50. House calls $3.00. Night calls $5.00. There was no health insurance, no danger of malpractice suits!!!!! General practitioners handled surgery. Lots of measles, whooping cough, typhoid & scarlet fever along with the usual colds & ailments. No penicillin, insulin or sulphur for infections. Usually just put patients to bed, tried to control the fever, & let illness run its course.
RED CROSS
FORT COLLINS EXPRESS-COURIER
1928
The local chapter was organized in 1916. They had offices in the basement of the Y.M.C.A. building. George Glover was the first chairman under whom the war archives for funds were enacted. Families were aided who were left with no support when the father went to war. Garments were made by corps of local women. They donated their services to the Red Cross, and gifts were collected and distributed to the boys overseas. When the influenza epidemic spread, the work of the organization doubled but enthusiasm did not abate. Hospitals were organized in cooperation with the Agricultural College under the supervision of Prof. W. J. Morrill. The old barracks & the civil engineering building on campus served as temporary structures, caring for College students as well as those in the student Army Training Corps. The system was so efficient, that only eight College students (at the Agricultural College) died of influenza. Hospitals also were at the First Presbyterian & at Wellington. It was seen to that returning servicemen & their families were cared for. Health clinics were held. Through the 20s, health programs hardened & strengthened. Doctors, nurses & oculists offered services to the county. Civilian welfare cases handled on the average of 15 cases per month in 1928. Home Hygiene classes were conducted. Free employment bureau especially benefitted the ex-servicemen; they also prepared for disaster relief. Swimming classes were also conducted.
NEW HOSPITAL
FORT COLLINS EXPRESS-COURIER
1928
Larimer County's new $175,000 hospital (located just outside Fort Collins) furnishes adequate facilities for the care of the City & County's sick. It is a beautiful three-story brick structure erected in 1925. It completely modernized hospital care in the vicinity. They had 14,500 patients that year. A description/layout had been given. Named Larimer County Hospital and in the mid-sixties its' name was changed to Poudre Valley Hospital.
TOP
---
CIVIL RIGHTS
KU KLUX KLAN
COLORADO STORY-Hafen & Hafen
1924
"An organization that rose quickly and gained GREAT POWER in Colorado at this time was the Ku Klux Klan. It boasted of 'Americanism', but the reality of it was VERY UN-AMERICAN (for it operated secretly and used its powers against certain groups of citizens). It elected the governor (Clarence Mobley), a majority in the legislature, and several other officials in 1924. Unscrupulous actions and disagreement among members quickly brought its' downfall". Dr. John Locke of Denver was the State "grand dragon". The book "White-robed Knights" (part of the Miller collection), contains a complete account!
FORT COLLINS EXPRESS-COURIER
1924
See extensive museum files for activities in Fort Collins & Larimer County.
FORT COLLINS EXPRESS-COURIER
1925
The Klan was an influential force in State politics in the 1920s. In many of the tours over the State, the attempt of the Ku Klux Klan to control the board of education's spirit contends. Dr. M. A. Gates and C. S. Ickes along with the Ku Klux Klan supported candidates for school directors in Fort Collins. District no. 5 went down to defeat Monday, in the most hotly contested school election ever held in Fort Collins. The successful candidates were Prof. L. L. McDonald (a member of the Agricultural College Faculty) & L. D. Hall (the Ford dealer in Fort Collins). The election brought out many more voters than usual. Lone Klan candidates in the State fared better including two in Denver & Longmont.
FORT COLLINS EXPRESS-COURIER (Editorial in Miller Collection, page 240)
1924
The Ku Kluxers have had a man here the past few days trying to organize Fort Collins. This old town is doing pretty well and feels NO NEED of the strife, dissension and turmoil that usually follow when the Klan gets a good hold. Fort Collins will do well to let other places experiment with the Klan. If it is a good thing, there will be plenty of time to take it on after it has proved beneficial in other places. The town is over-organized right now, without burning a fiery cross or putting on a nightshirt parade.
TOP
---
TRANSPORTATION
CHRISTMAN FIELD (AIRFIELD)
MILLER COLLECTION-FORT COLLINS EXPRESS-COURIER
1925
Mayor Frank R. Montgomery and others inspected possible sites for the local airfield. Site was located at the West end of LaPorte Avenue. Chosen, and later named for Lt. Bert Christman (first U.S. World War II casualty). Shot down as pilot for the Flying Tigers, who were in combat with the Japanese. City Aviation Department formed by the City Council. $3,000 appropriated for maintenance and operation of the airfield.
AIRPORT DEDICATION
FORT COLLINS EXPRESS-COURIER
1929
Commander Paul V. McNutt of the American Legion will dedicate the Fort Collins airport (at 9:00 A.M. Tuesday morning) to the use of aviators in ceremonies to be held at the field in the A.M. With the delivery of a brief dedication address (and the removal of a silvered rock signifying final preparation of the Fort Collins airport). Plane to leave for Denver with sack of airmail to advertise the availability of the Fort Collins field.
FORT COLLINS-DENVER BUSINESS LINE
FORT COLLINS EXPRESS-COURIER
1921
A bus line between Denver & Fort Collins was established Monday, according to messengers Frank W. Swerer and George Hinman. They made the trip with the first bus over the proposed route. Bus was a white car with a 12 passenger capacity. It was operated by Paradox Land and Transport Company, headquartered in Denver. Routes also reached included: Broomfield, Lafayette, Longmont, Berthoud & Loveland.
The headquarters for the busses in Fort Collins will be at the Northern Hotel and the Northern Garage. The fare from Fort Collins to Denver is $2.78, this being twelve cents above the railroad fare. The rates between other points are said to be lower than the railroad rates.
DENVER POST ARTICLES
1927
Streetcar fare to be raised (11-6-1927 11/4)
1928
Five autoists (sic) may lose license (8-24-1928 7/2)
1929
Streetcar fare is 5 cents (8-11-1929 12/5)
pre-1860 | 1860 | 1870 | 1880 | 1890 | 1900 | 1910 | 1920 | 1930 | 1940 | 1950 | 1960 | 1970 | 1980 | 2000
Time Line Home