Fort Collins Detailed Time Line 1900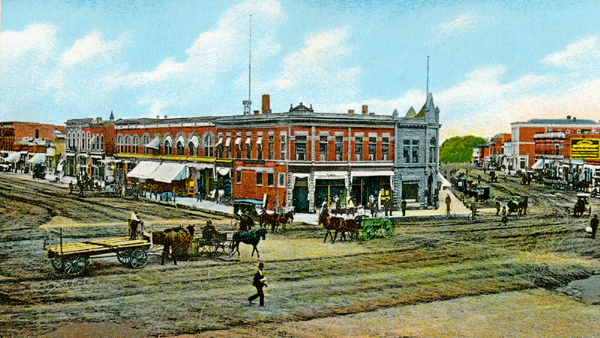 The following links are to a chronological index of Fort Collins information compiled by Fort Collins Archive volunteers and staff.
The information is from these reference sources and they are noted in the Time Line. There is also a Brief Time Line available.
[BUSINESS/INDUSTRY] [AGRICULTURE] [PEOPLE] [GOVERNMENT/CITY DEVELOPMENT] [COLLEGE/UNIVERSITY] [CIVIC] [NATURAL PHENOMENA] [MILITARY ACTIVITIES/WAR] [HEALTH/MEDICINE] [CIVIL RIGHTS] [TRANSPORTATION]
The twentieth century began in Fort Collins with developments which promised a bright economic future. Noting the success of the Loveland sugar factory and how it helped increase property values, local leaders took steps to procure a plant for Fort Collins. Pledged acreage for the factory site was secured on Vine Avenue north of the Poudre River. The factory was completed in 1903 at a cost of 1.25 million dollars and began slicing beets in January the following year. It had an immediate impact on the town's economy and demographics. In its first year it had a payroll three times as large as all other manufacturing payrolls in the area combined.
Immigrant labor had been promised for beet growers. German-Russian and Hispanic families filled the need. The German-Russians were descendants of German immigrants to Russia in the 18th century. Most had already been part of communities in Nebraska and Kansas. Some of these families lived in a new community called Buckingham Place, located north of the river and within walking distance of the factory. Hispanic families also lived in Buckingham Place, which the city annexed in 1906. Andersonville, (Peter Anderson's farm) another immigrant community, was platted in 1903.
These communities had barely been established before the worst flood in Fort Collins history, in terms of monetary damage, struck the town in May, 1904. Many of the new families had settled in the flood plain east of the river. Several lost virtually everything they owned. Elsewhere, whole fields of fruits and vegetables were ruined. The sugar factory was surrounded by water. Fort Collins citizens helped immigrant families recover with donated goods.
As the fortunes of the sugar beet industry rose in the region so did those of the sheep feeding industry. Benefitting from cheap feed from sugar beet by-products and from providing a local and abundant supply of manure for plant food, feed lots became a profitable endeavor.
To advertise their ability to fatten lambs, the people of Fort Collins held Lamb Day in 1909. Two hundred lambs were slaughtered for the free barbecue which attracted about ten thousand people, some of whom were brought in from neighboring towns by train. The event was held in the business district on Oak Street. Another such celebration took place in 1910 after which local merchants decided that such extraordinary publicity was no longer needed for the profitable industry.
There were other indications of industrial growth. Natural gas was beginning to benefit the region. In 1904 the Poudre Valley Gas Company was incorporated. A plant was completed in March, 1905, and gas was channeled through six miles of mains, providing consumers with a new source of light and heat. In 1907 the discovery of a major flow of natural gas in Soldier Canyon, west of Fort Collins, led the Courier to speculate that if sufficient sources of such inexpensive fuel could be discovered and developed, manufacturers would likely be quick to locate here.
Oil wells had been discovered and drilled several years before. The oil business led directly to the successful establishment of daily newspapers in Fort Collins. In order to sell oil stock in the community the manager of one of the wells wanted a daily paper as an advertising medium. Thus, in 1902 the Courier began running a daily. Both the Express and Courier had tried unsuccessfully to publish dailies in the 1880s. The new Evening Courier was able to survive albeit without the support of the original patron, who only contributed for a week or two and never paid for the advertising. Increased merchant advertising, legal printing, and the 1902 election provided enough support to keep the daily going.
Another hopeful sign for local industry was a planned Union Pacific Railroad track along Jefferson Street between Fort Collins and Denver. In 1909 after some debate between the city and the railroad over property rights, an ordinance was passed granting the railroad right-of-way with the stipulation that the railroad An increase in local industry was expected to follow.
A railway of a different nature made Fort Collins headlines in the 1900s. The Denver Interurban Railroad, a subsidiary of Colorado and Southern, was granted a franchise in 1906 by the city council. Subsequently the company built a streetcar system. A ride from the end of College to Grandview Cemetery cost five cents. Parties could be held on a chartered car.
Trolley cars were not the only new means of transportation to arrive in Fort Collins during the decade. Many area residents became proud owners of automobiles. A 1904 ordinance restricted automobiles to speeds of twelve miles an hour on city streets and eight miles an hour around corners.
Another fairly new invention the people of Fort Collins were enjoying was moving pictures. The Orpheum Theatre, a member of the national Orpheum circuit, opened in 1907 on North College Avenue. Movies, however, were not always available. Live performances were the major bill of fare at the Orpheum.
The Northern Hotel (formerly the Commercial Hotel) was located across the street from the Orpheum Theatre. Remodeled in 1905, it was noted for its' size and elegance. It contained eighty rooms, including suites, and a large dining room highlighted by a dome of leaded art glass in the ceiling. The hotel answered the increased need for lodging during a period of rapid growth in Fort Collins.
St. Joseph's Catholic Church was completed in 1901. This striking building with its conical towers still stands at Mountain and Howes. Another new church was built for the German immigrants, who desired a German-speaking church. Montezuma Fuller designed one for them which was built on the southwest corner of Oak and Whedbee.
The development of hospital care in the town continued in this decade when the Fort Collins Hospital Association, organized by doctors in 1903, had a three-story, twenty-seven room hospital built at 301 East Magnolia in 1906.
Perhaps the most celebrated structure built in the decade was the public library, one of the many libraries across the nation which Andrew Carnegie helped to establish. The city received $12,500 from the industrialist/philanthropist for the library upon the condition that it would maintain it as a free public library. It was completed in 1904 at a final cost of about $15,000. The original building had a domed ceiling, which was removed in 1932. Although remodeled in the late 1930's through the aid of the Works Progress Administration, the former Carnegie Library is now the Fort Collins Museum.
The buildings mentioned here highlight the construction boom which took place during the decade. In 1901, $142,725 was spent on building. That amount rose to almost $1 million in 1907. The building boom paralleled the town's population growth. The number of Fort Collins citizens increased from just over 3,000 in 1900 to about 12,000 in 1908.
Improvements were also planned for recreational facilities. In 1907 a petition from over ten percent of the town's population was presented to the city council. The petition requested purchase of grounds for a city park. A bond issue was authorized and the city purchased 60 acres of John Sheldon's farm on the west side of town. The grounds were surveyed in 1909.
Recreational and educational diversions available to Fort Collins citizens included baseball and Chautauquas. Fort Collins had amateur baseball teams since the 1870s. In 1909 a professional team was organized. In spite of some financial problems, the team finished with a 50-6 record and was named the state champion by the Denver News.
Chautauquas were the name given to summer traveling tours which brought educational and entertaining activities to America's small towns. They originated in Chautauqua, New York. Lectures, plays and music informed and entertained Fort Collins residents many times through these tours in the early part of the century. William Jennings Bryan, a regular lecturer on the tour, visited Fort Collins on several occasions.
Hatchet-wielding Carrie Nation was another celebrity to visit Fort Collins in the decade. In August, 1906, she gave her speech "How I Smashed, Why I Smashed and How You May Smash" at the opera house. A packed crowd heard the anti-liquor lecture. The Fort Collins Express noted a majority of the people were sympathetic to her cause, but many questioned her methods.
In 1909 Dr. Charles A. Lory became the agricultural college's fifth president. He would not retire until 1940, easily making him the school's longest tenured president to date.
TOP
---
BUSINESS/INDUSTRY
LOVELAND INDUSTRIES
LOVELAND-BIG THOMPSON (page 29)
1901
Great Western Sugar Factory built, 1901, cost $1 million
Empson Canning Factory, 1907.
Buckhorn Plaster Mill (gypsum) built in early 1880's by Alfred Wild.
Electric Lighting system, 1901.
Sewer system, 1903.
First flour mill set up in Old St. Louis by Andrew Douty in 1867, cost $10,000, ground 75 bushels daily.
Business section paved in 1922, and every street oiled in 1936-37.
Memorial auditorium-City Hall built as WPA project in 1937.
CINEMA
COLORADOAN (4/15/1984, page 15)
"In Fort Collins, movies were mixed with live entertainment in the early days of cinema..."
"Moving pictures were part of the bill of fare at the Orpheum Theater (part of the National Orpheum Circuit), which opened in 1907. But the theater was noted more for such touring 'legitimate' theater productions as opening night's 'Squaw Man' and a few months later, 'The Chimes of Normandy'."
"Movies were also shown in the Opera House, which took the name of the Majestic Theater in the early 1900s." - Became dance hall in 1917.
NATURAL RESOURCES

TRIANGLE REVIEW (4/16/1980), FORT COLLINS EXPRESS-COURIER (10/8/1939), COLORADOAN (10/22/1965)
Oil wells being drilled at several locations around Fort Collins in spring of 1902. Manager of one of the wells wanted to sell oil stock in community--wanted daily paper as advertising medium. Carl Anderson was manager and principal owner at the time. He arranged to begin the daily secretly--didn't want competition to know of plans. Only paid advertisement was by Cache la Poudre Oil Company. Original patron only contributed for a week or two and never paid for advertising received. "Fortunately that year was election year and with the merchants gradually increasing their advertising, together with the legal printing, the daily survived."
First daily to survive--Express and Courier had tried dailies in 1880s but "found the field too narrow" for two dailies.
NATURAL GAS DISCOVERED
FORT COLLINS EXPRESS-COURIER (8/28/1907)
"Discovery of a flow of natural gas three miles west of town on the Soldier Canyon road, at 4 o'clock yesterday afternoon may mean the beginning of a new era of commercial development for Fort Collins and vicinity. The strike was made on the farm of Leslie Horsley, who but recently purchased the place."
"This is not the first indication of natural gas around Fort Collins, but former discoveries did not show as strong a flow as this well. If the Fort Collins field should develop anything near the flow that is found in the Kansas and Oklahoma gas country, it would mean cheap fuel that would bring manufacturing concerns here from all sections in every line for which the raw material can be produced in this section."
GAS COMPANY
HISTORY OF LARIMER COUNTY-Watrous (page 254)
1904-1905
Poudre Valley Gas Company incorporated in 1904. Plant began operation in March, 1905, for "illuminating and heating."
COAL SHORTAGES
FORT COLLINS EXPRESS (11/25/1903)
1903
Strike caused shortages of coal in Fort Collins. Dealers had none to sell. Cold snap would bring suffering. No hope of getting CO coal until strike ends. Dealers trying to get out-of-state coal.
DENVER POST ARTICLES
1908
Coal hurt (2.5.1.1)
NEWSPAPERS-FORT COLLINS
MUSEUM (RED) SCRAPBOOK, page 158-159 for Carl Anderson article.
HISTORY OF LARIMER COUNTY-Watrous
TOP
---
AGRICULTURE
PURE FOOD
FORT COLLINS EXPRESS (4/14/1909, page 1)
C.R. Coulter, representative of State Board of Health was of the opinion that Fort Collins had purest food in state and commended work of Dr. George H. Glover, Pure Food Commissioner. Sanitary conditions of stores received praise.
SUGAR BEET INDUSTRY
HISTORY OF LARIMER COUNTY-Watrous (page 252-54)
1903
Sugar beet factory had been considered since 1888 "...when it was demonstrated by experiments at the State Agricultural College that sugar beets, carrying a high percentage of saccharine matter could be successfully and profitably grown in Larimer county."
"Concerted movement" started in 1891 and "...a representative of the Oxnard interests provided that if the farmers would engage to grow 5,000 acres of beets he would see that a factory was built." There was no mention of subsidy; yet when acreage was pledged, Oxnard wanted $150,000, site for factory, and use of free water. They were refused.
Loveland got factory in 1901. Its' success and use of property values spurred Fort Collins people to get one for own town. Pledged acreage again secured and James B. Arthur and Peter Anderson went east to check factories in Michigan and talk with the Kilby Company of Cleveland, Ohio, builders of Loveland's plant. Closed contract for construction in January, 1902. Building complete in 1903, began to operate January, 1904. Details of capitalization and officers given. Cost $1.25 million.
FORT COLLINS YESTERDAYS-Swanson (page 49-54)
Loveland ahead of Fort Collins in getting factory built. - 1901
Local farmers raise beets for Loveland factory - photo
"In July of 1902, wagon loads of German-Russians were brought up from Loveland to work in the fields. The fall crop of beets was sent by wagon, then train to Loveland."

COLORADOAN (9/26/1982)
Fort Collins plant in first year, 1905, had payroll three times as large as all other manufacturing payrolls in area combined. Immigrants found beet work the pathway to owning land.
DENVER POST
1903
Sugar Company stockholders (1.2.3.14.2)

SUGAR FACTORY
SCD "In Old Wyoming" (page 329)
April 1902
Several leading Fort Collins businessmen formed a company with the idea of building a sugar factory. The men were James B. Arthur, Peter Anderson, B.F. Hottel, James A. Brown, C.R. Welch, and F.M. Shaw.
An agent for the "sugar trust" (American Sugar Refining Co.) was alleged to have incorporated the F.C. Sugar Refining Co. to have tried to outbid the local farmers on the price for a factory. The Courier commented that "it looks now as if the trust would not hesitate to resort to any means that means so much to Colorado." It advises local farmers to get as much money as possible for anything sold to the "sugar trust." The "sugar trust" was accused of seeking the repeal of the tariff on raw (cane) sugar, in an attempt to prevent the rise of the beet sugar industry in Colorado and other western states.
SHEEP FEEDING INDUSTRY
DEMOCRACY'S COLLEGE-Hansen (page 166)
1905
State Senator William A. Drake among first feeders. Drake's influence in establishing A&M Experiment Station - 1905 state financing. His farm included present site of Ghent Ford Agency at College and Drake Road. "After a successful venture involving irrigated farming, he (Drake) become an early investor in the lamb fattening industry which prospered in northeastern Colorado, especially after 1890. The key to this prosperity was the use of the feed lot as an alternative to open range grazing. The availability of cheap feed in the form of alfalfa, and later sugar beet tops and pulp, along with the residual benefit of a accessible manure for plant food, made stock feeding a practical and efficient undertaking. Although pursued as early as 1870, this industry did not achieve significant proportions until the 1890s when sugar raising and refining emerged as one of the most prosperous aspects of Colorado's agricultural economy."
Growth related to Experiment Station research on alfalfa and sugar beets.
SEE "Sheep Feeding Industry" FORT COLLINS YESTERDAYS-Swanson, 1900s
SUGAR BEET ARGUMENTS
FORT COLLINS EXPRESS (12/2/1903, 12/9/1903, 12/30/1903, page 1)
1903
Arguments among growers on difficulty of raising beets and whether or not they are profit makers. Higher beet prices needed. New contract with factory voted down.
EMPIRE GRANGE
COLORADOAN (3/28/1983)

Grange officially called "Patrons of Husbandry"-started in the United States in 1867. Name came from "Granges"--estates which belonged to English feudal lords. "Considered the oldest farm organization in the United States, the Grange served as catalyst to improve the lives of farmers. It also brought farm families together for social functions." "The organization was the force behind rural free delivery mail service, establishment of land grant colleges and electrical and telephone service to rural areas."
Empire Grange organized in April, 1904, had 13 members. Construction began in winter, 1911 on Grange hall on West Mulberry (still standing). "According to organization records, the basement was dug out of the frozen ground. Bricks left over from the construction of the Fort Collins Sugar factory in 1903 were used to build the hall." Robert Maxwell, Grange member, donated the land. Finished in 1912.
Still meets twice/month--10-20 of 50 members usually attend. 1983 average age 40-50--not many young people. More on meetings, passwords given.
TENNEY-DAVY PROJECT
FORT COLLINS EXPRESS-COURIER (2/26/1908)
"Favorable action was taken by the Chamber of Commerce at noon today on the report of the irrigation committee covering the Tenney-Davy project, which if carried out will develop the entire northeastern section of the county, now lying idle for lack of water. It means millions for Fort Collins and thousands of new settlers for the county."
LARAMIE AND POUDRE RESERVOIRS & IRRIGATION CO.
MUSEUM FILES (?)

See D.A. Camfield-AW 346
A.A. Edwards-AW 381
Wellington Hibbard-AW 379-survey 1904
Also called "Laramie River Feeder Ditch"-AW 158-57-58. Involved with bringing water from Laramie River through tunnel to Larimer County Ditch.
KANSAS VS. COLORADO WATER LAWSUIT
DEMOCRACY'S COLLEGE-Hansen (page 163, 315)
1907
1922-Colorado River Compact-page 315
1934-First studies of Colorado-Big Thompson Project-page 315
IMMIGRANT LABOR

FORT COLLINS YESTERDAYS-Swanson, (page 60-64)
1903
"In the flurry of excitement over the new sugar beet factory, the leaders considered the labor problem a minor one. They promised anyone who raised twenty acres or more of sugar beets 'all the Russian help needed and only furnish water and shelter.'"
"The farmers had a lot to learn about the beet culture. They were used to grain and hay crops. There was much to learn about handling people too, for bringing in help was not all that simple. Transient labor, usually men without families, was one traditional source of workers often used to get big programs under way."
Swedish immigrants used for quarries-1880s.
Japanese for help on irrigation ditches and beet fields.
"Most of the German-Russian and the Spanish-speaking people attracted to the beet fields, however, brought families. Though company officials anticipated the German-Russians would fill the need, there were Spanish-Americans in the beet fields around Fort Collins along with the German-Russians in the early 1900s."
"Fort Collins residents had watched the Russians settle in and because of them felt more interest in the politics of the Russian-Japanese war."-Likewise with Spanish-Americans and Mexican civil war later-around 1910.
NEW WATERWORKS
HISTORY OF LARIMER COUNTY-Watrous (page 254)
1903
By 1902-03 demand for water for domestic use greater than supply. Also sewage contamination and impurities during flood period were concerns.
1903-"...the people voted to issue municipal bonds of the city to the amount of $150,000, the proceeds of the sales of which to be used in the extension and enlargement of the city's water system." Bonds were sold and contract let to Holmes & Allen of Denver. Gravity system which would provide 4 million gallons of water every 24 hours. To solve the problem of impurities, "... the city, in 1909, installed near the head works a mechanical filter of sufficient capacity to cleanse and purify all the water the system could carry."
FORT COLLINS EXPRESS (8/26/1903, page 1)
Bonds finally sold by City Council, making way clear for construction--Sweet & Co. bond brokers of Denver disposed of $150,000 worth. Holmes & Allen Pipe and Construction Co. will build.
"The works will consist of the extension of the supply main of the city system of water works from their present location at the pump house near Laporte up into the Poudre Canyon at a point just above the mouth of the North Fork. This will not only afford a purer but a more reliable supply of water for the city."
Above populated area of North Fork Valley, no need for pump, gravity will serve. Thirteen miles of wood stove pipe to be laid.
DENVER POST ARTICLES
1903
Two big water deals announced (no reference numbers)
1905
State Board of Agriculture in session (6.7.1.6)
Firebugs at work (6.14.10.3)
Agricultural College plan for big endowment (6.24.7.2)
TOP
---
PEOPLE
MADAME LAFITTE
FORT COLLINS EVENING COURIER (Miller collection, page 258)
February 1904
"Madame Lafitte, who is not entirely unknown to local fame, received a polite invitation from Marshal Place on Thursday to appear in Police Magistrate Cooper's apartments in the city hall to answer a charge of violating the excise laws of the city by selling booze without a license. The madam took a change of venue and her case was being heard this afternoon in Justice Gunn's court."
GERMANS FROM RUSSIA
FORT COLLINS YESTERDAYS-Swanson (page 54-57, 60)
"The German-Russians had come from the Volga and the Black Sea area of Russia, some directly from Europe, but most after a stop-over in Nebraska or Kansas. Their ancestors had been German immigrants to Russia in the eighteenth century, invited by the Czarina Catherine, who was German herself, to settle there."
They were of mixed religious background. "Those of one religion clustered together in one village in Russia and many moved in groups forming new towns in Nebraska predominantly of one religion. This solidarity was completely lost when they filtered into the Fort Collins area."
"The church was so important in the lives of the immigrants that having one where German was spoken was essential. By June, 1904, the Fort Collins architect, Montezuma Fuller, was receiving bids for the construction of the German Congregational Church on the southwest corner of Whedbee and Oak."
"The sincere determination of the German-Russians to become Americans by building this beautiful church so soon after their arrival when their homes were barely established must have impressed other congregations. It was certainly a help in time of war when anti-German sentiment flared up."
"Some of the homes for the German-Russian immigrants were shacks on particular farms to which they were assigned. Others lived in new houses built north of the river in the flood plain at Buckingham Place. This location was within walking distance of the factory and many fields. In December, 1902, there were thirteen little box houses, twenty by twelve, each with four little windows, going up at Buckingham. There were sheds for horses and cows. 'The houses while small seem comfortable and new ones are being built daily.'"
page 60
"The first two decades after arrival were tough ones for the new families (see "Poudre River Flood, " 1900s) but the speed with which the thrifty farmers became prosperous landowners amazed the pioneers of the earlier period. They soon enjoyed the little niceties available in the town. The grandmothers loved to tell stories of the hard life in Russia. Gradually a deep interest in old country genealogy and geography taught children and grandchildren much about the Volga area."
IMMIGRANT COMMUNITIES
FORT COLLINS YESTERDAYS-Swanson (page 62)
"Homes were clustered about the land east and south of the factory. Spanish names were scattered among the German ones in Buckingham Place, which was annexed to the city in 1906.
"Andersonville on Peter Anderson's farm was plotted outside the city in 1903."
LIBRARIANS
DEMOCRACY'S COLLEGE-Hansen (page 230-231)
1901-1904
Joseph F. Daniels librarian in 1901.
Charlotte A. Baker assistant in 1904, librarian 1910.
BUFFALO BILL'S SHOW
MUSEUM (GREEN) SCRAPBOOK (page 97-104)
1910-Buffalo Bill in first of farewell appearances, see Bill Hornby story in File D.
1917-January, Buffalo Bill dies-File D (picture page).
LADY MOON
MUSEUM (BLACK) SCRAPBOOK (File A "Sir Cecil sues", page 184)
HISTORY OF LARIMER COUNTY-Watrous
MUSEUM FILE A

1909
Photos and relics in museum.
DENVER POST
1905
Lady Moon accuses cattle owners (10.4.2.3)
TOP
---
GOVERNMENT/CITY DEVELOPMENT
CITY DEVELOPMENT
FORT COLLINS YESTERDAYS-Swanson (page 240, 254)
Actions:
"The automobile changed traffic styles in the early 1900s. Dr. Peter McHugh signed an ordinance in 1904 permitting cars to drive twelve miles an hour on city streets, and eight miles an hour around corners."
1906-granted franchise for streetcar
Mayors:
1895-1902 Frederick R. Baker
1903-1904 Dr. P.J. McHugh
1905-1908 Sam H. Clammer
1909-1910 Myron H. Akin
NORTHERN HOTEL
MUSEUM (VOGUE) SCRAPBOOK (page 201)
1905
"One of the major features of the Northern Hotel when it opened in 1905, was the tinted glass dome that arched 20 feet across the center of the main dining room ceiling.
Ace Gillette, 1220 Green Street, operated the hotel at 170 North College Avenue from 1940 to 1967. He was responsible for covering up the dome with a false ceiling. He quotes, "We covered it up because people sitting on the north side of the dining room could hear everything the people on the south side of the room were saying."
In 1971, William Brantmeyer and William Stark, owners of the hotel, didn't even know about the dome until some workmen happened to uncover it. The glass vault is fully uncovered and Brantmeyers said he intends to keep it as a part of the remodeled hotel.
ST. JOSEPH'S CHURCH
FORT COLLINS EXPRESS-COURIER (2/2/1902 in Library files-"Catholic")
Church built in 1901--corner of Howes & Mountain. Catholics had been worshipping in remodeled school house after Remington School was built.
CHAMBER OF COMMERCE
TRIANGLE REVIEW (1/21/1979 page 15 in Library files-Chamber of Commerce)
"When the Fort Collins Chamber of Commerce was started in September 1904, the matters of street improvement, tourist trade and support of farming were on the work schedule. A local newspaper article endorsed the founding of such an organization by saying, 'We are now emerging from a country cross-roads town into a good city. Our public interests are becoming more varied and of greater importance and must have a public business organization to look after them, otherwise we must retrograde.'"
"The original Chamber had 200 charter members, and A.W. Scott was the first president. The early members of the Chamber worked for the establishment of Rocky Mountain National Park and the completion of the Poudre River Road. They also worked to strengthen the finances of the small agricultural college in town and supported street lights and street paving in those early days."
PAVING ORDINANCE
FORT COLLINS EVENING COURIER (11/28/1905 page 1)
1905
An ordinance prescribing and establishing Paving District No. 1 and provides for the construction of paving therein. The ordinance establishes so much of College Ave. as lies between Mountain Ave. on the south and Laporte Ave. on the north. "No protests against the paving proposition were presented and the action of the council in ordering the publication was unanimous."
POST OFFICE CARRIER SYSTEM
HISTORY OF LARIMER COUNTY-Watrous (page 252)
1901
Began with three carriers. Receipts of over $10,000/annum allowed carrier delivery system.
CITY GROWTH
FORT COLLINS COURIER (1/15/1908 page 14)
Population rose from 3,054 in 1900 to about 12,000 in 1908. Amount spent on building rose from $142,725 in 1901 to almost $1 million in 1907.
SPITTING PROBLEM
TRIANGLE REVIEW (11/7/1979 page 4A)
1905
Ladies concerned about spitting and remarks at College and Mountain petitioned city. Other early petitions given 1890s-1920s.
ORDINANCE AGAINST HYPNOTISM
FORT COLLINS YESTERDAYS-Swanson (page 243)
1900
Ordinance against mesmerism and hypnotism passed--result of Wilima James' work in 1885 in psychology at Harvard with a medium.
FORT COLLINS STAYS DRY
FORT COLLINS EXPRESS (4/7/1909 page 1)
Anti-license party gains big victory in town elections over Independent Reform party.
TEMPERANCE
FORT COLLINS EXPRESS (9/10/1908)
Temperance an issue in county elections 1908--Temperance supporters controlled election.
LIQUOR IN DRUGSTORES
FORT COLLINS COURIER (10/30/1907)
1907
F.P Stover fined $150 for selling liquor in drug store. Question as to whether liquor was sold for medical purposes-10/9, page 9-related story-druggist sent to jail.
11/13-Doctors opposed to ordinance which requires physicians to state ailment for which prescription is required (to make sure liquor sales justified).
11/20, page 3-Members of youth societies opposed to ordinance which allows more freedom in sale of liquor at drugstores.
11/20, page 9-Liquor selling fee for druggists set at $500/annum.
11/27, page 9-Major Clammer vetoed ordinance allowing liquor license to druggists.
WELLINGTON FOUNDED
HISTORY OF LARIMER COUNTY-Watrous (page 210)
1902
In Boxelder farming district. Inhabitants mostly from Nebraska, Kansas and Iowa.
Colo. and Southern RR extended track from FC to Wellington and on to Waverly. Was important shipping point.
DENVER POST ARTICLES
1903
Three wounded in gun fight (1.9.8.8)
Prominent citizens shot (5.2.1.1.1)

Richarts exonerated (5.14.1.3)

Charges against Larimer Commissioners (5.16.8.5)

Chas. K. Aushan believed to have been murdered (5.22.2.3)

1905
Marshal Wm. Richart to be tried for murder (5.29.66)
Vixen nearly blinds sheriff with vitriol (6.4.1.4)
Donald McLean bound over for assault (6.18.5.1)
1906
Hedgepath finds caller in closet (10.26.2.8)
Mrs. James M. Miller gets divorce (8.16.2.2)
1907
Joints raided (7-11-8.2)
License fight (12-29-4.4)
1908
Aldermen held for trial (1.12.3.3)
15 killed in explosion (10.15.1.2)
1909
Officials of Chamber of Commerce resign (Nov 11, 1909 2.7)
TOP
---
COLLEGE/UNIVERSITY
SCHOOL OF AGRICULTURE
FORT COLLINS EXPRESS (page 1)
1909
The Colorado School of Agriculture, a school for eighth grade graduates, conducted by the Colorado Agricultural College of Fort Collins opened.
"This school was established to meet the needs of the boys and girls of Colorado who cannot pursue an education further than high school. Agriculture, mechanic arts, and domestic science are taught with special attention to the practical or vocational side of these subjects. Three years are required to graduate and the term lasts for only 6 months. Military training forms a part of the work at the school, and this is attracting many young men. "

SCHOOL OF AGRICULTURE SET UP
DEMOCRACY'S COLLEGE-Hansen (page 239, 145)
1909
High schools scarce then, CSA established to provide country kids special training in agriculture and basic subjects. School closed in 1927.
PRESIDENT AYLESWORTH RESIGNS
DEMOCRACY'S COLLEGE-Hansen (page 185)
1909
Aylesworth had difficult time with Board of Agriculture, due to differences of opinion as to narrow vs. broad gauge theory of education policy. A.A. Edwards of board presented resolution asking for resignation--see autobiography of Edwards in Museum/library file.
FIRST COLLEGE BAND
DEMOCRACY'S COLLEGE-Hansen (page 145)
1901
Organized by Prof. Charles R. Jones, bandmaster for many years. CAC music department formed, 1905.
ELECTRICAL ENGINEERING
DEMOCRACY'S COLLEGE-Hansen (page 171)
April, 1907
Degree program set up, influenced by Charles A. Lory, later president.
MUSIC DEPARTMENT OK'D
DEMOCRACY'S COLLEGE-Hansen (page 146)
1905
Conservatory of music organized by Prof. Alexander Emslie, 1907.
DR. GEORGE GLOVER, FIRST INSTRUCTOR IN VETERINARY MEDICINE
DEMOCRACY'S COLLEGE-Hansen (page 149, 152)
1907
Established veterinary department. Full veterinary curriculum set up 1907-08.
Dr. Glover. Fort Collins Pure Food Ordinance (page 151)
DEPARTMENT OF FARMERS INSTITUTES
DEMOCRACY'S COLLEGE-Hansen (page 161)
December, 1907
Established by Board of Agriculture. Forerunner of Extension Service, Boys' and Girls' Clubs started in conjunction.
BURTON O. LONGYEAR, LECTURER IN FORESTRY
DEMOCRACY'S COLLEGE-Hansen (page 164)
August 1904, 1910
Result of agitation for conservation and protection of mountain watersheds. Botany and Forestry Department established by Longyear. Forestry Department established, 1910.
LORY MADE PRESIDENT OF COLORADO AGRICULTURAL COLLEGE
FORT COLLINS EXPRESS (6/9/1909 page 1)
Charles A. Lory chosen by State Board of Agriculture to succeed Barton O. Aylesworth as president of Colorado Agricultural College. Unanimous choice of board.
"Announcement of his selection was hailed with great satisfaction on all sides, and especially among the student body and members of the college faculty. He is one of the most popular professors in the institution and he will be given the strongest support of everyone connected with the institution."
COLLEGE STRUGGLES
DEMOCRACY'S COLLEGE-Hansen (pages 179-81, 187-88)
Autonomy and institutional purpose are issues. Chamber of Commerce and CAC students instrumental in the defeat of legislation to combine authority of Colorado higher ed. under CU regents.
AGRONOMY FARM (EXPERIMENT STATION)
DEMOCRACY'S COLLEGE-Hansen (page 168)
1904
College bought 40 acres SE of intersection of Elizabeth and Stover from Charles Andrews. Built large stone house near intersection as residence for superintendent.
CHARLES LORY
HISTORY OF LARIMER COUNTY-Watrous
FORT COLLINS EXPRESS-COURIER (4/28/1940)
1905-professor of physics at Agricultural College
1907-Professor of physics and electrical engineering
1909-President of CAC
Leader in field of education throughout career. President of American Association of Land Grant College and Universities in 1919 and member of its executive committee 1926-40 (date of Paper). President of Colorado Conference of Social Workers 1923. President of Colorado Education Association 1925. President of Association of Western Agricultural Colleges.
CHARLES A. LORY - FIFTH PRESIDENT
DEMOCRACY'S COLLEGE-Hansen (page 190)
1909
Lory physics professor, August 1905. Served to 1940.
COLORADO SCHOOL OF AGRICULTURE AT CSU
"AGRICULTURE IN COLORADO" in Colorado-Sentinel (10/5/1909 page 625)
DEMOCRACY'S COLLEGE-Hansen
HISTORY OF LARIMER COUNTY-Watrous
1909-July-MPRR purchases order (page 256)
1910-CSS Ryling to Wellington (page 256)
1909-City water filters (page 254)
DENVER POST ARTICLES
1905
College students ridden on rail (5.30.5.6)
TOP
---
CIVIC
YMCA
HISTORY OF LARIMER COUNTY-Watrous (page 255)
1906-08
1906 campaign to obtain subscriptions to found building. $65,000 pledged. Eventually cost $90,000 to build and furnish. Structure completed February, 1908.
First public assembly there--address by Geo. B. Hodge. Int'l Secretary of the Educational Dept. of YMCA week.
YMCA BUILDING ERECTED
FORT COLLINS YESTERDAYS-Swanson
1906
Nucleus of present Elks Club at Remington and Oak. Worked on by Montezuma Fuller & Arthur Garbutt.
YMCA
FORT COLLINS EXPRESS-COURIER (4/15/1908 page 9)
Set records for raising money in small cities. Money raised to furnish building. Raised $59,000 in first campaign, $30,000 in second campaign.
FIRST FORT COLLINS HIGH SCHOOL BUILDING
1906
Construction date on building, 1906. Building at Meldrum & West Mulberry, later Lincoln Junior High School.
Superseded by present Fort Collins High School at 1300 (?) Remington Street in 1925.
A.H. Dunn appointed superintendent 1913-1915 (?)
TWO FORT COLLINS SCHOOLS
MEMORY OF DEW
1907
Laporte Avenue and Laurel schools opened.
NEW HIGH SCHOOL
FORT COLLINS EXPRESS (9/20/1903)
New high school on South Meldrum between Mulberry and Magnolia opens--though all details of construction not complete. $35,000 building. Paid for by bond issue.
CITY PARK CREATED
HISTORY OF LARIMER COUNTY-Watrous (page 255)
1907-City Park (pages 255-359)
60 acres purchased for public park. "It is the purpose of the Park Commission, as soon as available funds can be obtained, to make a veritable beauty spot and breathing place of this park."
CITY PARK CREATED
FORT COLLINS EXPRESS-COURIER (4/28/1935 page 9-A)
1907
1907 Petition for over 10% of population presented to city council requesting purchase of grounds, covered by bonds for city park. Voters authorized purchase and bond issue.
1909-Grounds surveyed and improvements planned. Later history of park given.
CHAUTAUQUA
FORT COLLINS EXPRESS (6/23/1909 page 9)
William Jennings Bryan opened Chautauqua at College Chapel denouncing "lust for gain" as the root of evil in the world. Theme--selling soul for wealth and prestige. Bryan also spoke against an increased Navy saying that our nation's foundation should be based on moral power, not physical. A "silent and enthusiastic" crowd heard the famed orator. Businesses closed for event.
CARNEGIE LIBRARY
FORT COLLINS YESTERDAYS-Swanson (page 195-200)
Complete history of library given. Photos.
HISTORY OF LARIMER COUNTY-Watrous (pages 252-254)
1903.
"Through the efforts of Mrs. D.A. McLean and other citizens, Andrew Carnegie, the well known steel manufacturer and philanthropist, donated $12,500 towards the cost of a suitable library building, conditioned that the city should support and maintain a free public library, which the city authorities agreed to do." Completed 1904. Cost about $15,000 to build and furnish.
DAR (Daughters of the American Revolution)

FORT COLLINS EXPRESS-COURIER (8/4/1937, page 9)
1908
Organized 4/18/1908
Objectives: "To promote the development of an enlightened public opinion; to foster patriotic citizenship; to aid the youth of our nation; to promote the observance of Constitutional sesquicentennial."
PIONEER SOCIETY
FORT COLLINS EXPRESS-COURIER (8/4/1937, page 5)
1906
Organized 12/29/1906
Objective: "To keep alive the traditions and experiences of the early settlers of the Cache la Poudre Valley."
AAUW
FORT COLLINS EXPRESS-COURIER (8/4/1937, page 3)
1902
American Association of University Women founded in 1902. Founded as "Association of Collegiate Alumnae," in 1902 became affiliated with AAUW.
Objective: "An organization devoted to improving women's education both in college and after graduation, emphasizing international relations, legislation, library extension, and fellowships for women."
ELKS
FORT COLLINS EXPRESS (May, 1923, page 8)
Anniversary issue-Early Colorado and Fort Collins History section, Volume 50, Number 16

Off shoot of Boulder lodge. Installation proceedings begun in July, 1902. Site selected and building erected in 1903. Officers for temporary organization: John A. Cross, Exalted Ruler; A.M. Hawley, ledg; N.C. Alford, Geo W. Bailey, and Frank J. Annis, Board of Trustees.
LARIMER COUNTY HISTORY SCRAPBOOK-1930s
First meeting place was in Ault's hall above Lowell-Moore Hardware store. Later (1930s) bought YMCA building to use.
BASEBALL TEAM
FORT COLLINS EXPRESS (5/5/1909)
Fort Collins trying to put together professional baseball team. Express urged people and firms to take stock in company. "Aside from the glory of being represented on the diamond, Fort Collins would get some advertising that will reach every section of the Centennial State. This in itself should be an incentive to boost the thing along, even if a person wasn't an enthusiastic fan."
"Fort Collins is in danger of losing its baseball team, the thing that has done more to advertise the city than anything else for a long time. There is danger of the team being called off the diamond at almost any time now, for lack of sufficient funds to support it." Team had been having a very successful season and was picked by Denver writer as favorite for state title. (8/11/09)
11/24/09,page 6. Finished with 50-6 record. Named state champion by Denver News. (11/24/09, page 6)
DENVER POST ARTICLES
1906
Fight in women's club (10.11.2.1)
1909
County Fair (4.4)
To roast 300 lambs. (Sept 24, 1909 1.2.1)
State officials invited (Sept 26, 1909 5.1.)
Fat man's race a feature (Sept 27, 1909 9.3)
Big Parade (Sept 28, 1909 4.4)
Barbeque (sic) (Sept 30, 1909 6.2)
TOP
---
NATURAL PHENOMENA
ESTES PARK EARTHQUAKE
MILLER COLLECTION-COLORADOAN (Book 1, page 198)
1903
Violent shock felt most severely at places nearest the range. Heaviest at Two-Bar Y ranch, Skrogies, and Long's Peak Inn. Duration 5 to 10 seconds. Preceded by deep rumbling sound. Followed by rattling sounds, lasting several seconds. People awakened at five minutes before 1 a.m. throughout park. On several ranches, cattle stampeded. Geologists say formation of distinctively volcanic origin from north of Fall River to North Fork of Poudre 35 miles north which include at least 12 extinct volcanoes. This article gives the complete article from 1903 newspaper.

POUDRE RIVER FLOOD
MUSEUM (BLACK) SCRAPBOOK (page 103)
FORT COLLINS COURIER (May 21, 1924)
1904
DENVER POST ARTICLES
1903
Floods (10.16.2.3)
TOP
---
HEALTH/MEDICINE
DOCTORS' HOSPITAL
FORT COLLINS YESTERDAYS-Swanson (page 161)
Dr. Kirkland's fame grew--studied in Vienna in 1907 and 1919. Doctors' offices scattered about business buildings. "Magnetic healing was advertised on the window of the Trimble block in 1903."
"An association formed in 1903 succeeded in building a substantial brick structure on the southwest corner of Magnolia and Mathews in 1906."
CITY HOSPITAL
HISTORY OF LARIMER COUNTY-Watrous (page 255)
1906
See biography of Dr. P.J. McHugh.
"The Fort Collins Hospital Association, organized in 1903 erected a large and well furnished building in 1906, at the corner of Mathews and Magnolia streets, thus supplying the city with a growing and very important need."
Fort Collins Yesterdays-Swanson (See "Doctors/Hospital")
DENVER POST ARTICLES
1908
Spotted fever (2.24.5.5)
TOP
---
TRANSPORTATION
INTERURBAN RAILWAY
HISTORY OF LARIMER COUNTY-Watrous (page 255)
1906
"In the fall of 1906 the City Council of the City of Fort Collins granted a franchise to the Denver Interurban Railway Company which gave the company the right to construct and operate a system of electric railways along the certain specified streets and avenues of the city."
Began operation in December of 1907
Extent of track "...College Avenue from Jefferson Street to Pitkin Street; Pitkin Street from College Avenue to Remington Street; Remington Street from Pitkin to Elizabeth and thence along the last named street to College Avenue; Mountain Avenue to Grandview Cemetery; Jefferson from College Avenue to a connection with the Mountain Avenue line at Peterson Street; Linden Street to Jefferson Street. In 1908 the company extended its Linden Street line on past the sugar factory to Lindenmeier Lake, and in 1909 placed cars in operation on Peterson, East Magnolia and Whedbee Streets to Elizabeth Street. The company gives a twenty minute service on all these lines and the people of Fort Collins find the street cars of great convenience. The tracks and equipment are first-class in all aspects and the system is well managed."
FORT COLLINS YESTERDAYS, Swanson (page 214)
"Fort Collins was essentially a 'walking city' in the early 1900s and had no need for mass transit."
In the thirty years since San Francisco's cable car system began in 1872 streetcars underwent a number of improvements. At the turn of the century "streetcars were the mark of a successful city."
"The Colorado and Southern Railroad regarded the field of local transportation in towns served by its steam lines as an area for expansion. The Denver and Interurban Railroad, a subsidiary of the Colorado and Southern, was developed as part of a unified transportation system. When this company applied to the city council for a franchise in 1906, few people had automobiles and some never bought them, becoming instead devoted customers of the new trolley."
"The decision to allow the company to come in was momentous. August Rohling, Peter Anderson, Fred Stover, Thomas Quinn, and F.N.B. Scott favored it and swung the vote. Among the dissenting voters on council were Chris Phillpi, harness maker, and A.A. Edwards, irrigation expert."
"The company built a car barn and power house on Howes and Cherry in July, 1907. In December the paper praised the Denver and Interurban for employing only local men, adding twenty substantial citizens, owning their own homes and rearing families in Fort Collins. By January 1, 1908, the inauguration was reported as having gone without a hitch. One trolley party had been held. Cars could be chartered at low rates and decorated for the purpose."
DENVER POST ARTICLES
1907
Has electric line (12-27-4.1)
UNION PACIFIC RAILROAD
FORT COLLINS EXPRESS (2/3, 2/10, 5/5, 6/16, 6/23, 6/30)
1909
"Fort Collins looked forward to Union Pacific Railroad coming through town. Increase in industry expected."
Fort Collins Packing Company sold to local interests, backed by Denver Company, which wanted to increase size of plant and make it a principal livestock center of the West."
UNION PACIFIC ORDINANCE
FORT COLLINS EXPRESS (8/25/1909, page 8, see also 8/11 and 8/18)
Union Pacific ordinance finally passed after some debate during previous weeks. Right of way goes to Union Pacific with stipulation that Railroad be in operation within three years or vacated streets and alleys will return to city--also no tracks to be laid on 30 foot strip vacated on Jefferson Street.
pre-1860 | 1860 | 1870 | 1880 | 1890 | 1900 | 1910 | 1920 | 1930 | 1940 | 1950 | 1960 | 1970 | 1980 | 2000
Time Line Home